How to Convert SWF File to HD Video
Question: "Hello there, I have created a flash animation, and now I need to convert the SWF file to HD video. Is there any software that can help do the conversion?"
What is HD video anyway?
HD video or High-definition video is video of higher resolution than Standard video. The high definition video is defined by the number of lines in the vertical display resolution, the scanning system, and the number of frames or fields per second. Typical HD display resolution will be 1,280×720 pixels (720p) or 1,920×1,080 pixels (1080i/1080p).
While the quality of HD video is very high compared to SD video, and offers improved signal ratios, a number of online streaming and digital download services offer HD videos, such as, YouTube, Vimeo, Hulu, Amazon Video on Demand, Netflix Watch Instantly, and more. Besides, an increasing number of manufacturers of cameras now offer HD cameras. It should come as no surprise that HD will be the future of video.
Solution: Convert SWF to HD Video using Jihosoft SWF Converter
Want to convert SWF to HD video for a better visual effect? Jihosoft SWF Converter or SWF Converter for Mac will be your great assistance. It is a professional SWF to HD Video Converter software that helps to convert flash SWF to HD AVI, HD MOV, HD WMV, HD MPEG, and more on Windows or Mac. This tool is very easy to use. You can complete the conversion in three simple steps:
1. Import SWF file
2. Set HD video as output format
3. Convert SWF to HD video
Whether the converted HD video can be played on Android device or not?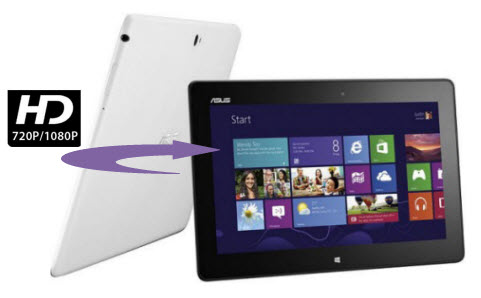 After conversion, you will need a device that meets the HD display resolution requirements to enjoy the converted HD video. Most computers are capable of HD or even higher resolutions. But some people may prefer to enjoy the video on Android phone or tablet while on the go. Is it possible to enjoy HD video on Android device?
Of course, the answer is yes. Some newer phones, such as the Galaxy Nexus, and most tablets, such as the Nexus 7, are capable of HD playback. In fact, if your Android device's display doesn't meet the minimum requirements for HD, it will play the HD video in SD instead.