SWF to iPhone – How to Play Flash SWF on iPhone 5
Question: How to play SWF on iPhone?
I can't enjoy the excellent flashes on my iPhone, as the iPhone does not support SWF format. Is there a converter which can help me to clear all these irritation and fulfill my aspiration, I want to know the brand of the converter. Anyone who can show me how to use it step by step will be appreciated.
Generally, there are three ways to play flash on iPhone:
-View flash contents with Cloud Browse.
Cloud Browse is a paid Web Browser app that can be downloaded from the App Store. It uses a virtual Firefox platform that allows you to open Flash content, including SWF files. You can directly install this web browser on your iPhone to load flash contents.
-Convert SWF with free online converter
If you flash content is non-interactive, you can try Flash-Banner-Converter.com, a free online converter that converts SWF to video such as mp4, webm and ogg video formats which playback in non-flash devices such as the iPhone and iPad.
-Convert flash SWF with SWF Converter application
Jihosoft SWF Converter is probably the easiest way to play SWF on iPhone. It can efficiently convert flash swf to iPhone supported video formats such as MPEG-4 or H.264 on Windows 8/7/Vista/XP. It is compatible well with all iPhone available models including iPhone 5, iPhone 4S and iPhone 4.
How to Convert Flash SWF to iPhone Mac OS X
Note: You can either download Jihosoft SWF Converter or Jihosoft SWF Converter for Mac according to your computer operating system. Here, we will take the Mac version to walk through the SWF to iPhone conversion process.
Step one: Load SWF file with the program
Run Jihosoft SWF Video Converter Mac on your computer. Click the "Source" button to load the SWF file you need to convert.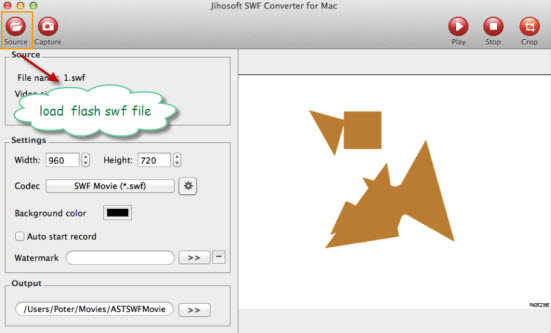 Step two: Select the output target format.
Click the drop-down list of "Codec", go to "iPhone" and choose the optimized device format according to your iPhone model.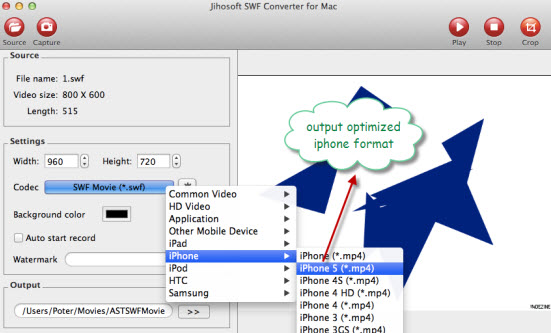 Step three: Edit SWF file.
Click "Crop" to crop out your unwanted parts. Hit "Watermark" to apply your favorite image watermark to the flash video.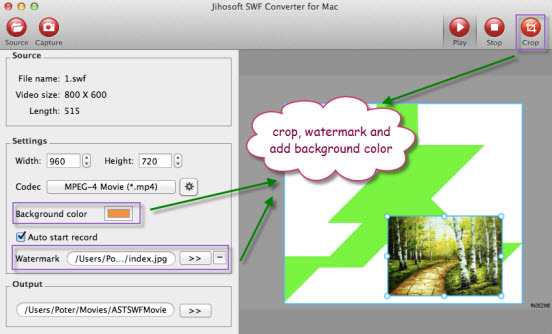 Step four: Convert SWF to iPhone 5.
Click "Capture" button to open a full-screen Capture Panel. Click "Start"->"Begin Record" to start flash capturing, hit "End Record" to start conversion. After the conversion, you can find the output video in the target folder.