Free 6 Apps That Help to Transfer Data from Phone to Phone 2019
Just make switch to a new iPhone or Android? How to get all stuff on the old phone to the new device? Not worry. Here is a list of Free Phone Transfer Apps for moving your contacts, text messages, photos, videos, music, and more from one phone to another. Go ahead and choose the best one for you.
1.Samsung Smart Switch Mobile
Samsung has recently launched Smart Switch Mobile – simple and powerful transfer solution for users to move data from old phone to new Samsung Galaxy like S6 or S6 Edge. This free app lets you transfer data between Galaxy phones with ease. Place the devices close together, open the app in both phones and let them connected. Then you'll be able to transfer content such as contacts, messages, photos, videos, music, and more.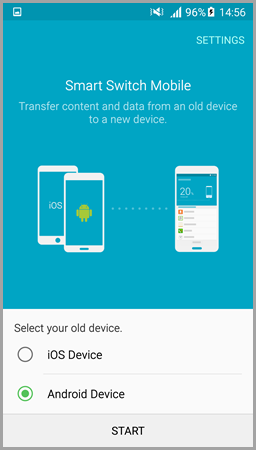 Note: If you're looking to switch from a non-Samsung device like iPhone, you can use an OTG USB cable to connect iPhone to your Galaxy, or import from iCloud, or use the Smart Switch for PC/Mac to transfer data from iTunes. For more information and step by step directions, go to here.
2.HTC Transfer Tool
Moving from an Android phone to a new HTC phone has never been easier or faster. HTC provides HTC Transfer Tool to transfer from phones that are running Android version 2.3 or higher. This phone to phone transfer app uses Wi-Fi Direct to transfer important data, including contacts, messages, photos, videos, music, calendar and settings from your old phone to new HTC One M8/M9. No cable connection needed.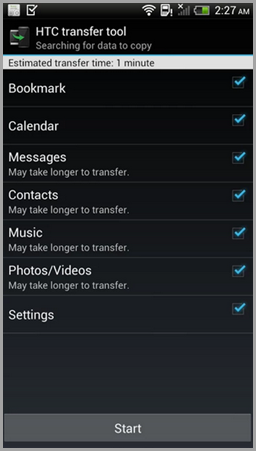 Note: To transfer from iPhone to HTC, you need backup iPhone content to iTunes and use the HTC Sync Manager desktop utility which requires a PC/Mac and cables to make the transfer. Click here for detailed steps.
3.LG Backup
LG Backup is a pre-installed app for LG smartphones to transfer data from phone to phone free. When migrating to a new LG phone, the backup data can be transferred directly between smartphones using Wi-Fi hotspot feature. If you're switching from other smartphone to new LG G3/G4/G5, please download LG Backup (Sender) from Google Play.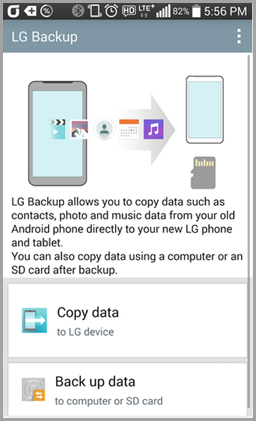 4.Xperia Transfer Mobile
If you are a Sony Xperia user, then you cannot miss Xperia Transfer Mobile. Sony Mobile released this ultra-easy, safe and simple app to help you move contacts, messages, photos, music, and much more from your old smartphone or tablet to a new Xperia like Z2/Z3/Z4/Z5. Whether you're switching from iPhone, Android, Blackberry, or Windows, you can make the migration with this free phone transfer app.
Note: In order to transfer you may need to use the Xperia Transfer cable (USB host). For wireless transfer of content between Android devices, Wi-Fi Direct support is required on both devices. If you want to transfer your content using a PC or Mac please use Xperia Transfer Desktop instead.
5.Motorola Migrate
Motorola Migrate is also a customized phone transfer app like the four apps above. It allows you to transfer data to your new Motorola device from a number of sources, including other Android devices, Apple's iCloud, and non-smartphones/traditional phones with Bluetooth support. With it, you can download this app to transfer photos, videos, text messages and contacts to Moto X/G/E etc.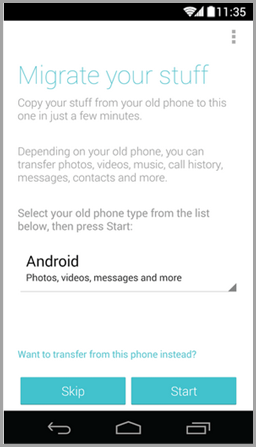 6.AT&T Mobile Transfer
The above five apps are exclusive for specific Android device like Samsung, HTC, LG, Sony Xperia, or Motorola. AT&T Mobile Transfer is a comprehensive tool that allows you to transfer your content including contacts, messages, pictures, videos, music and more from your old phone to your new phone wirelessly. Simply download the app (for Android & for iPhone) on both phones, follow the prompts to connect the phones and transfer your content.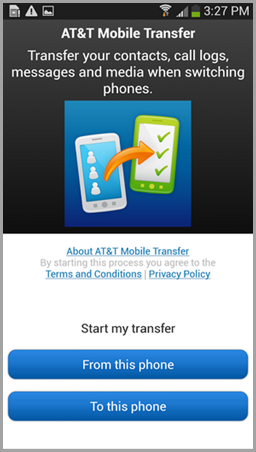 Note: AT&T Mobile Transfer works on all popular devices that are running iOS, Android, Windows and even Amazon Fire. However, transfers for iOS devices are limited to contacts, pictures and videos.