Free Way to Transfer Data from iPhone or Android to HTC Phone
If you're Android smartphone fans then you must be aware about the HTC One M series. Its most recent HTC One A9, the first device to have the new Android 6.0 Marshmallow, obviously drew the stares of many people. If you're on the idea of switching to HTC One, but worried about losing personal data from your old device, then fear not. Whether you have an Android or iPhone, HTC has made the data transfer process fairly simple. Here's how to do it:
Part 1: Transfer iPhone Data to HTC with Sync Manager
If you're upgrading to HTC One A9 or M9 from an iPhone, you can use iTunes to back up your content first, and then use HTC Sync Manager. It is a free application that makes it super easy to restore iTunes backup files including contacts, calendar, SMS, photos, videos, wallpaper and bookmarks to your new HTC phone.
1. Run HTC Sync Manager, click "Home" > "Transfer & Backup". Then click the "Get Started" button.
2. Select your iPhone backup file (Make sure you've backed up your iPhone with iTunes), and then click "OK".
3. Now select the types of content you want to transfer to your HTC phone and click on "Start".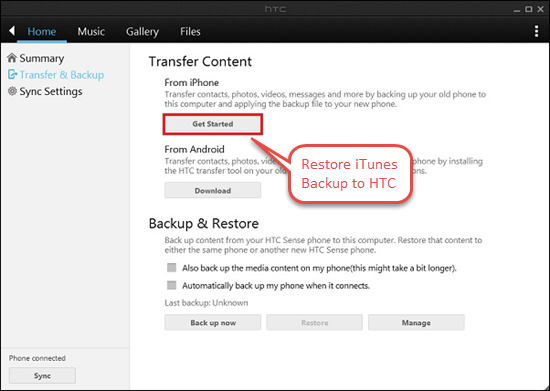 Note: HTC Sync Manager allows you to choose whether to replace the content on your HTC phone with the iPhone content. Please think twice.
Part 2: Transfer Android Data to HTC with Transfer Tool
If you switching to HTC One from another Android device, you can install HTC Transfer Tool on your old phone to wirelessly move data to your new HTC phone. It is a free app that uses Wi-Fi Direct to transfer your contacts, call history, messages, calendars, photos, videos, music, documents and settings to your new HTC phone.
1. Download and install the free HTC Transfer Tool from Google Play Store on your old Android device.
2. On your new HTC One phone, go to "Setting"> "Get content from another phone" > "Other Android phone", tap "Full Transfer" and then "Next".
3. Open the tool on your old Android, you will see a PIN. Make sure it matched the PIN displayed on your new HTC phone, and then tap "Next".
4. On your old phone, choose the types of content you want to transfer, then tap "Start" to begin transferring. Wait for the transfer to finish and tap "Done".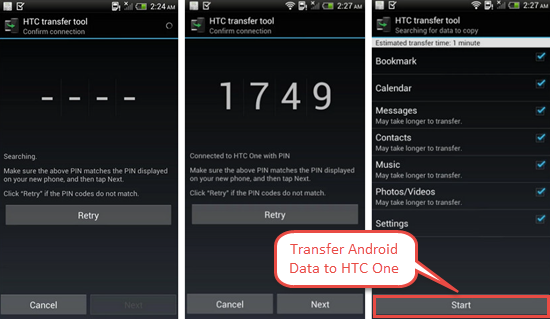 Write In the End
HTC Sync Manager and HTC Transfer Tool are good to transfer data when switching to a HTC phone. However, many errors reported when using the two free applications. Having problems to transfer data to your new HTC One A9 or M9? Here is a great alternative you can try – Phone Data Transfer. This tool is equipped with powerful features to transfer your iPhone/Android contacts, SMS, photos, videos, music, etc. to HTC One A9/M9/M8 and vice verse in one click.