Top MOV Repair Software List
As a multimedia file format, MOV is used for saving video files or movies. MOV video format is also the basis of MPEG- 4 format which is widely applied to video sharing websites. What's more, MOV files referred as QuickTime format which is editable and there is no need to rewrite the whole codecs of videos files. However, things happen unexpectedly as sometimes, for one reason or another, MOV files are corrupted or damaged and become unplayable. It would be very upsetting if the MOV files are in urgent need.
Fortunately, there are still ways to repair MOV files. Here recommend you several credible MOV repair tools for Mac or Windows.
Remo Repair MOV
Remo Repair MOV for both Mac and Windows, is exclusively designed to repair corrupted or damaged MOV, MP4 files, which are unplayable on QuickTime due to fault with the digital video camcorder firmware or, other causes. It is also available for large sized MOV, MP4 files repair, and allows users to preview repaired files before saving. For video repair, Remo supports codecs of avc1, mp4v, mjpeg; For audio, Remo supports codecs of sowt, RAW, mp4a. Whether Remo can repair the corrupted MOV files or not depends on the model of the camcorder that generates it along with the supported codec format as listed above. The large number of supported camcorder brands are Canon, Casio, Nikon, Panasonic, Sony, Olympus, Sumsung, iPhone, etc.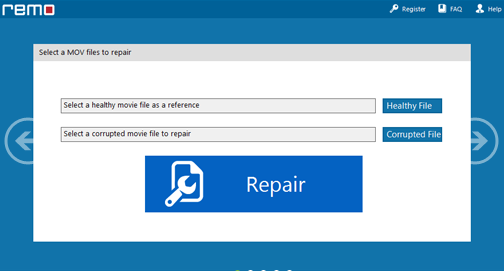 Stellar Phoenix Video Repair
Stellar Phoenix Video Repair contributes to repairing corrupted or damaged MOV video files present on hard disks, memory cards, and other storage media, and save them in user-specified locations. What's more, it is able to repair multiple video files simultaneously, which will save lots of precious time for users; as well as allow a preview of the repaired files before saving. For videos repair, it supports file formats like MP4, 3GP, M4V, M4A, 3G2, and F4V. This software is also compatible with the latest Mac OS X Yosemite Beta, Mavericks, Mountain Lion, Lion, and Snow Leopard.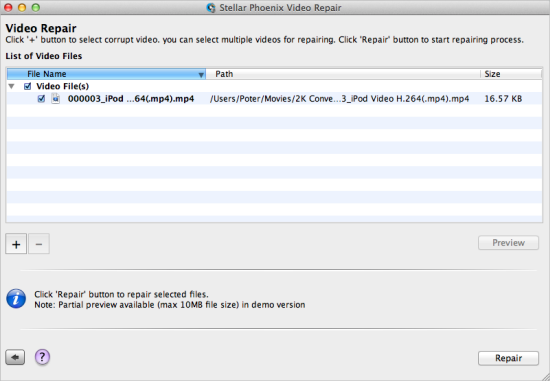 Yodot MOV Repair for Windows
Yodot MOV Repair for Windows is excellent in dealing with complicated scenarios like MOV header corruption, CRC error corruption, virus attachment, third party application, OS corruption, files corruption due to wrong files management, fault digital firmware and more. Besides, this repair tool also allows to preview the repaired files before saving them. Simple interface and an entirely automated repair process make it much more easier for user to repair damaged MOV, MP4 files, especially the high definition videos created by professional cameras or camcorders.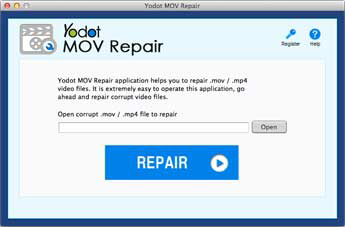 Though these three MOV repair tools are similar to each other, they have their own unique features. To repair your MOV, MP4 files successfully, you can refer to the introduction above and choose the best one that suits your needs.