4 Ways to AirPlay Mirror iPhone/iPad to Smart TV (without Apple TV)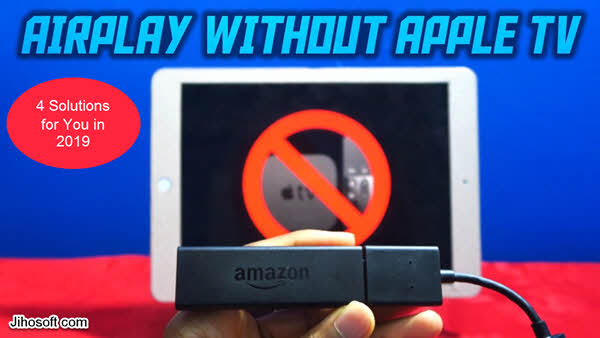 Watching movies, playing games, etc. on a big screen has been an integral part of our life. Without a big screen, it is impossible to enjoy any type of enjoyment activity to its fullest. That's why big companies like Apple have introduced AirPlay through the use of which you will become able to display all the content which is running on your iDevices like iPhone, iPad, or MacOS, etc. on an Apple TV. Basically, AirPlay is a piece of software which is exclusively designed by Apple for its users so that they can connect their small screen devices with a big screen Apple TV. But the price of an Apple TV is so high that not every movie lover can afford it. So, for your convenience, we will provide you with the 4 methods of AirPlay mirroring iPhone/iPad to TV without an Apple TV.
Bonus Tip: When you need to host a video conference using AirPlay to mirror your iPhone or iPad to a larger screen, then you can enjoy the excellent experience with the help of Group FaceTime call.
Method 1: Use Lightning Digital AV Adapter to Mirror iPhone to Smart TV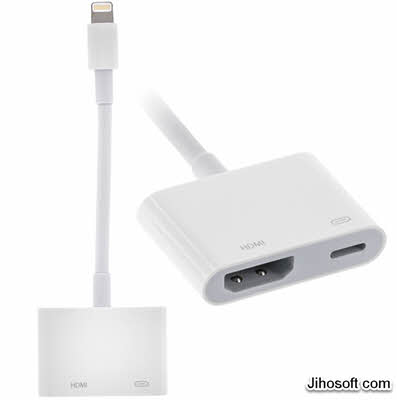 This first method is really very easy to understand and implement for every user. Here, all you need is just a digital AV adapter and HDMI cable. Once you have prepared these two things, just follow the steps and instructions which we are going to state below:
First of all, insert one end of the HDMI cable into the lightning port of your iPhone.
After that, insert its another end inside the AV adapter.
Now, you can insert the other end of the AV adapter into the HDMI port on the back of the TV.
Power on your TV and search for the HDMI channel to find your device.
After adding the device successfully, you can play videos, audios, games, and much more on a bigger screen.
Moreover, you can also charge your iPhone during your watching. There is a port available on the AV adapter which is exclusively designed for charging. If you don't have an AV adapter, then don't get disappointed because we have also sorted out some other handpicked options available for you in this list. Please follow me and keep reading.
Bonus Tip: If you feel confused about what you want to watch after you mirror your iDvice to your TV, why not have a look at this guideline on the best movie apps for iPhone?
Method 2: Use AirBeam TV to Mirror iPhone to Smart TV without Apple TV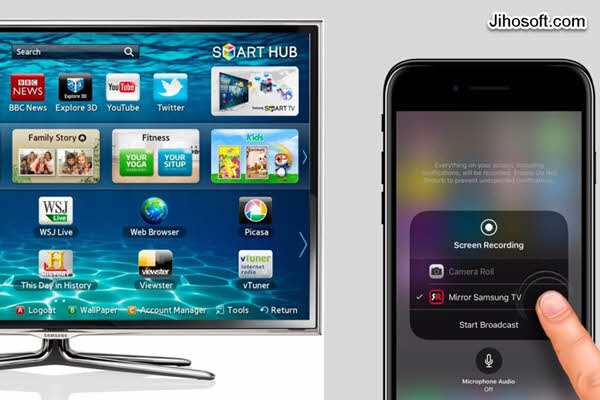 As for the first method, you will find its limitation that the wired connection may spoil your entertainment experience because the wire will constrain you. That's why a software called AirBeam TV can be used to connect your iPhone with the TV without the use of any wire or something else. However, this method is only limited to the TV manufactured by some of the big known companies on the market like Samsung, LG, Phillips, Sony, and Panasonic. Just navigate to the further details without wasting any time:
After you download the suitable software as per your TV brand, just navigate to the process described below:
First of all, power on your TV and connect your TV with the same Wi-Fi network with which your iPhone is connected.
Just go to the Menu option and search for the device.
After your device appears in that list, just connect it.
You are all done now and you can see your iDevice being mirrored to this TV.
Method 3: Use AirServer for AirPlay Mirroring without Apple TV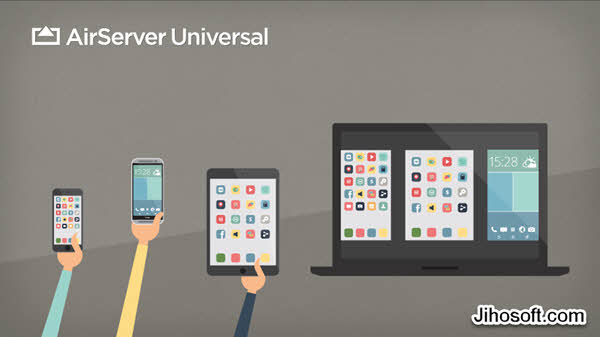 This is another very simple and efficient method which has been developed to mirror iPhone or other iDevices to a Mac or Windows PC without Apple TV. This method requires you to install the software named AirServer on your Mac or Windows PC. Just like the last method, this one is also free of wires connectivity, which is probably the best thing every user wants. However, if you want to use it on the TV, then you can only mirror your iDevices to a Phillips TV. Next, we will mainly show you how to mirror iPhone to a TV without Apple TV.
First of all, download AirServer from the web to your PC.
Then, install this software on your PC. You can access the downloaded file from the Downloads folder.
After you finish the installation process, hold your iPhone in your hand and open the Menu taskbar from the bottom of the display screen.
You will find the option AirPlay there. Enable that option and it will search the list for AirPlay receivers. Directly select the iPhone and then connect it with your PC.
After connecting, you can see that you are now able to browse all the content on your PC which is present on your iPhone.
Method 4: How to Use Raspberry Pi to Mirror iPhone to Smart TV without Apple TV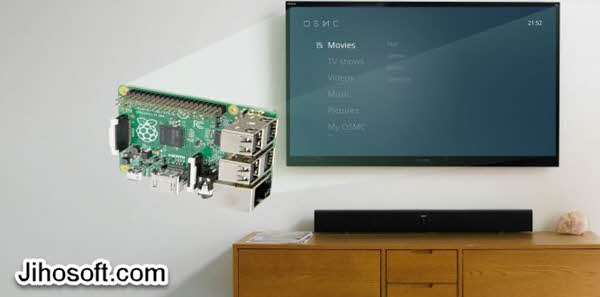 This is another very good option available in this list which is quite complex to mirror iDevices to a TV. We will just give you an idea about this method. All you need using this method is a Wi-Fi connection, keyboard and mouse, TV, HDMI cable, SD card, and micro USB charger.
With this method, you need to download a Raspbian image. After you download it, you have to copy this file onto the SD card and connect it with your Computer. After that, you need to set up the Pi software which will make all these things a lot easier. Here, in the further process, you have to give the commands which are quite complex to learn and are present in the software. But we assure you that this method will surely work for you if you give each command according to suggestions.
Conclusion:
We hope that you all have understood the above 4 methods about how to AirPlay without an Apple TV in 2019. There are other several methods which are also available, but these are handpicked and popular among users. Please share the method which you like most in the comments section with us. We will surely appreciate your contribution.