3 Ways to Bypass iCloud Activation Safely and Effectively
iCloud Activation Lock is a feature available on iOS devices that helps prevent anyone else from accessing your personal information when your device gets lost or stolen. And the activation lock will be automatically enabled once you turn on the Find My iPhone on your Apple device. With Find My iPhone, the device will be locked with your Apple account, and no one can use your device without your Apple ID and password.
However, there could be some cases that you need to bypass iCloud activation lock. For example, when you buy a second – hand iPhone or iPad on eBay or from others and find the original owner doesn't unlock the iCloud activation lock. In this case, you may be at a loss of what to do. In this article, we will introduce some ways to bypass iCloud activation lock.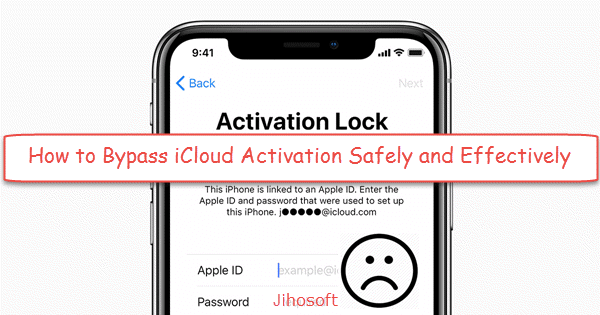 Bonus Tips: Wondering how to get back data from a stolen or lost iPhone? Give a try of Jihosoft iPhone Data Recovery. It is a reliable data recovery tool, which helps you recover your vital data from iTunes backup and iCloud backup, including photos, contacts, iMessages, and many more.
Process 1: Remotely Remove iCloud Activation Lock
When you purchased a second-hand iPhone and find it is locked with an iCloud account, you can try to get in touch with the original owner and ask him or her to remove the iCloud activation lock by deleting your iPhone from the iCloud account it is locked with.
Go to www.icloud.com on the browser.
Sign in with the iCloud account and password.
Click on the Find iPhone icon.
Click All Devices on the top of the interface, and select the name of the iPhone.
Select the Erase iPhone icon in the small pop up window on the top right.
When the iPhone has been deleted, click "Remove from Account".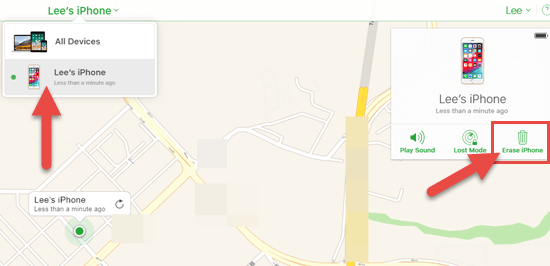 It is lucky for you if you succeed to reach the original owner. But what if you fail to get in touch with the original owner? Don't be frustrated; read on this article.
Process 2: Quickly Bypass iCloud Activation Lock Via DNS
When you get an iPhone which has not been deleted from the previous owner's iCloud account, you can bypass or remove iCloud activation using DNS.
Step 1: Turn on your iPhone, follow Setup indications on the screen until you see the WiFi setting page, asking you to connect to a WiFI network.
Step 2: Press the Home button, then tap on "More WiFi Settings".
Step 3: Go to the connection settings and tap on Forget this network.
Step 4: Flip the "i" symbol next to the WiFi network and enter a new DNS server as below according to your location, and tap Save in the top right corner.

For USA/North America: 104.154.51.7
For Europe: 104.155.28.90
For Asia: 104.155.220.58
For Africa, Australia, and other locations: 78.109.17.60

Step 5: Tap on the "Back" option, and then the "Join this Network".
Step 7: Choose your network, enter its password, and click on Join.
Step 8: Your iPhone will be activated. Click the Back tab, then set up your iPhone as usual.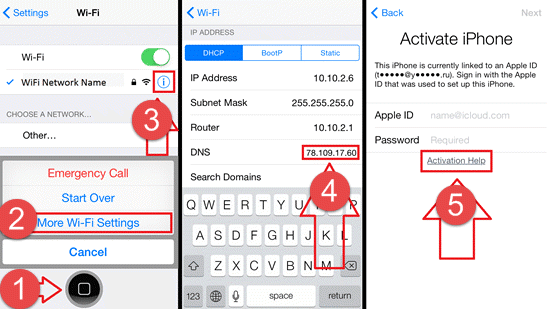 When you receive a message saying "You have successfully connected to my Server.", you have successfully bypassed iCloud activation, and you can access most functions like the iCloud locked user Chat, Mail, Maps, Video, Games, etc. Please note that This method works with iOS 10 or earlier, and for those new iOS versions, it may not always work. Moreover, you are allowed to access limited features of the iOS device.
Process 3: Resort to iCloud Activation Bypass Tools or Online Services
Besides the above two ways to bypass the iCloud Activation, you can resort to some useful iCloud bypass tools as well as some online activation lock removal services. We will respectively introduce an iCloud bypass tool and an online service hereinafter.
DoulCi Activator is one of the most efficient and popular iCloud unlock tools. Since 2011, this tool has managed to help over 500,000 devices to get rid of the activation lock of iCloud. It is completely free and works on Windows, Mac, and Linux. Here we will show you how to bypass iCloud Activation on iPhone, iPad, and iPod touch with this iCloud Lock removal tool.
Step 1: Download, install and launch DoulCi Activator on your computer for farther procedures.
Step 2: Follow directions on the screen to select your device and its iOS version.
Step 3: Connect your device to iTunes via a USB cable.
Step 4: Wait for the entire process to complete until you see a pop-up window saying, "You have Successfully Bypass the iCloud Activation. Turn on the iPhone!!!".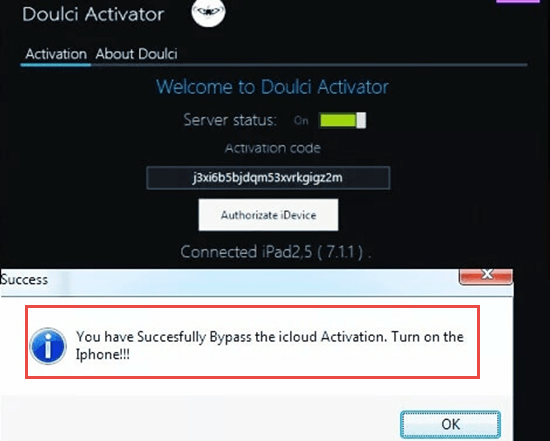 This iPhone unlock online service works on iPhone 4, 4s, 5, 5c, 5s, SE, 6, 6 Plus, 6s, 6s Plus, SE, 7, 7 Plus, 8, 8 Plus, X, Xr, Xs, and Xs Max, as well as all iPads and Apple Watches. It helps you permanently remove an iPhone from the previous owner's iCloud account. And if you forget the password, it can also enable you to activate an iPhone.
You can remove iCloud activation lock without a password on this website in 4 easy steps. First of all, provide the 15 digit IMEI number and carrier information where your iPhone is locked to. Then make a payment, and wait for around 1-3 days. You will receive an email when your unlock is ready.
Conclusion:
This article aims to help you bypass the iCloud activation lock. All the methods mentioned above have been tested by many users. You can also search for other solutions online. But be careful when you decide which solution to use. Some of them may be illegal and deceitful, and if you are not careful, your device may get destroyed, and your personal information may be used for improper purposes. If you have any queries in your mind or have any other better way to bypass iCloud activation, please leave them in the comment section.