How to Create & Manage Strong Passwords on iPhone and iPad (iOS 12/13)
One of the strongest features of iOS 12 is the strong password generator. This feature enables iPhone users to create, autofill and store strong passwords automatically for websites & Apps on iPhone/iPad. Sharing passwords is also easier than ever through the AirDrop connection. The iCloud Keychain is the Apple feature that keeps your various usernames, email addresses, and passwords. The data is then saved on your iCloud in an encrypted, secure format. This information can be accessed on other iOS and Mac devices too.
Even with decent password management, however, it is crucial that you utilize strong passwords to make things more secure. In this article, we discuss how to automatically generate and save strong passwords on your iPhone or iPad.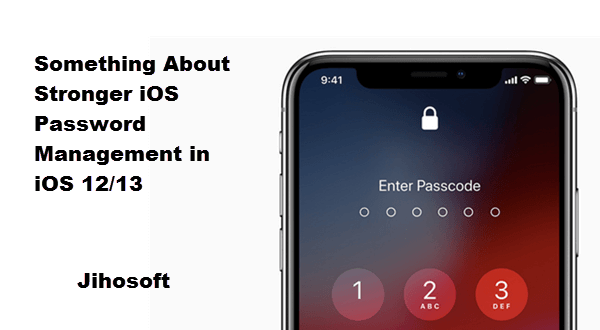 Bonus Tips: Have you ever lost your data on iPhone due to iOS upgrade failure? Don't be frustrated. Jihosoft iPhone Data Recovery is a professional iPhone data recovery tool, which can help you get back your iPhone data like contacts, photos, notes, call logs, etc.
How to Automatically Create and Save Strong Passwords
iOS has a strong password generator if you cannot remember your own set of alphanumeric characters. Once it is generated, you will have to save it on the device.
First of all, you need to make sure that the iPhone or iPad shows the Strong Password suggestion. To do this, you need to enable the iCloud Keychain option on your iPhone. Go to Settings -> Accounts & Passwords -> AutoFill Passwords and enable iCloud Keychain.
Open the Safari app. Open the link to the website or app that you want to sign up for.
Fill in the required textboxes in the sign-up form. Put your name, email address, and others.
When you get to the Password field, you will see that the iOS 12 could automatically pre-fill the textboxes of both Password and Confirm Password. The keyboard will be replaced with the Options View.
If you want a strong password, tap on the Use Strong Password option in the choice when it pops out. For those who want to enter their own passwords, click on the Choose My Own Password option.

Proceed with the sign-up process. Once you click the Register or Sign Up button, your login details will automatically go to your iCloud Keychain.
How to Search for Generated iOS Passwords
The good thing about the password-related features on iPhone or iPad is that they are secure. But once you finish signing, there will practically be no mention of it again. To make sure that the passwords are saved and so you can use the passwords on your other Apple devices, follow the steps outlined in this section.
Step 1: Go to your iPhone's settings. Find Accounts & Passwords. Below that feature, you will see an option called Websites & App Passwords.
Step 2: You will be asked to authenticate your identity. You can use Touch ID and Face ID to achieve this.
Step 3: You will be able to see an extensive list of the apps and websites that you logged into.
Step 4: Tap on the name of the app from the list of the apps you logged into to view the login details. The password will be displayed there.
Step 5: If you want to copy the password or you want to use it on another iOS and macOS, tap on the password field. The feature only works on the macOS Mojave and the iOS 12.

Notes: You can also want to check your passwords through Siri. Just say that you want to see your password for a particular app or website. For example, you can tell Siri "Show my Gmail password" so you can check out your login details.
How to Recognize and Replace Reused Password
Just like the apps LastPass and 1Password, Apple's iCloud Keychain has the ability to do a password audit. It can provide you a list of the passwords that have been reused. This will inform you of which passwords to avoid so that you will not reuse your previous passwords.
Proceed to the Websites & App Passwords option. Once you authenticate, you will see a list of saved login details.
To determine whether the password has already been reused, look out for a small triangle with an exclamation point. It is found next to the name of the website or app. Tap it.
A warning that tells you that it is not safe to reuse passwords across different apps and websites. You will then see an option to change the password for the particular website or app.

How to Share Passwords with Close-by iOS Devices in iOS 12
It is unavoidable that sometimes you need to share your passwords with someone, or you need to receive passwords from someone to access something. iOS 12 adds a feature of Airdrop, which you can use to share passwords with close-by devices secret and encrypted.
Step 1: Open the Settings app on your iPhone and navigate to Passwords & Accounts.
Step 2: Tap on Websites & APP Passwords. Then authenticate with your password or Face ID.
Step 3: Select the account and password you need to share.
Step 4: Press on the password field, and click on the Airdrop option in the pop-up menu.
Step 5: Tap on the contact you want to share the password with.

Bottom Line
If you are the kind of person who is big on security and confidentiality of your data, you should know how to manage and choose your password safely. By doing that, you will be able to ensure that there will be no major breach of your data and files. Hopefully, this article will give you sufficient tips to achieve this in iOS 12 or iOS 13. What do you do to manage your login details on your iOS devices efficiently? Do let us know.