4 Ways to Delete Videos or Movies from iPhone/iPad in 2019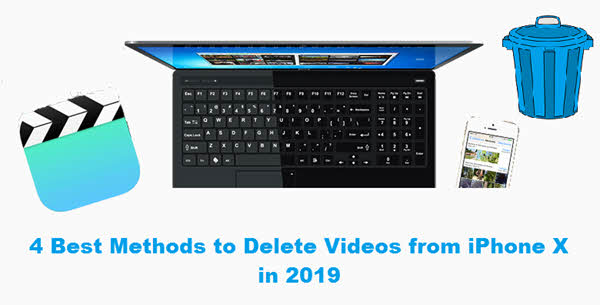 In modern times, iPhone is considered one of the best in capturing high-quality photos and recording crystal clear videos. These videos in Photos app or other video file like Movies, TV shows also eat a lot of space and there are those instances that you will need to free up space to make way for new contents. There are 4 approved ways about how to delete videos/movies from iPhone or iPad.
How to Deleted Videos in Camera Roll Using the Photos App
All of the videos you take with your iPhone will go to Camera Roll. You can easily access this by launching the Photos app where all your photos and videos are stored. We'll show you how it is done.
First of all, launch your Photos app on your iPhone/iPad. Go to Albums and you'll find Videos where your video files are stored.
Tap the Select button sitting at the top right corner on your screen. This action will enable you to pick the videos you want to get rid of.

After choosing those videos, tap the Trash icon at the lower pane.
A popup will appear confirming the action that you want to perform. Simply select Delete Videos and watch your iPhone removes those videos from Camera Roll.

How to Delete Videos/Movies from iPhone/iPad in Settings App
If you don't want to use the conventional way of deleting videos from your iPhone/iPad, there is an alternative. Instead of using the Photos app, you can do this process via the Settings app. Don't fret, we are here to guide you if you are not yet familiar with it.
Launch the Settings app on your iPhone X. Look for General and then proceed to Usage. After that, simply tap on Manage Storage. On this screen, you'll see storage space being taken up by some of your applications.

Just tap Videos or TV App and then the video section will demonstrate all the videos, movies, or TV shows. You can delete as many videos as you want from that list easily.
Once you have selected the videos that you wanted to delete, do the magic gesture and simply swipe from right to left.
After swiping, confirm the action by selecting Delete and you're all set.

How to Delete Your Videos/Movies/TV shows from iPhone/iPad in Video App
If you don't want to use the Camera Roll trick or shy away from the Settings procedure, you may also want to use another method. You can delete video files in your Videos app. Take note that this only works for videos stored in the Videos app. Let's take a look at the steps below.
Launch your Videos app and choose Movies/TV Shows category.
Look for the Edit button at the top right corner on your screen.
After you tap the Edit button, you will notice that there is a small X icon showing at the top left corner of your videos.

Tap the little X icon on that video you wish to delete and simply swipe from right to left.
Confirm the process by pressing Delete.

All of these steps are quite easy and you don't need to be professional to do it. However, the above steps will not permanently remove those deleted video files from your iPhone. This means all of the deleted files on your iPhone can be restored with the help of recovery software, which is an safety issue if privacy is your primary concern.
Bonus Tip: If you have deleted your videos by mistake, then you can use a great helper named Jihosoft iPhone Data Recovery. You can use it to get your loss data back as long as there is no new data coverage at that moment. As its name shows, in terms of data recovery, Jihosoft iPhone Data Recovery is versatile which specializes in recovering lost contacts, call logs, messages, photos, videos, voice memos, WhatsApp, Viber, notes, calendar, safari and more from iPhone/iPad/iPod Touch.
How to Delete Videos on iPhone/iPad Using iTunes
iTunes is always the ultimate and last option remained to do almost every task of iPhone. Just like you want to back up your data, you need to copy any files in your PC and much more things can be done easily with iTunes. iTunes uses your Apple ID for that purpose and we can also use iTunes to delete our videos. Just follow the below-mentioned steps carefully:
First of all, you need to launch the iTunes application on your PC.
After that, you need to connect your iPhone X/XS(MAX)/XR with your PC through the means of USB cable.
After your PC recognize the connected iPhone, you will see a list in the iTunes application on your PC.
You can open the folder named Movies and from there, you will be able to browse all the video contents available on your iPhone.
You can easily delete any of these videos you want by selecting through the use of the cursor.
This method is much easier and more compatible as compared to the first one but in this way you need to connect your iPhone with your PC. If you have a PC with you, then we recommend you to use this method. If you are a new user, then please remember to login into the iTunes application on your PC with your official Apple ID to browse all the contents after connecting it to your PC.
Conclusion:
In one word, there are indeed many ways to permanently delete videos from your iPhone or iPad and prevent them from being recovered so that no one can access them. You can use any of those methods we have listed above. Please let us know if you encounter any issue with these methods in the comments section below. We will try to resolve that issue for you as early as possible.