7 Ways to Make Group FaceTime Calls with Multiple People on iPhone/iPad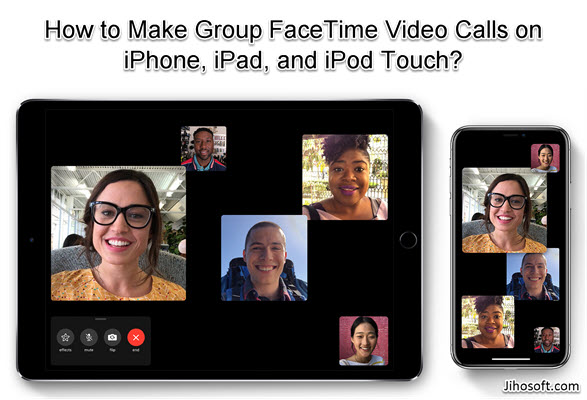 It is always enjoyable and exciting to participate in any group conversations through phone calls or text messages. After iOS 12.1.4 was released, now it becomes much more easier on iPhone, iPad to make Group FaceTime calls and chats with multiple people. Just imagine you can have as many as 32 people of the group to join the video call or text message at a time. Are you curious to know how it works? Well, we have 7 ways for you, so that next time when you are in a group chat or conference call, you can inspire other members to use FaceTime on your iPhone and have an excellent session.
Use the FaceTime App to Make a Video call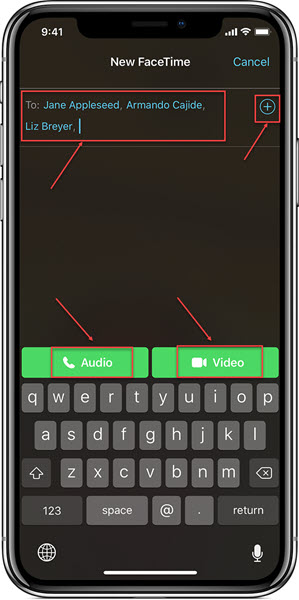 As already explained, the use of this application is only possible between members who are using iPhone or iPad. The Group FaceTime video call requires the iOS 12.1.4 operated on iPhone 6s or later, iPad Pro or later, iPad Air 2 or later, iPad Mini 4 or later, or iPod touch (7th generation). Have endless fun debating on various issues and chatting/talking on different subjects under the sky watching other friends live over the video. Next, you can refer to the following steps to start a Group FaceTime call on your iPhone:
It is apparent that first you need to launch the FaceTime app already installed on your iPhone. But for some reasons, maybe you need to download it from the App Store by yourself.
Click on the + sign on the top right corner of your iPhone screen. Enter the name or the number of the person you want to call or chat. You can add up to 32 contacts to have long-time conversations or an exciting session. Type other names to add more people to the list for a group call.
Now click the Video or Audio button on the screen to begin the call. A red X button at the bottom of your screen will appear which is for you to switch to regular calls. Now you are ready to have a long conversation with your friends or acquaintances using the FaceTime app.
Use the Messages App to Make a FaceTime Call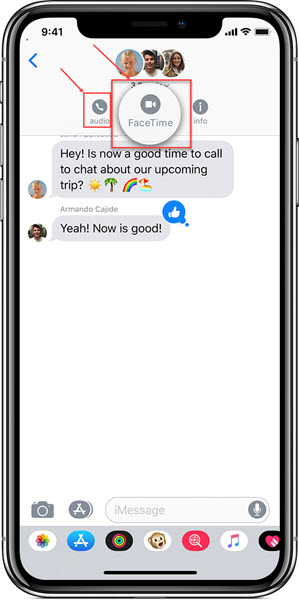 It is also very simple. One needs to launch the Messages app on his/her iPhone to start a FaceTime conversation according to his/her needs.
One can create a group or join an existing group. After that, one needs to click the FaceTime icon on the phone screen and then he/she can communicate with the group members.
One can shift from text messages to video or audio conversations and vice versa using the FaceTime application.
Join a Group FaceTime Video Call
When others invite you to join a Group FaceTime video call, you will receive a popup from your notification center. And there are two situations where you can join it: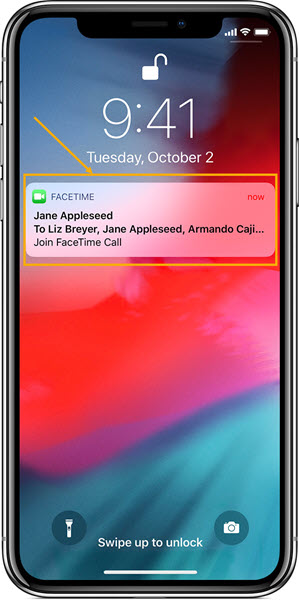 If others add you to a Group FaceTime call using FaceTime on iPhone, then just join FaceTime to tap the Video icon.
If it's in the case of the Messages app, you can directly click the Join icon from the group conversation in Messages. After that, you can chat with others.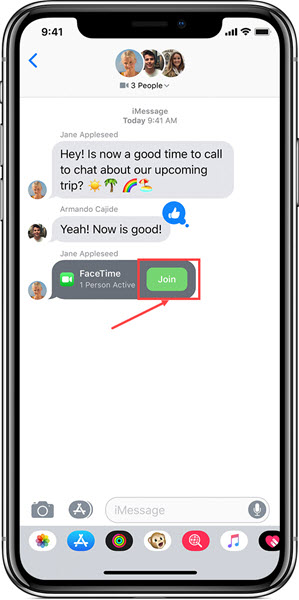 Add Someone Else to a Group FaceTime Call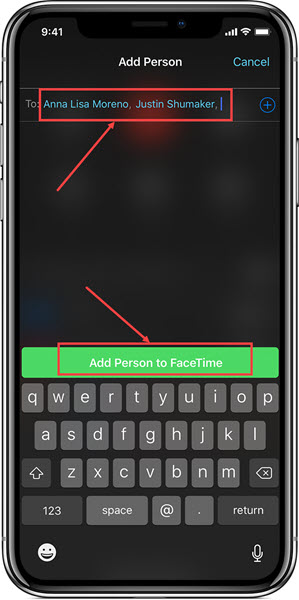 It is effortless to add any member to any FaceTime conversation. While you are already in an active session, tap the icon that has three dots on it, and then touch Add Person. Now select the person from your contact list whom you want to have in the conversation and add. A notification will be sent to the person to come in the FaceTime group and join the session.
Bonus Tip: If you accidentally delete your iPhone contacts or they are lost for some reasons, then you don't have to worry about it because you can use Jihosoft iPhone Data Recovery to get them recovered. In addition, it can also recover lost call logs, messages, photos, videos, voice memos, WhatsApp, Viber, notes, calendar, safari and more from iPhone/iPad/iPod Touch.
Focus on Someone in a Group FaceTime Call
If you want to focus on some persons while on the chat, you can see the tiled interface on the screen enabling you to know who the last speaker is and who is silent for a long time. The icons of the active members will be bigger while the inactive will be small. While on the Group FaceTime calls you can tap on the figure to focus on the particular person and encourage participating in the chat. Similarly, one can minimize the icon of the active member to turn inactive.
Apply Multiple Effects to Your Video Call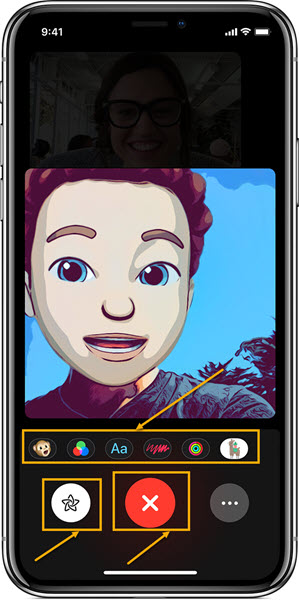 You can also apply multiple effects while on FaceTime calls, and it will make the conversation more lively and fun-filled.
Leave or End a Group FaceTime Call
If you want to leave or end your session, then you need to tap the big red icon with an X sign in the middle of the bottom of the screen, and immediately you will get disconnected from the chat.
Overview:
With an iPhone or iPad, it has become straightforward for you to make a Group FaceTime call on your iPhone with multiple people at a time provided you have the FaceTime calling app on your iOS devices. Just master those practical tips and use them with your friends or colleagues according to different needs.