7 Best Ad blocker for iPhone and iPad in 2020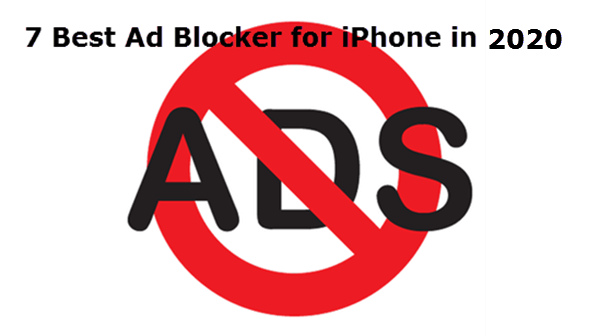 Each iPhone user must have experienced that when opening a new web page, there are always ongoing advertisements popping out. It is really annoying. If you cannot stand these endless ads, then using an ad blocker on your iPhone or ipad is a good idea. After Apple introducing the ad blocker feature since iOS 9, plenty of ad block apps have sprung up like mushrooms.
Maybe you cannot wait to download an ad block app from the App store. However, the App store is flooded with various ad blockers. It is hard to pick out a satisfied ad block app for your iOS device. This article has listed 10 best ad blocker for iPhone which are safe, clean and powerful.
Bonus Tips: If you delete or loose safari bookmarks on your iPhone accidentally, you can always use Jihosoft iPhone Data Recovery to get the safari bookmarks back.
Part 1: The Benefits of Ad Blocker
The advertisements are nothing but a simple way to generate revenue for the website owner and it is a ubiquitous feature of each website. So you can't remove those ads from a particular website. But an ad blocker will help you solve this problem.
Firstly, the ad blocker blocks any third-party ad scripts. Without ads, the web page will be cleaner and neater. And you will find the page loading times is faster than ever, which makes your browsing experience more enjoyable. Secondly, most of ads are composed of pictures and loading pictures consumes more traffic. With less ads appearing on the web page, the utilize efficiency of traffic will be improved. Thirdly, besides the ads, the malware and user-tracking tool also will be prevented, which ensures you can surf the web more privately.
Part 2: Best Ad Blocker for iPhone
1. Firefox Focus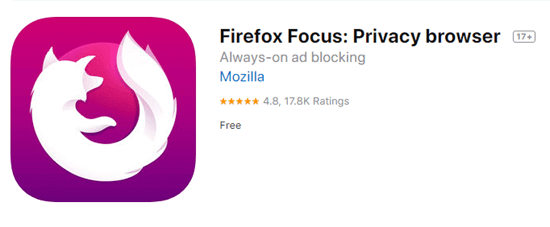 As one of the best ad blocker for iPhone, Firefox Focus has a rating of 4.8 from over 17.8 users. When you are visiting websites, it automatically wipes out your browsing history, passwords, cookies, and even tabs. And any tracker will be blocked from following you. If you don't want to be followed , Firefox Focus is a decent option. But it sometimes can bring some inconvenience as it has no option for saving bookmarks, history and tabs.
Download: Firefox Focus
2. OrNET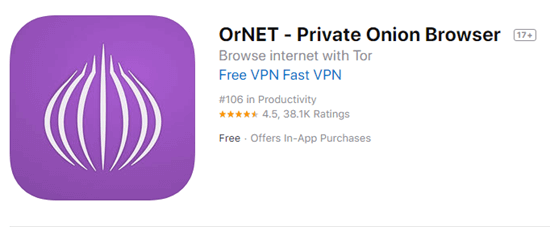 OrNET is high-performance Tor browser, which do well in blocking ads and other annoying content on iOS safari. The strongest trait of Tor is anonymity and it allows its users to surf the internet, chat and send instant message anonymously. Thus, OrNET is able to prevent others from tracking your browsing history and physical location. It also protects your privacy and real IP address from being detected. It is absolutely an ideal choice for using public Wi-Fi networks. OrNET has a rating of 4.5 on App store from nearly 38.1K users and it is free to download.
Download: OrNET
3. AdGuard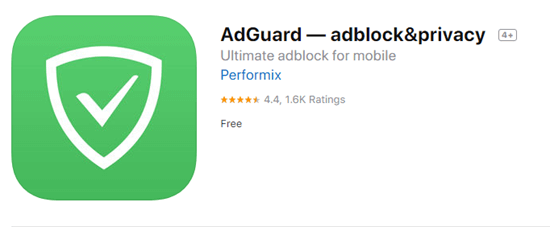 There is no doubt that AdGuard should have a place on this list for best iPhone ad blocker. It helps its users filter all kinds of banners, pop ups and video ads. And it ensures you won't be followed by any tracker and no targeting ads will come into your sight. It is customizable and you can easily choose what protection you would like with the straightforward UI. AdGuard blocks all things you don't want to see while allows you to see what you choose to accept.
Download: AdGuard
4. 1Blocker X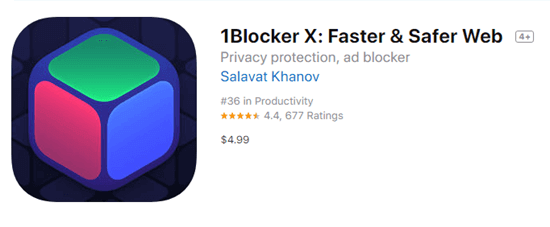 While many other ad blocker are being gradually weeded out, 1Blocker X keeps upgraded. It is redesigned based on the original 1Bloker Legacy. 1Blocker X keeps you away from the popups, cookies, consent dialogs and invasive newsletter sign up prompts. When you browse the web page, it also prevents the loading of something like "You will also like". This is especially effective in helping you focus the attention to what you are doing and not being distracted. Furthermore, 1Blocker X has emphasis on its users' privacy. You don't need to worry your browsing will be tracked or your personal information will be sold. If you don't mind the cost of $4.99, 1Blocker X is an ideal choice.
Download: 1Blocker X
5. Ad Block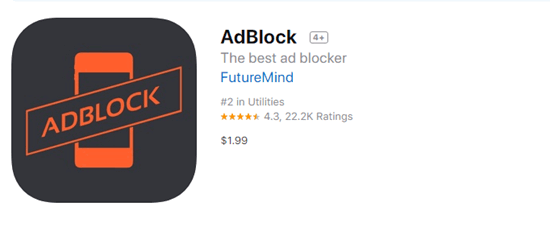 The name of this ad blocker depicts its function directly . Ad Block was first launched in 2012 and has gained lots of positive reviews from iPhone users. You just need to enable the Ad Blocking services in Ad Block and the rest of things will be done automatically. 99% of the popups, banners, video ads and trackers will be cleaned up and the network environment will be natty. This iPhone ad blocker is handy and free for you to use.
Download: Ad Block
6. Purify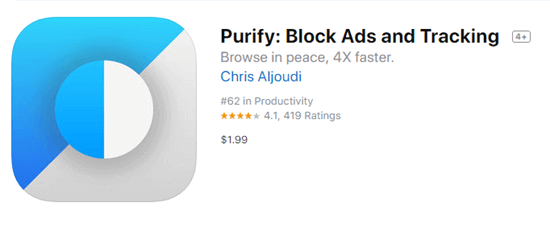 You will love browsing the web on iPhone with Purify as it makes your page loading lightning quick and cuts down the data consuming on your iPhone. Purify allows you to decide what content need to be blocked and what don't need. Delightfully simple and painless user interface make you more comfortable when surf on web with the Purify. You can download this ad blocker at price of $1.99.
Download: Purify
7. Brave Browser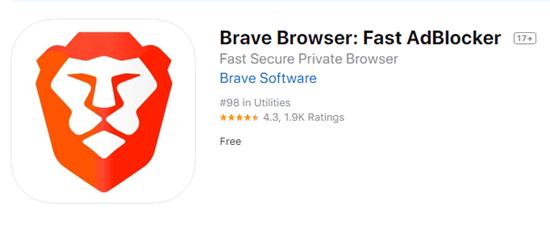 Brave Browser provides native privacy protection. It secure connections with HTTPS and automatically blocks any ad with built-in ad blocking feature. You don't need to worry your personal information will be collected and revealed as Brave Browser is a full-featured browser powered by Tor. But compared with other browser like Firefox and chrome, brave browser lacks extensions, add-ons and plug-ins. Anyway, it is a good choice to install this ad blocker on your iPhone or iPad, if you don't like messing with various extensions and settings.
Download: Brave Browser
Conclusion:
These are the 7 best ad blockers for iPhone and iPad which will definitely stop stuff you don't want like ads and malware, from loading or getting downloaded to your iPhone. Apart from offering a more private Internet browsing experience, they also save your data usage. If you have any question or want to share more useful ad blocker with others, please leave them in the comment sections.