10 Best Podcast Apps for iPhone/iPad in 2020
Over the last several years, podcasts have become one of the most welcomed forms of entertainment because of their accessibility and wide-range topics. You can listen to podcasts when you commute or use them as the background sound for work and study when stuck at home. To enjoy your favorite podcast on your iPhone or iPad, a good podcast player app is indispensable. However, with the wide array of podcasts apps to choose from the App Store, you may not know which one to choose. If so, you may wish to read this article which lists 10 best podcast apps for the iPhone and iPad.
1.Pocket Casts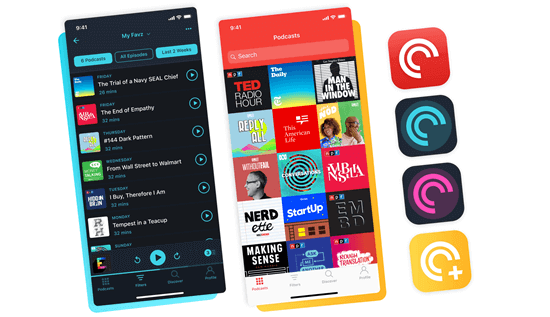 First up on our list is Pocket Casts. It's certainly one of the best podcast players for the iPhone. Pocket Casts is a completely free app on all iOS devices as well as Google play.
This application features with "trim silence" that cuts out long pauses and "volume boost" that enhances the volume of voices and reduces the background noise. Another great feature of the Pocket Casts is that it gives you recommendations. There are experts hand-picking podcasts for you to check out. If you're anything like me who are always looking for new content to enjoy, then this app is perfect for you.
As noted, the app is completely free which is a huge advantage in comparison to some of the other apps on this list. It allows people who are on a tighter budget to enjoy the podcasts they love. However, the features of the free version are limited. You need to upgrade it to the premium version if you want to access more features.
Download: Pocket Casts
2.Apple Podcasts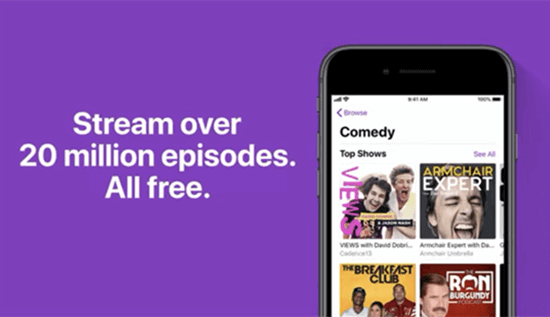 With needing a podcast app on an iPhone or iPad comes with the obvious notion to download Apple podcasts. Similar to Pocket Casts, podcasts on the iTunes store are completely free.
The Apple Podcasts is very convenient since it's a part of the Apple universe and will tie into all of your products very easily. It explores various audio stories and shows which you'll love. You can subscribe to a show freely so that you can get notified when new episodes are released. You are also allowed to download the episodes so that you can enjoy them when there is no Wi-Fi or cellular connection.
However, the Apple Podcasts doesn't offer recommendations or anything like that. And it's only available on iOS devices. So if you're looking for a podcast app both available on iOS and Android, then you'll have to look elsewhere.
Download: Apple Podcasts
3.Spotify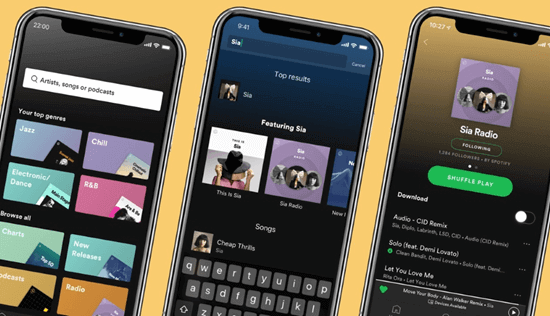 Another decent podcast player for iPhone is Spotify. Although not a specific podcast app and more dedicated to music, Spotify is a very solid app for the world of podcasting.
If you pay the monthly subscription base for Spotify, you'll not only get access to unlimited music but access to a giant library of podcasts. It will give you countless recommendations on the app once you start listening to the podcasts you enjoy, which is a great factor to have on a podcast app. A big plus-side is that Spotify is available on all devices and is extremely user-friendly, making it one of the most popular apps to download in general.
There is a free version of Spotify, but it runs ads and doesn't allow users to save podcasts offline.
Download: Spotify
4.Overcast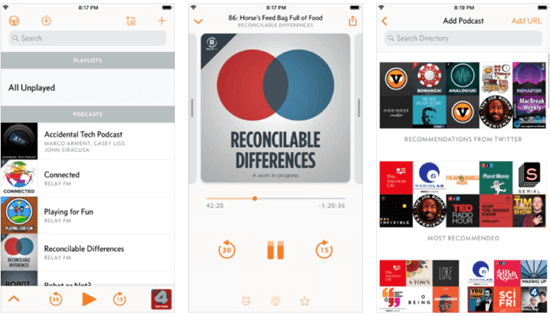 Overcast is a completely free app for the podcast on the App Store. After its release in 2014, Overcast has gained a large following over the years for being one of the best iOS podcast apps available.
Users have noted it for being simple, user-friendly, with a ton of options to choose from podcasting wise. A great aspect of Overcast is the ability to enhance the audio of each podcast, which means it can manipulate the audio so that it's better quality for people who are listening to the podcast at the same volume. This is very useful for people who need to have the highest possible quality for the podcast they're listening to.
Moreover, Overcast has the discovery feature that enables you to get recommendations of podcasts on all kinds of topics.
Download: Overcast
5.Castro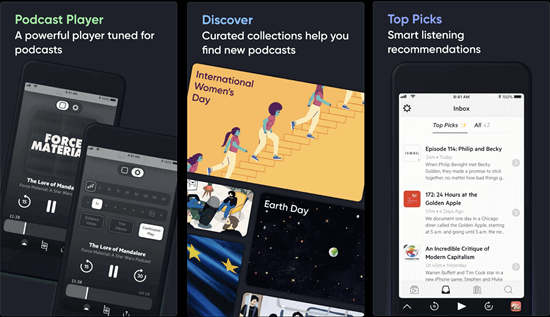 Castro is an outstanding podcast player on the iPhone and iPad dedicated to people who enjoy podcasts. It allows users to easily manage the variety of podcasts they listen to. If you have a ton of podcasts to listen to, then an app that specializes in this sort of thing is definitely a huge plus. Castro is also featured with "trim silence" to save listening time and "enhance voice" to make every show sound great. On top of that, you can schedule when you want to listen to your podcasts.
The app is completely free but does offer in-app purchase options such as the ability to skip ads and so on.
Download: Castro
6.Breaker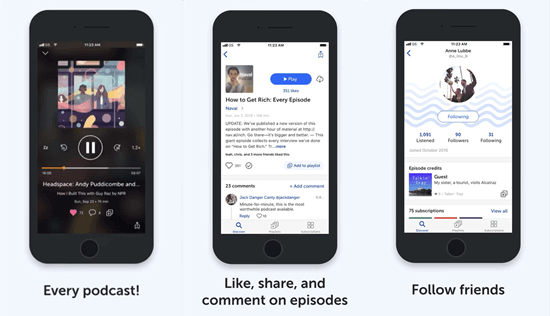 Breaker claims itself to be a social podcast app as opposed to a traditional podcast app.
It's essentially a social media platform dedicated to podcasting. You could connect with people and make friends while enjoying the world of podcasts. Something like this is great since it allows people to give each other recommendations, form communities around different podcasts, and chat about episodes.
The app is available on the App Store, as well as Google play. Similar to most apps on this list, Breaker is completely free.
Download: Breaker
7.Castbox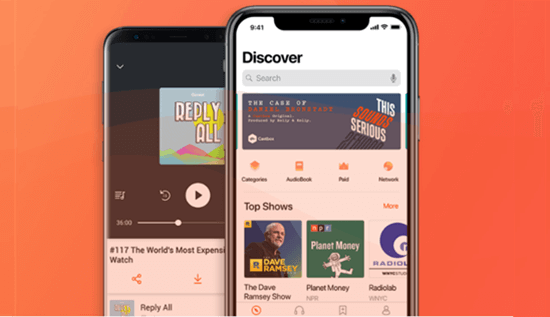 Castbox is one of the best all-in-one podcast apps for iOS and Android that has been around since 2016. The creators of the app pride themselves on having an endless amount of content on its platform. Users can stream over 95 million volumes of podcast content across all genres and listen to live cast. You can always find the podcasts that you love. Apart from the large audio library, Castbox has the same functions as other podcast players for iPhone, for example, volume boost, trim silence, powerful search, etc.
Download: Castbox
8.Procast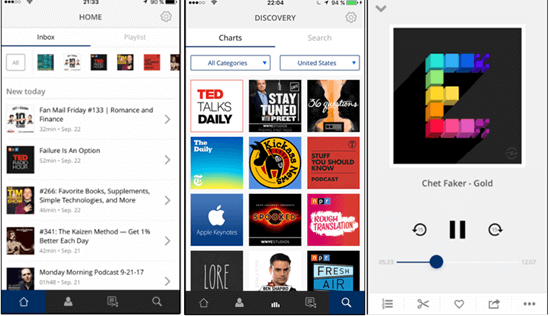 Procast claims to be a new generation of podcast apps, and it certainly seems to be. The app is available on the Apple store and offers a variety of fun functions that a lot of podcast apps don't have. A neat function of the app is that it will send all the newest episodes for users' subscribed podcasts to their inbox every single day. This way helps you keep track of the latest and current episodes of the podcasts you like. Those very private people would be pleased to use this podcast player as it won't collect any data or track what you are listening to. But it also means there will be no podcast recommended to you.
Download: Procast
9.Laughable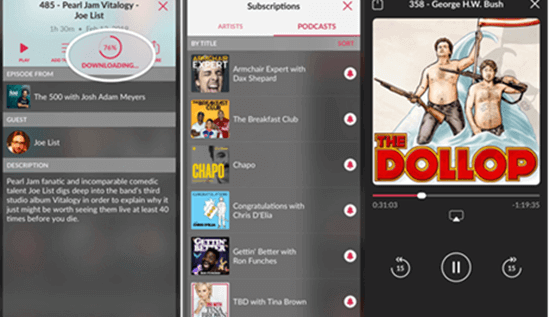 Laughable is a free podcast app dedicated to all things comedy. But that doesn't mean you can't find podcasts of other categories. This application not only lets you subscribe to diverse podcast series, but also lets you subscribe to personage from all walks of life like comedians, actors, musicians, writers, and more. Laughable has the basic features of a standard podcast app, such as adjustable playback speed, real-time alerts, sleep timer, downloadable episodes, and more.
All in all, Laughable is definitely worth checking out.
Download: Laughable
10.RadioPublic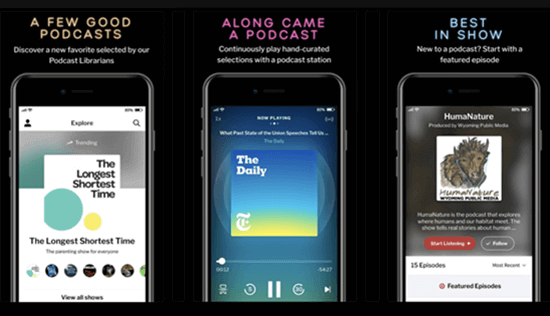 Last, but not least, RadioPublic is an excellent podcast player for iPhone that should be mentioned. It has a catalog of 500,000 podcasts including popular podcasts, podcast audio books, music podcasts, and podcasts from networks like CBC or from news publications like CNN. Considering you may be overwhelmed by so many podcasts, RadioPublic furnishes hand-curated shows and podcast stations that make browsing and listening easy. You can bookmark your favorite parts of an episode so that you can return to them whenever you like. And if you want to be a podcaster, you can find detailed guides in RadioPublic.
Download: RadioPublic
Sometimes you may want to transfer audio files like voice memos from iPhone to your computer, then you may wish to read our previous article – How to Recover and Transfer Voice Memos from iPhone to Computer.
Conclusion
We hope you enjoyed our article on the 10 best podcast apps for iPhone and iPad. All of these apps for podcasts on iPhone offer a bunch of different advantages from one another and they're all certainly worth checking out. Have you picked out the podcast player that suits you best? If you have any other podcast apps for iOS to recommend, please share them in the comment section below.