7 Best iOS Apps to Download Music on iPhone/iPad For Free
Our beloved iPhone and iPad are great music players with amazing hardware and software features that enhance the overall music listening experience. However, you can only play songs online and it is not an easy task to download music on iPhone for free, unlike its Android counterparts. Luckily, you can solve this problem by using some awesome iOS apps to download music on the iPhone or iPad. In this article, we list 7 best free music download apps for iPhone and iPad.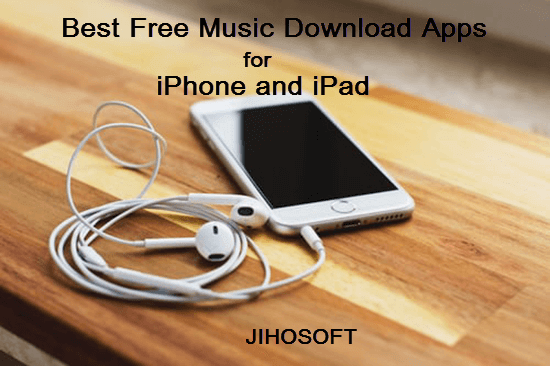 Part 1. 7 Best Free Apps to Download Music on iPhone and iPad
#1. Spotify
When it comes to best free music download apps for iPhone, Spotify must be mentioned. It allows you to feast millions of songs from all over the world for free and save songs offline. It also offers a mass of podcasts. With user-friendly interface, you can search for your favourite tracks, artist, or album and build a big music collection easily. To cater for your taste, this app offers personal recommendations and readymade playlists. If you want to enjoy more functions, go for a Premium subscription.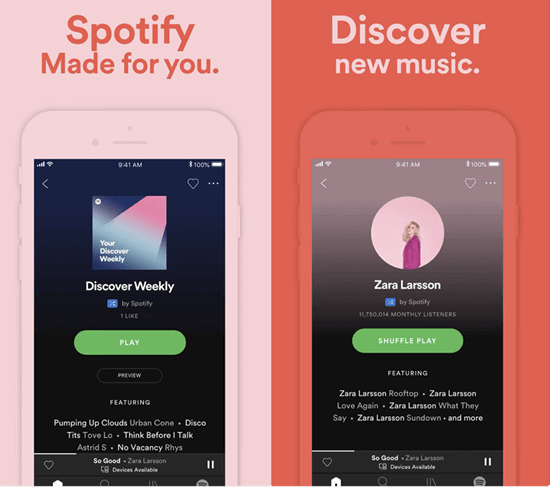 Download: Spotify
#2. Amazon Prime Music
If you are an Amazon prime subscriber, then you get free access to the Prime music service. It has a superb music download app which allows users to listen to any music they like on iPhone and iPad. Music can be accessed via artists, genres, playlists etc. Users also have the option to save the music offline when internet is not available.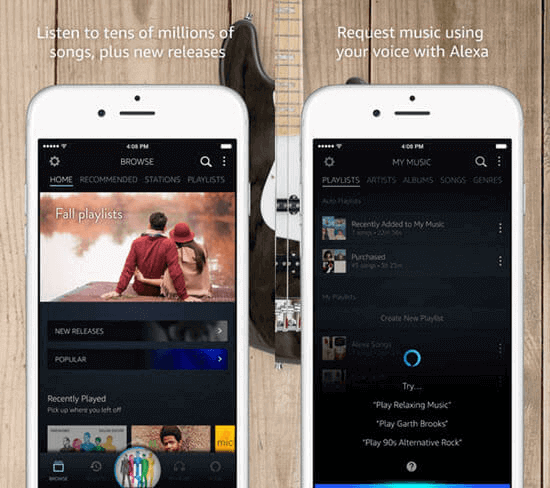 Download: Amazon Prime Music
#3. Google Play Music
The official Google music app is one of the best apps to use for listening to music, not just because of the great music it offers but also its awesome features. It offers users the ability to save up to 50,000 of their own songs online for free.
And these songs can be accessed via the iOS app. Users can either stream these songs or save them offline on iPhone or iPad.
With all these features available for free, the Google Play Music app is really one of the best apps for free music download on iPhone.
The plus point of this app is that it is the official app from Google, so you don't need have to worry about its security feature.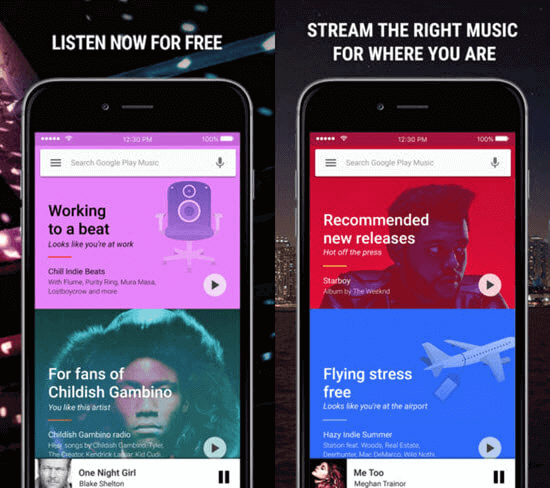 Download: Google Play Music
#4. Evermusic – Offline Music
Evermusic is one of the best apps to download music on iPhone and iPad. This iOS music player app offers great features for music playback and music organization. However, what sets this app apart from the rest is its integration with a number of cloud services like Google Drive, Dropbox, Box, OneDrive etc.
It allows users to store their music in the cloud, and it can either download them offline, or stream the songs from these cloud-based services. The app is free to download and use on iPhone and iPad.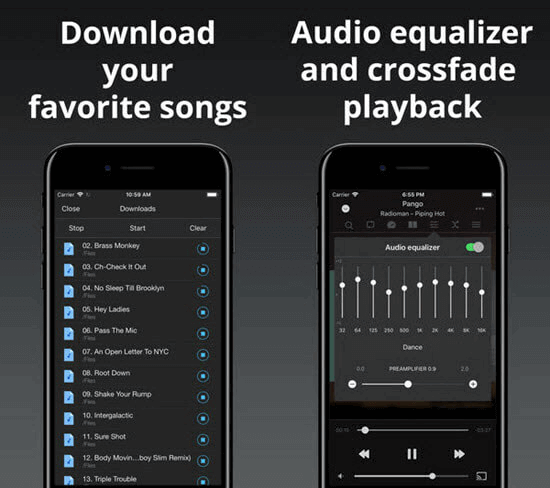 Download: Evermusic
#5. Mazika
Mazika is a great music app on iOS. It has an amazing selection of music and offers the users ability to browse through it via albums, artists or genres. One can also create one's own playlists. It also offers offline save mode for listening to music offline on iPhone. It is free to download and use.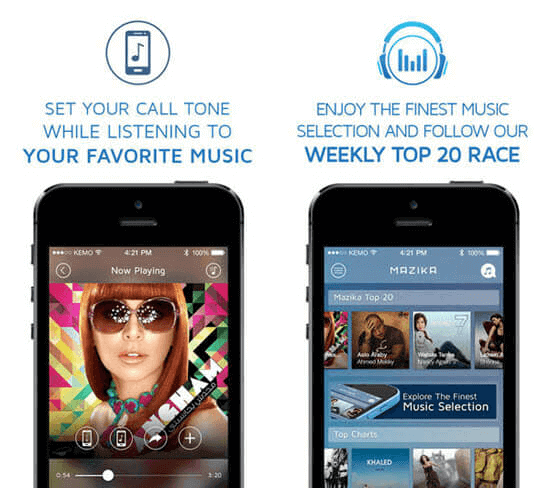 Download: Mazika
#6. Free iTunes Single of the Week
Apple offers free songs sometimes through its iTunes store. These songs are available as free download music for only a day. So if you want to cash in on such offers from Apple itself, just download an app called "FREE SONG NOTIFIER FOR ITUNES".
As soon as a song goes free on the iTunes store, as part of the free single of the week offer by apple, the app will notify you. And you can then go ahead and download that song and add it to your music library for lifetime. This app is available for all iPhone users and for free as well.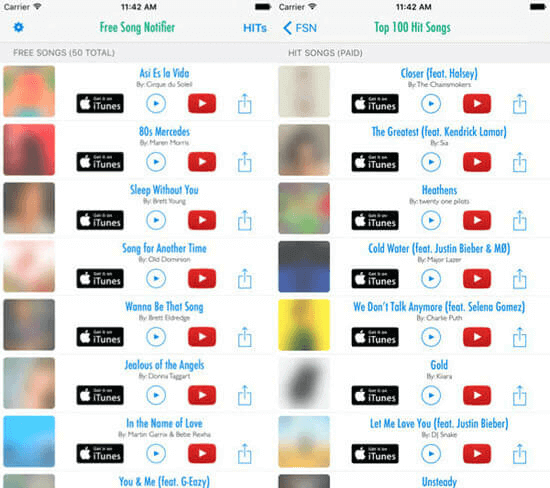 Download: Free Song Notifier for iTunes
#7. FMA
The Free Music Archive (FMA) may not be a well-known music download app. It is a repository which has a curated collection of free music available around the world. This collection of free music is completely legal, so you don't have to worry about it's functioning and all. With a very user-friendly interface, this iOS music app allows their users to access the music library according to their moods and needs, as well as download the songs on their iPhone or iPad.
It also has the option to browse the music collection based on genre.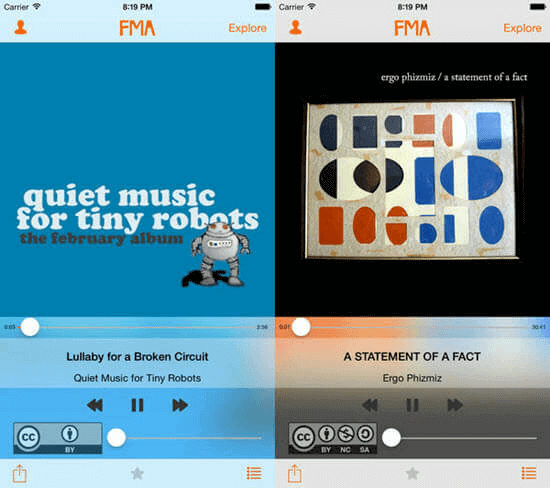 Download: FMA
Part 2. Other Ways to Download Free Songs on iPhone and iPad
If you have downloaded the MP3 songs on your PC, you can use any of the cloud storage services to store them and then download them to your iPhone using their dedicated apps. Beside these apps mentioned above, if you know of some sites that allow you to download free music, you can use Documents by Readdle to save songs on iOS devices.
It is a file manager for iOS with a browser built in which can downloads the mp3 files from music websites on iPhone. From there you can organize them and play each using the built in music player of the app. However be aware of the legality of the music you download from such sites if you plan to do more than listening to. Do not indulge in illegal activities.
Download Music from YouTube
YouTube is a large platform that provides a variety of videos including the music video. Music lovers can subscribe to its music video channels. But it is not possible for us to enjoy music by watching MV. In this case, you can choose to convert the downloaded music video to MP3 so that you can listen to loved songs anytime and anywhere.
Jihosoft 4K Video Downloader is a good choice for you. Don't judge the function of this software by its name. Jihosoft 4K Video Downloader helps you download videos from YouTube, Facebook, Twitter or other websites. It also helps convert videos to MP3 format and keeps the audio of fine quality.
Final Thoughts
All these best music apps we listed you can try to download free music on your iPhone/iPad. They all are very easy to use. The regular updates will fix all the bugs. If you have any other suggestion on the music app which can be used in iPhone, then please let us know in the comments section. We're glad to hear from you.