5 Best Free iOS Screen Recording Apps for iPhone and iPad
After the release of iOS 11, the iPhone, iPad, and iPod have all been configured with a native screen recording feature. It has never been easier to record your iPhone screen. Nevertheless, this built-in iOS screen recorder has limited video settings and editing options for users. You can export your recordings to the computer or other apps for editing, but it can be a bit tedious. If you want to enjoy more features, it is an excellent choice to install a third-party screen recorder app. If you have no idea which app is better to use, then you've come to the right place. In this post, we list 5 best screen recording apps for the iPhone and iPad. These apps are free to download and install.
How to Record iPhone Screen with Built-in Screen Recorder
You can record the screen on your iPhone without any third-party iOS screen recorder. Here are the detailed steps.
Go to Settings > Control Center > Customize Controls on your device.
Click the plus icon near Screen Recording to activate this feature.
Swipe up from the bottom of the screen to open the Control Center. If on the iPhone X or later, swipe down from the top-right edge.
Tap on the Screen Record icon in the Control Center; then it will count down to start recording.
You can press hard the Screen Record icon for more options like turning on the Microphone.
You will see a red bar at the top of your iPhone screen, which indicates the screen recording is ongoing. You can tap it to stop the recording quickly.

Best Screen Recorders for iOS
1. Screen Recorder +
Screen Recorder + is an all-in-one iOS screen recording app you should never miss. This application has gained millions of users, due to the advanced features, since it was released. It provides the users with choices of recording settings, including resolution, bit rate, and frame rate, for capturing HD videos. You are allowed to add Face Cam reactions and set the position of your reaction when making YouTube videos. Moreover, you can use your microphone to add the audio commentary.
A qualified screen recorder cannot do without powerful editing capabilities. That's exactly what the Screen Recorder + has. You can lop, trim, and rotate your videos with the video editor easily. This screen recorder app lets you apply gestures, stickers, text, and filters to the video. You can also select from over 100 innate background music or import the music from iTunes to enliven your video. Once you have output videos of high quality, you can publish them to YouTube, Facebook, and many other social apps.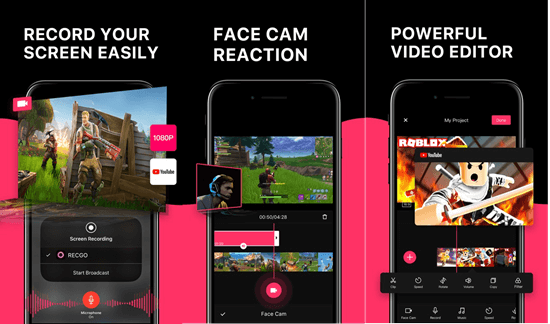 Download: Screen Recorder +
2. Record it!
Being one of the best screen recorders for iOS, Record it! offers an intuitive user interface. The iOS 12 or later users can start recording games, apps, video tutorials, etc. with one click. In case you are using iOS, don't fret, there is a tutorial video for users like you.
When you have the recording ready, you can add FaceCam reactions of different shapes, sizes, and positions to rich your recording. This screen recording app supports to record audio commentary only for your videos. Moreover, it furnishes various video editing options like clipping or rotating videos, applying filters, adjusting playback speed, changing canvas and background color, etc. The videos you've captured via this application can be directly saved to the Camera Roll on your iPhone or iPad. You can also share and export your videos to YouTube, computer, or any other app.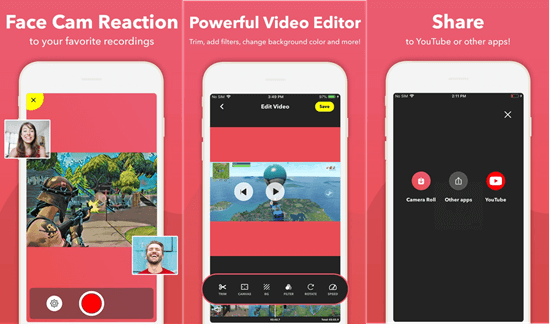 Download: Record it!
3. DU Recorder
"A reliable and easy-to-use stream creator and screen recorder." This is how DU Recorder describes itself. And that's the truth. High-quality live streaming is a characteristic feature that makes DU Recorder stand out from a mass of screen recording apps. With this iOS screen recorder, you can record the screen of games, apps, video calls, live shows, etc. or live stream the screen to social apps including Facebook, Twitch, and YouTube.
On top of that, its video editing functions are no less than other apps. You are allowed to trim the video, edit its length, crop the video to any ratio, or merge several videos as your wishes. You can facilitate your recordings by adding music, stickers, and text. Furthermore, this application is also a tool for converting video to GIF. More features like watermark removal need some of your bucks.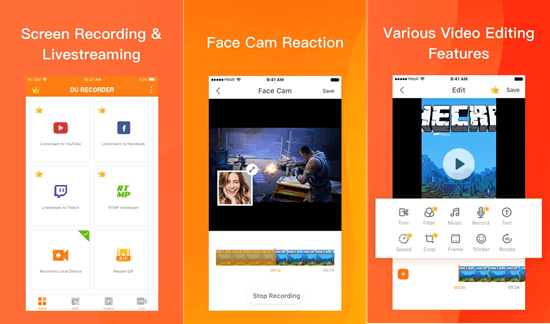 Download: DU Recorder
4. TechSmith Capture
TechSmith Capture is undoubtedly one of the best iOS screen recorder tools for the iPhone, iPad, and iPod touch running iOS 12.1 or later. This app is rather easy to use, and it provides the instructional video to novice users. Simply tap the red record button, then this app will start recording your training and app demo videos on your device. It also enables you to record one or more full-screen video clips with the help of global recording APIs.
All the videos you create will be well organized in the library it offers. And this screen capture app allows you to import the screencasts recorded by other iOS screen recording apps. In case you need to edit and facilitate your recordings, you can share them to Camtasia or Snagit directly from your device.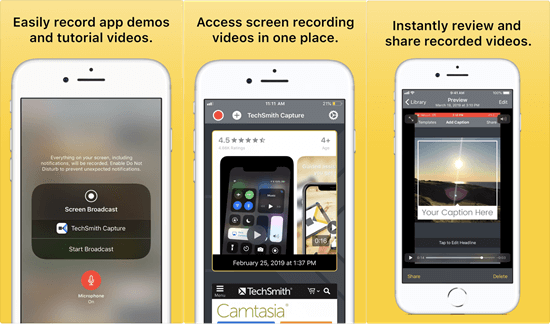 Download: TechSmith Capture
5. Go Record
Are you looking for a decent and commendable screen recording app for your iPhone and iPad? Go Record is the unmissable one for you. You can use this application to capture the screen in your app and game handily. Like most other screen recorders, Go Record capacitates its users to add FaceCam reactions and the audio commentary to recordings. Coming with a premium video editor, you can easily output satisfactory screen recordings and save or share them to other apps.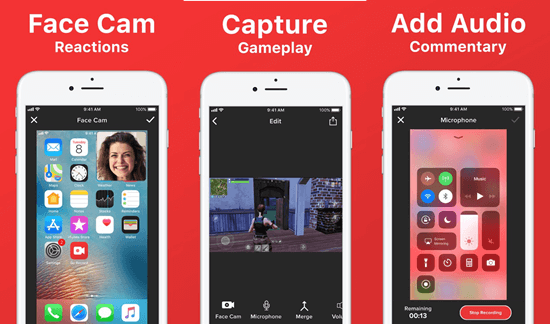 Download: Go Record
Extra Tip: How to Recover Deleted Videos You Record
What if you have permanently deleted the videos you've recorded or the videos disappear somehow? What's worse, you may have no backup. Don't fret. In this case, you can resort to the iPhone Data Recovery tool. Let's see how to recover deleted/lost videos from iPhone directly.
Step 1: Launch this program and connect your iPhone to the computer via a USB cable.
Step 2: Once your device has been detected, click the Start Scan button to start scanning.
Step 3: When the scan ends, click the Camera Roll to find and preview your lost videos. Then select the Recover button to save them onto your computer.