6 Ways to Fix Your iPhone Keeps Saying No SIM or Invalid SIM
You pick up the iPhone habitually, open it, and plan to call someone. Suddenly you see "No SIM" or "Invalid SIM" on your iPhone screen. It is really nerve-wracking to get this error. What happened? How can this error be removed? If you are with these two questions, then this article comes in handy for you. Here we will show you why the iPhone says "No SIM" or "Invalid SIM" and ways to fix this issue.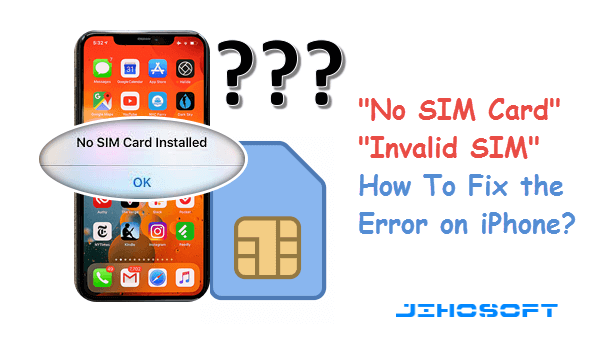 Part 1. Common Causes of iPhone Keeps Saying No SIM Card
When you have such a problem, there are mainly three causes you should consider. Let's see the specific reasons behind the alert that says Invalid SIM or No SIM Card installed on iPhone.
SIM Card Issue: If the SIM card is out of position, blotted, or frayed, then your iPhone cannot recognize it.
Software Bugs: Some unknown bugs or glitches can inflict several forms of iPhone malfunctions. SIM failure is one of them.
Hardware Issue: Defective component is a trigger that should not be overlooked for iPhone keeps saying No SIM Card.
Part 2. Ways to Fix iPhone Says No SIM Card Issue
Now you've got a general idea of the common causes of this problem. No matter what the reason is, you will find appropriate solutions to solve the iPhone "No SIM" error.
1. Remove SIM Card and Reinsert it.
The iPhone cannot recognize a dislocated SIM Card. So you can remove your SIM card from the tray with a paper clip or a SIM-eject tool. Take a look at the card, tray, and slot to ensure they are not stained with any dirt and particles. If they are, clean them. Then place the SIM card into the tray and insert the tray into your device completely.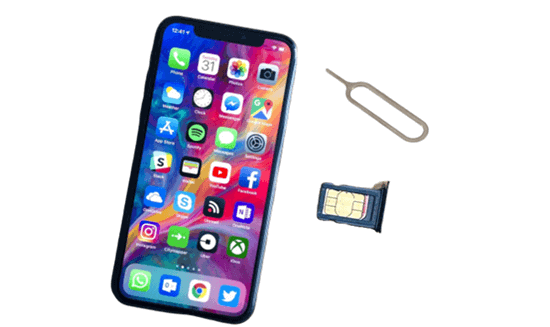 2. Check if SIM Card is Valid
The odds are that restarting doesn't get this issue solved; then, you should spend some time checking if the SIM card works normally. The simplest way is to insert another SIM card to your iPhone. If your device can use cellular data normally with another SIM, then there may be something wrong with your SIM card. You can contact your carrier provider to verify your phone company account is valid and active. If it is, you may have to get a new SIM card.
There is a possibility that your iPhone still says it has no SIM card when you use another SIM card. In this case, you need to check your device.
3. Restart Your iPhone
Restarting the iPhone is always a foolproof but effective way to revise most small software bugs and glitches. So you might as well reboot the device when your iPhone says No SIM or Invalid SIM Card.
Trigger the power off slider on your iPhone screen. For iPhone 11 or iPhone X, keep pressing either volume button and the side button. For iPhone 8, 7, or 6, keep pressing the side button. For iPhone SE, 5, or earlier, press and hold the top button.
Release the button, then drag the slider to turn off your device.
Press and hold the side/top button again until the Apple logo appears. Wait for the iPhone to restart.
4. Check for A Carrier Settings Updates
This method is not very common, but you can have a try. Carrier settings updates will improve the cellular network connectivity and performance of your iPhone. You can check for and install a carrier settings update as follows.
Connect your iPhone to a stable Wi-Fi network.
Head over to Settings > General > About. If a carrier settings update is available, you'll be prompted to update your carrier settings.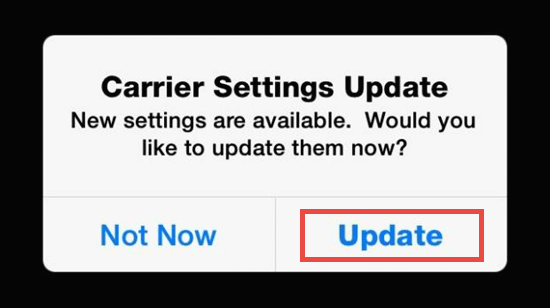 If the carrier settings update is not available, read on the solutions below.
5. Update iOS Version on iPhone
Updating to the latest iOS version provides the latest features, security updates, and bug fixes. So when the iPhone "Invalid SIM" or "No SIM" error cannot be removed by restarting the device, it is a decent alternative to update the iOS version. Before we proceed, you are recommended to back up your iPhone to iCloud or computer in case any data loss happens.
Make sure your iPhone is plugged into power and connected to a stable Wi-Fi.
Navigate to Settings > General > Software Update on the iPhone.
Tap on Download and Install. If it asks for your device passcode, do it.
When it finishes downloading, tap Install. Or you can choose to install it tonight.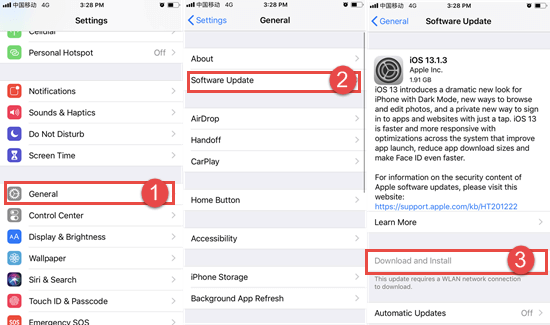 Software update requires enough space on your iPhone. If your iPhone storage is full, see our post on how to free up space on iPhone. Sometimes you may encounter data loss after upgrading the iOS version. Don't fret. You can recover the lost data from the backup. If you have no backup available, you can use some third-party iPhone data recovery tool like Jihosoft iPhone Data Recovery to get back the data.
6. Contacts Apple Support
If you fail to eliminate the iPhone Invalid SIM error after trying all the ways above, you have a problem that you can't fix by yourself. Generally, it is inflicted by faulty hardware. As most of us are average users, it is better to contact Apple Support for tech service or send your iPhone to your local Apple Store or Genius Bar for repair. Please note that Apple's hardware warranty doesn't cover the damage to the SIM tray or device inflicted by a modified SIM card. So don't cut or modify your SIM card discretionarily.
Final Words
You have read about the six ways we summarized to fix iPhone says "No SIM" or "Invalid SIM". They work for most iPhone users trapped upon this issue. Special reminder, don't try to cut or modify your SIM card by yourself. If you have any suggestions or queries for our article, please leave them in the comment section below.