How to Find Your Lost AirPods or AirPod Case Easily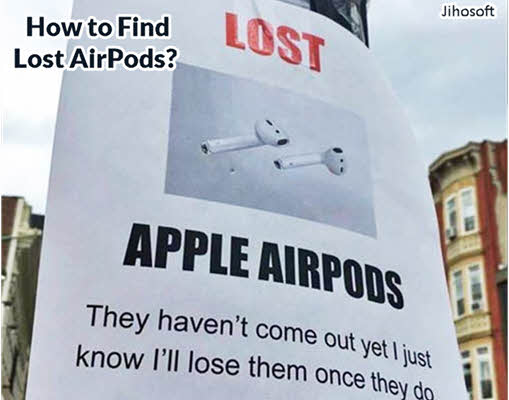 Having a cordless device is really a blessing, but on the other hand, it's the biggest reason to lose it. The best thing about AirPods is that they don't have a cord, which ultimately transforms the listening experience into a new whole thing, but if we look from the other side, we might see this feature as a huge negative effect on your pocket. Before the release of the first wireless headphone, they were always attached to our phones, which were usually in our pockets or hands. But now, with cordless earphones being popular, you can easily lose them. In this article, we will mainly tell you how to find lost AirPods with different ways in different situations even the worst ones.
Is It Possible to Locate Your Lost AirPods or AirPod Case?
Certainly the answer is "Yes", but that depends on which version of iOS your iPhone is running. If it's iOS 10.3 or above, you will have an option called Find My iPhone with which you can enable the Find My AirPods inbuilt feature. If you have enabled this option, your iDevice can automatically locate your AirPods if they are in the range of the device they are connected with. Also, in case they are out of charge, out of your device's range or lost away from you, it can also locate the latest location they were used or connected.
How to Find Your Lost AirPods or Its Case on Map
Using the Find My iPhone app: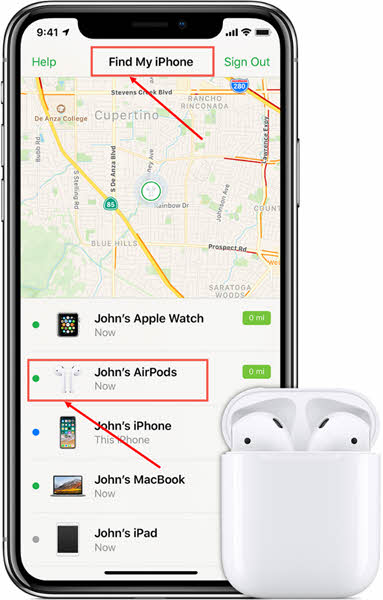 You can directly use the Find My iPhone app on your device. You should note this app shows the location of your iPhone as well as all your devices connected to it and your iCloud account.
After you open the app, you will see a list showing all your iDevices. Just click on your AirPods to start to locate it and then the distance between you and your AirPods or the latest place it was connected will show up.
Logging in to the iCloud Website: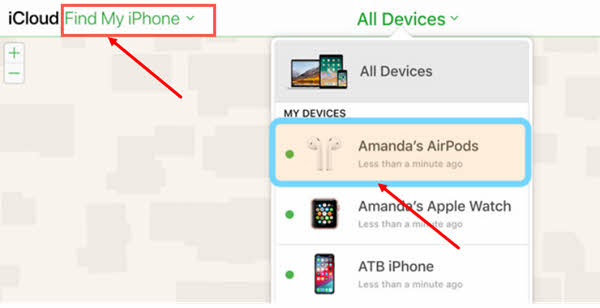 If you don't have access to the app, you can alternatively go to the iCloud website and sign in with your Apple ID using your PC's browser to find your lost AirPods.
After that, head to Find My iPhone, tap All Devices, and you will find a list of all your devices sharing the same Apple ID.
Tap on your AirPods and you will find a small dot next to it. There are in total three colors for this dot including blue, green, and gray.
The blue one shows the device you are using to find your lost AirPods; the green one indicates the AirPods are online so that you can locate it's place by using the Play Sound option; the gray one stands for the offline status of your AirPods so that you can use the latest known location method.
Note: If you have lost only one AirPod and the other is with you, don't wear it when you use this method as they will play a truly loud sound that might harm your ear.

If your AirPods are online and near to you device, you can go to Actions, tap Play Sound. If you lost one of them, you can choose to mute the left or the right AirPod to hear it clearly.
When you find your lost AirPod, click on Stop Playing to stop the loud sound.

What If Your AirPods Are Offline?
Usually, if your AirPod case is left somewhere for a long time, it will run out of battery, causing your AirPods to be offline. So, in this situation, you can only find your AirPod case by identifying or locating the latest known location you have used it and then go there to look for it manually.
Also, if your AirPods come back online, you will get a notification on your iPhone telling you they are online again so that you can find them by locating their latest place if they are not in the range, or by playing a loud sound if they are in the range.
What If You Can't Find Your Lost AirPods at All?
This might be the true worst case in which you have tried all the above methods and still couldn't find lost AirPods. Then you will have to get back to Apple customer services where you can request another pair of AirPods for $69 each or even the charge case if your lost AirPods are still under warranty.

Advices:
Also, you might ask what if they were stolen or lost and someone found them? Can he use them? Unfortunately, the answer is yes, and if he is someone who knows how to use AirPods, he can easily reset your lost AirPods and connect them to his own device, which will prevent you from locating them again. Sincerely, we hope Apple will add a lock mode to AirPods so we won't burn from inside when we think of someone else using them instead of ourselves.
For your own good, you should try getting some accessories that help you keep your AirPods safe like attaching them to your key chain or your pants, and always check them out before leaving anyplace you have been to. Also, note that your AirPods have only five-hour battery life, meaning you need to realize you have lost them as soon as possible, and start trying to find them. The last thing I advise you is to check for the LOST Purchase Protection that Apple offers when you buy your AirPods which gives you 90 to 120 days protection from losing your AirPods. You can get it if you buy them with your credit card especially if it has AMEX, Master Card or Visa signature.
Conclusion
These methods stated above are all we sorted out from the Internet for you to find your lost AirPods, which means there is no other alternative solution you can use. By reaching this line, you now have the full knowledge of how to find lost AirPods or AirPods case with all possible ways whether they are online or offline, in or out of your range. Don't hesitate to leave your comments below to let us know if any of these ways have worked for you, and share this article if you find it useful with your friends and family to save them from spending money on getting new AirPods. If you find data loss when using iCloud in the above methods, you can use Jihosoft iPhone Data Recovery to help you recover your data.