How to Convert MP3 to M4R iPhone Ringtone in 2019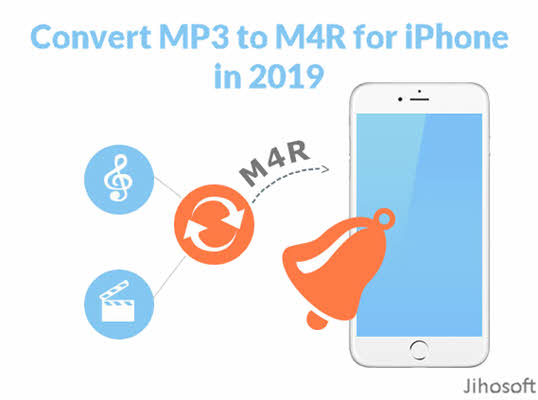 The iPhone doesn't really let us convert a song into a ringtone immediately. So, in order to set your favorite song as a ringtone on your iPhone, you must convert the file from an mp3 format to m4r. An m4r file is a file used in iPhone for setting up your favorite song as your iPhone's ringtone because you just can't set any music file as your ringtone. We need a special type of software to convert music file from an mp3 format to m4r. We will make a guide on how to convert mp3 to m4r as iPhone ringtone.
3 Tools to Convert MP3 File to Ringtone for iPhone in 2019
There are many tools to convert mp3 to m4r other than iTunes. These tools are open source, which simply means they are available for all iPhone users for free. Unfortunately, there are pros and cons of these tools as well. That is, you can directly use these conversion tools online but you are required to have access to the internet connection. Next, we will provide you with a list of the 3 best tools in 2019 with their respective operational steps accordingly to convert mp3 to iPhone ringtone.
1. Zamzar – Convert MP3 to iPhone Ringtone Online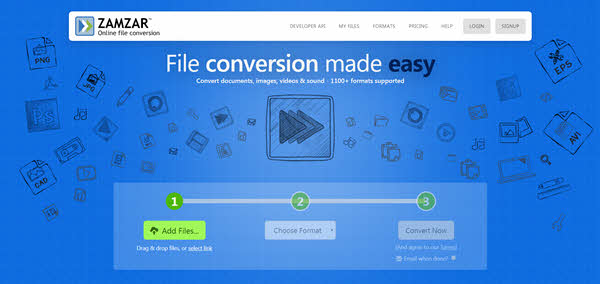 Step 1: Click the leftmost Add Files button and add the file you want to convert from the popup.
Step 2: It sets the m4r format as default. There is a drop-down arrow inside the Choose Format button so that you can choose the format you need to convert to.
Step 3: After you finish the first two steps, just click Convert Now. Wait until the process is done and then you can click the Download button to download it to your local storage. Alternatively, you can check the Email when done option and type your email address to receive the relevant download link.
This conversion tool enables you to convert mp3 file to iPhone ringtone online without having to download it. But what you should notice is that every person is limited to convert two files per day. So, if you want to convert more music files, you can choose to upgrade this online tool.
2. iTunes – Convert MP3 to iPhone Ringtone for Free
Step 1: Start up your iTunes to drag and drop the music file onto the interface of iTunes. Then right-click the file and scroll down until you see Get Info.

Step 2: Click Get Info to access the Options button. Under Options, set up the start and stop time of the ringtone. You should know its time limit is 30 seconds. When you finish, click OK.

Step 3: Click the File menu in the top left corner of the screen, and select the Convert option and then click Create AAC Version.

Step 4: After the new file is created, right-click it and tap on Show in Windows Explorer.
Step 5: Change the file extension from .m4a to .m4r which is the required file format for iPhone ringtones.
Step 6: Open iTunes again and delete the original input files. Then connect your iPhone with your computer using iTunes.
Step 7: Click on the Tones button and drag and drop the converted m4r file into iTunes. It will be automatically synced to your iPhone.

3. Convert Files – Convert MP3 to M4R Online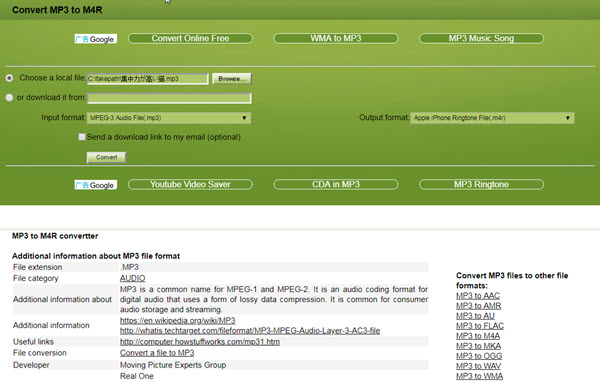 Step 1: In the green part of the web page, there are two options for you to choose a local file or paste a download link here. We take the option Choose a local file as an example.
Step 2: Click the Browse option which is located on the right side of Choose a local file, and then select the music file you want to convert.
Step 3: After that, the Input format option will be automatically filled with the corresponding file format.
Step 4: Move to the right side and you can see Output format. Just choose the format you want to convert the file to from the drop-down menu.
Step 5: Finally, click the Convert option and then you can convert the mp3 file to iPhone ringtone. Besides, like Zamzar, you can also type your email address to receive a download link to get the new file downloaded.
How to Download Your Purchased Ringtones on iPhone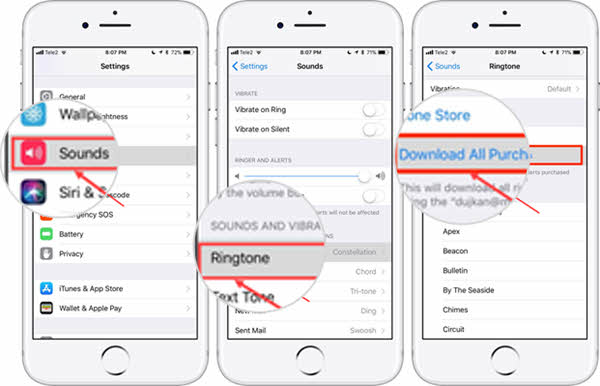 For the fact that most free conversion tools have restrictions on the number of files. So, if you are a person who has a great demand for file conversion, then you can directly purchase ringtones on the iPhone, which will be more convenient for you. By the way, you can refer to some popular iPhone ringtone remix songs in 2019. You can download your purchased ringtones directly by using your iPhone's Settings.
Step 1: Launch the Settings app of your iPhone.
Step 2: Scroll down cursor until you find the Sounds icon. After you find the icon, tap on it.
Step 3: Select the Ringtone option.
Step 4: Click on Download All Purchased Ringtones so as to add ringtones that you have previously purchased using your Apple ID.
Conclusion
These different methods stated above are about how to convert mp3 music file to m4r iPhone ringtone. The process is very tedious, but it is up to personal preferences. People not having internet access would prefer to use iTunes as it is offline. Similarly, you can also use the offline tool called Jihosoft Video Converter to convert your favorite video to audio if you have no access to the internet. People preferring not to download the software should pick the remaining two online tools. If you have more choices, then just share them with other people via the comments section.