7 Ways to Fix Yahoo Mail Not Working on iPhone (iOS 11/12) in 2019
Problems in iPhone Mail are not a new issue. We just wrote about 5 ways to fix the Mail App disappeared from iPhone/iPad. Some of our readers also reported to us Yahoo mail is not working or loading in iPhone Mail App. So we write this post trying to help them fix the problem. We have picked 7 ways and tested all these methods that may be working. We know the value of your time, so our experts had prepared this list after a thorough analysis. Let's get started with the fixes.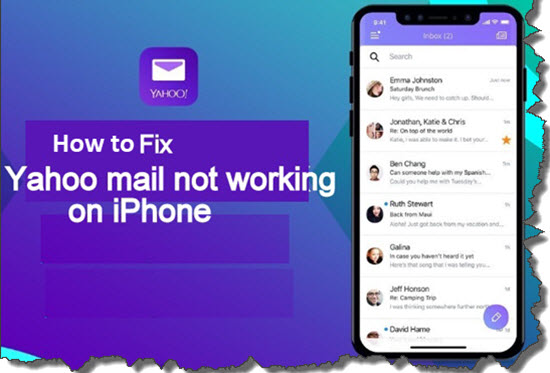 Fix 1: Sign in then sign out of account on iPhone
Error or issue in Yahoo is generally due to the privacy concerns. In simple words, if you haven't logged out from your ID, Yahoo will automatically log out from your ID without informing you, and then create the troubles in mailing functionality. Therefore it is impossible to receive or send emails from Yahoo mail without logging in.
On your iPhone, go to Yahoo mail > sign out of the account. Then open Yahoo mail, sign in with your mail ID and password to see if this fix the issue.
Fix 2: Add your Yahoo Mail account again on your iPhone:
If Fix1 doesn't help, which means there is a severe issue with your account that needs to resolve. Resolving inside errors are pretty much annoying, that's why we recommend you to remove your Yahoo account from your iPhone and then re-adding it again. To remove your account from your iPhone, you need to follow some instructions provided below:
Open the settings application on your iPhone.
Navigate to the "Accounts and Password" section to get your Yahoo account details.
Go to "Accounts and Passwords" again before deleting your Yahoo account.
Press the "add account" account followed by pressing on the "Yahoo" account to add your Yahoo account back again on your iPhone.
After you restore your Yahoo account in your iPhone, reboot your device and see if this fix worked or not.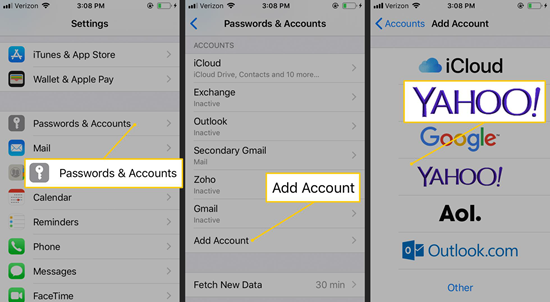 Fix 3: Enable the Cellular data option in Mail App
Sometimes, users connect their iPhone to the Wi-Fi network all the time in their home as well as in their workplace, and they may forget to switch on their Cellular data. While your iPhone is not connected to any Wi-Fi network, you need to enable the Cellular data of your iPhone to start the mailing service. We all know that without internet data, users can't use any mail service. So, enable the Cellular data of your iPhone and see if this issue is fixed or not.
To enable the Cellular data, you need to open the Settings app to enable the toggle of "Cellular Data", and then toggle the Mail app.
Fix 4: Update your iOS system to the latest version
If you haven't updated your iPhone to the latest iOS firmware version, then proceed with the update process because Yahoo may be not working with the outdated iOS version present in your iPhone. Sometimes, users update the Yahoo app from the App store but forget to update the iOS version. You can't match the Yahoo and an outdated iOS version. That's why Yahoo becomes unable to operate with the outdated iOS version.
Just open the settings of your iPhone, followed by clicking on the general icon to check for the latest software updates. If there are some updates available for download, then download them immediately. Make sure that you have a stable Wi-Fi connection in your iPhone while updating IOS firmware.
Fix 5: Restart your iPhone to fix this issue
You can also try to fix this issue by rebooting your iPhone. Sometimes, when you don't restart your iPhone for a few weeks, it might create real troubles in the working of different applications, especially which are having privacy concerns. Just reboot your iPhone to see if this issue has been resolved or not. From our point of view, this method will work because the majority of the users told us that they had fixed this issue in this way. To reboot your iPhone, press and hold the power key button for a few seconds and click on the "Restart" icon to get finished.
Fix 6: Set up SMTP Server
To get rid of this issue, iPhone users can try to set the SMTP server. It is the responsibility of the SMTP server to send a mail to the receiver's server. To set the SMTP server, please follow these simple instructions:
Open "settings" and go to "Accounts and Password".
Click on the "Yahoo" icon followed by clicking on "Account" which is again followed by clicking on the "Outgoing mail server SMTP".
Under that menu, you will find the "Other SMTP server" icon which needs to pressed to access the settings.
The hostname will be "smtp.mail.yahoo.com".
Fill up your username and password. Then set up the port to 465 or 587 number.
Enable the SSL option by enabling the toggle to yes.
Click on the "Done" icon present at the top right corner of the display screen.
Reboot your iPhone and see if this issue has been resolved or not.
Fix 7: Enable third-party App passwords
If this issue is occurring due to the privacy policy set by Yahoo, and none of the above methods had worked, then you can try to use this method. Yahoo provides an option to enable the Third-party app password so that an extra layer of security will be provided to your account. Following these steps to enable the feature:
Sign in with your Yahoo ID on the web and under the "Account Security" menu, and you will find the option of "Generate Password". Just hit that icon and set your password to enable this security layer to your Yahoo account.
Final Words
Here is the list of 7 methods to fix the issue of Yahoo not working on iPhone. We hope that you will like our today's article. Scrutinize the above techniques, then choose an appropriate way to solve the problem. Please share it with your friends and family who owns iPhone. All the suggestions and feedback are truly welcomed in the comments section below.