5 Best Free iOS Apps to Listen to Police Scanner Online in 2019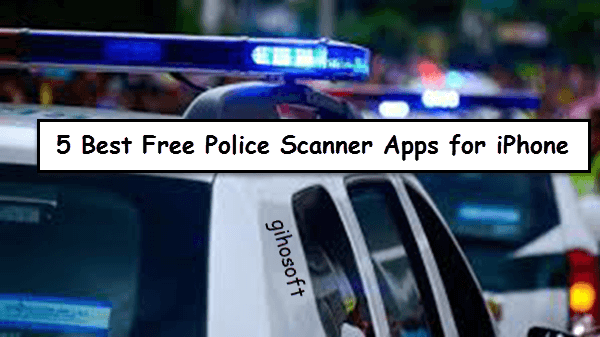 The police scanner app breaks the limit of the traditional police scanner requiring the radio and allows you to listen to live communication broadcasts from police, fire, and other emergency services wherever you are with the internet. If you want to stay up to date on what happens near you, you can install a police scanner app on the iPhone and turn your device to a radio scanner. However, there are a great many police scanners apps on the market, and it is hard work to find a decent one. In this article, we pick out five best police scanner apps for you to install and use on your iPhone. Before we start, please make sure it is legal to use a police scanner in your area, and never use it in the wrong place.
Bonus Tip: Sometimes, you may need the police to do some investigation of forensic data recovery from iPhone. You can use Jihosoft iPhone Data Recovery to recover deleted messages, call history, etc. from your iPhone, iTunes backup, or iCloud backup easily.
1. Scanner Radio: Police & Fire
Scanner Radio: Police & Fire is one of the best police scanner apps on the iPhone, with a rating of 4.7 on App store from over 38.3k users. What mainly attracts the users in this app is its efficiency of catching all the transmitted radio signals by the police department of various countries. You can sort out the top feeds from this app just by clicking on the feed icon. With the help of this app, all types of emergency messages can be easily conveyed. Moreover, the graphic user interface of this app is also pretty appealing, which is surely a plus point.
Though some of the bugs are still present in this app, which makes the overall performance on the average mark, we hope all the bugs will get fixed very soon with the latest updates of this app. The developers are working hard to resolve the issues reported by the users, and with that, let's hope for the good.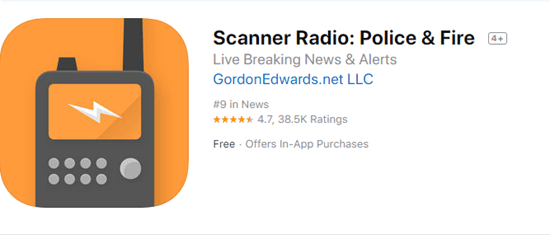 Download: Scanner Radio – Police & Fire
2. Citizen: Nearby Safety Alerts
With a rating of 4.7 on App store from over 22.4k users, the Citizen is undoubtedly one of the best radio scanner apps for your iPhone. This app is efficient and gives you instant access to the real-time alert information about crimes near you. It keeps you aware of your surroundings and is meant to protect users and keep them safe. You can input different neighborhoods and areas to stay informed about the situation of your family's areas. Also, it is a free police scanner app.
Here are some features of this application:
Real-time alerts: Users can receive notifications of crimes based on where they are and avoid potential safety risks.
Live video: This app offers live video of an incident scene and allows you to watch it unfold from various angles.
Up-to-date incident details: Users can stay informed with the updates on incidents and chat with other users.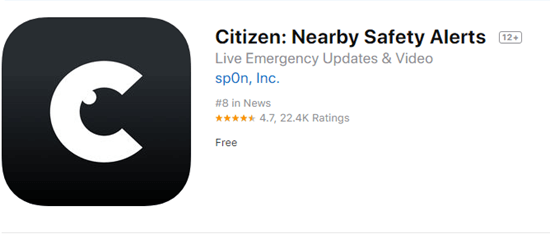 Download: Citizen – Nearby Safety Alerts
3. 5-0 Radio Police Scanner
As one of the best police scanner apps for iPhone, 5-0 Radio Police Scanner owns a rating of 4.6 from around 66.8k users. This app offers first-hand information on weather, natural disasters, and crime updates. You can listen to feeds in the background while running other applications on the iPhone. Besides, you can email yourself a link to the feed and open it on the browser so that you can listen to feeds on your desktop or laptop computer. You can also email the link to your friends who don't install this app for sharing feeds with them. This app is always extending and looking for new police radios and feeds across the globe. Another plus of this app is its well-designed user interface. You are allowed to customize the skin according to your preference.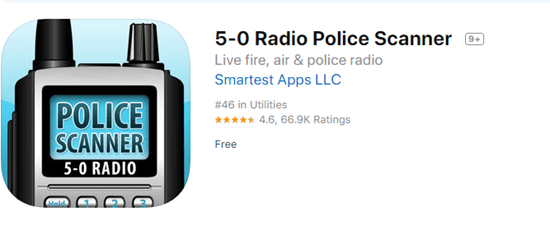 Download: 5-0 Radio Police Scanner
4. Police Scanner+
Looking for a police scanner app that would tell you what is happening in the police, fire, and other emergency radios of different countries? This app allows you to listen to thousands of police and fire scanners around the world on your iPhone. What's more, Police Scanner+ gives you access to the current top 100 live feeds, and you can search for your favorite feeds. Each signal transmitted by the police department is flagged off by a flag to depict its importance, that's why it is an excellent option to have an app that can sort out all the feeds. You don't have to stay at its interface when you are listening to the feeds, and you can use other applications on your iPhone at the same time. This app is exclusively available on the App store, and you can download it to stay up to date with the latest news in your area for free.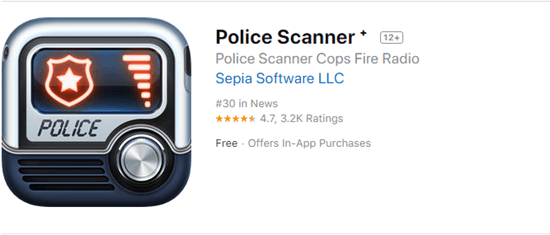 Download: Police Scanner+
5. Broadcastify
If you are a ham, you can give a try to this iPhone police scanner app. Broadcastify has its official website, which enables users to listen to the real-time public messages on any device having a web browser. Once installed this app, you will be presented with police feeds around you and the notifications of major incidents. It provides listings for feeds with alerts, new feeds, favorites, and top 25 feeds, which makes this app more flexible and convenient to use. However, this police scanner app has a defect that its free version keeps popping up ads which constantly interrupts your listening. If you want to remove these pop-ups, you need to purchase the professional version. Anyway, it is a good radio scanner app for the iPhone.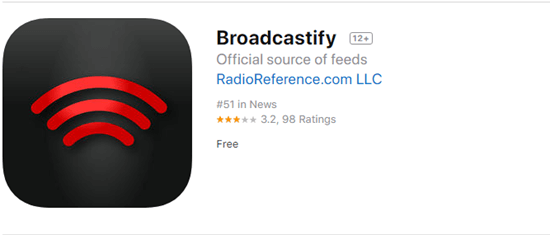 Download: Broadcastify
Conclusion
Above all are the five best police scanner apps for iPhone we summarized for you. Each app has its feature, and you can choose the one which works best for you according to your preference. Please note that using a police scanner is illegal in some places so be sure to check your local laws downloading any of these apps and please use these radio scanner apps responsibly. If you want to provide some other suggestions to us related to this topic, then please do leave them in the comments section. It will surely help to update this list with some more exciting options for the users.