How to Recover iTunes Backup Password for iPhone
It is generally know that we can use password to secure our iPhone backup. However, what if we forget or remember a wrong iTunes backup passcode? Or what if we even never set any passwords but iTunes keeps asking for a password. Below are some high-frequency troubles from iPhone users, according to Apple Support Team.
* iTunes keeps asking for iPhone backup password but I never set.
* iTunes prompts that the password I entered to unlock my iPhone backup is incorrect.
* I totally forget my iTunes backup password so that I can't restore iPhone to backup.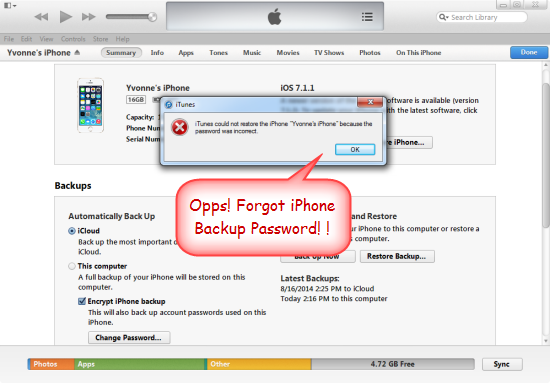 Then, is there any possible way to recover iPhone backup password? Absolutely yes. There are several ways help you do iTunes backup password recovery.
Solution 1: Try all possible passwords
So if you can't remember your iTunes backup password at all, you can try some possibles to meet the fortune. This is the most simple and common methods you can use to recover iPhone backup password. Below are several passwords you can try to arouse your memory.
Try your iTunes Store password.
Try you Apple ID password.
Try your Windows administrator password.
Try all kinds of variations of your family's name or birthday.
Try some possible passwords, like "0000", "1234", etc.
Solution 2: Using iPhone Backup Password Recovery Tool
If you have tried all the above possible methods but they still didn't work at all, don't be annoyed, Jihosoft iTunes Backup Unlocker program will take you out of the plight. It is a specially designed tool for iPhone users to recover lost or forgotten iTunes backup password. The iPhone Backup Password Recovery offers easy and efficient ways to recover iPhone 5S/5C/5/4S/4/3GS backup password and enable access to iTunes backup file.
How to Recover iPhone Backup Password
Step 1: Download, install and run Jihosoft iPhone Backup Password Recovery on your PC.
Step 2: Select the password protected iPhone backup file and click "Next" to continue.
Step 3: The program offers three methods to recover iPhone backup password: Brute-force Attack, Brute-force with Mask Attack, and Dictionary Attack. If you still remember part of your password, Brute-force with Mask Attack is strongly recommended.
4. When all settings are done, click "Next" then "Start" to let the program recover iPhone backup password.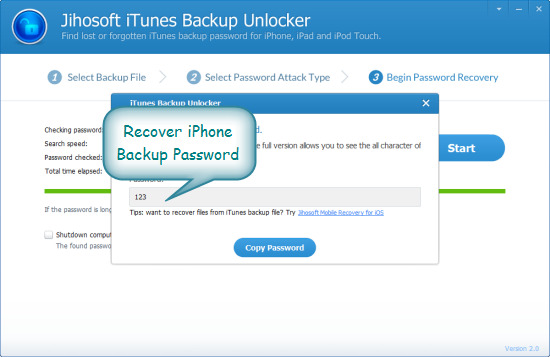 Highlights about Jihosoft iPhone Backup Password Recovery
Jihosoft also provides a professional version of iTunes Backup Password Recovery, devote to improve recovery speed with advanced GPU acceleration technique. If your computer hardware is with NVIDA cards, using the professional version will greatly improve the password decryption process.