How to Unlock iPhone Backup Password
As we know, when backup iPhone with iTunes, we can set a password for encryption. So if need to restore iPhone from the encrypted backup, the right password should be entered. What should you do if you forgot the password? Or worse you never set a password for your iPhone backup, but iTunes still asking for one, just as the case with Robben:
"I am upgrading my iPhone 4S and now occurring a rather irritating problem. When I connect my iPhone with iTunes to backup my last iPhone settings and data. it asks me to enter a password I never remember entering myself. I badly need to do the backup. Any suggestions to unlock iPhone backup password?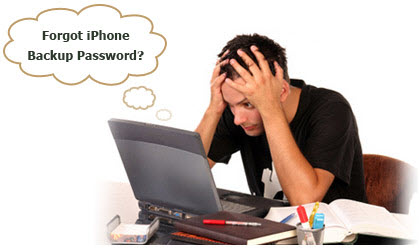 If you have no memory about the password, you will not be able to restore the encrypted backup to any device. Don't worry. You can try some possible password used before to meet the fortune, such as, your Apple ID password, your iTunes Store password, the "Passcode" you used to lock your iPhone, and even your Windows Administrator password.
Best Solution: Jihosoft iPhone Backup Unlocker
If you have attempted all the possibles but nothing has worked, don't get disappointed, there is still a way – Jihosoft iPhone Backup Unlocker. It is a powerful password decryption tool designed to unlock iPhone backup password through Brute-force attack, Brute-attack with Mask attack and Dictionary attack. By using this program, you can easily find the lost or forgotten iTunes backup password for your iPhone 5S, iPhone 5C, iPhone 5, iPhone 4S, iPhone 4, or iPhone 3GS.
Unlock iPhone Backup in 3 Simple Steps:
Run iPhone Backup Unlocker and select encrypted iPhone backup file.
Choose a suitable password attack type and set the settings accordingly.
Begin password recovery and unlock iPhone backup password.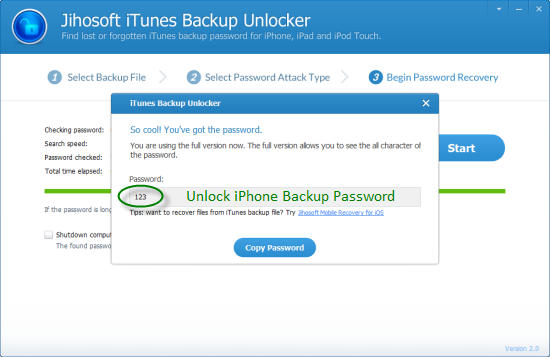 How to Unlock iPhone Backup Password on Mac
The iPhone Backup Password Unlocker provides an easy solution to unlock iPhone backup on PC. If you are using Mac OS, you also have a great choice to find your lost password, Keychain Access is the program containing your passwords for website, wireless network, encrypted iTunes backup files, etc. Click here to learn the detailed decryption process.