How to Transfer Contacts from iPhone to iPhone 6S/6S Plus
You've got a band new iPhone – say the latest iPhone 6s or 6s Plus – really great! Now all you need to do is transfer all your old contacts to the new iPhone. How do you do that? Take it easy. Getting contacts off your old iPhone and onto a new iPhone is no big deal. Here we've put together four easy methods to get you through it.
Method 1: Share Contacts between iPhones
1.On your old iPhone, tap "Phone" then "Contacts". Navigate to the contact you want to share and view its details.
2.Tap "Share Contact" then "Message", a new message window will open with the contact included in the body of the message.
3.Type in the phone number of the new iPhone in the "To" field. Then press "Send" to send the contact information.
4.On the new iPhone, open the Messages app. Tap the contact file to view its details. Then tap "Create New Contact" or "Add to Existing Contact" to save it.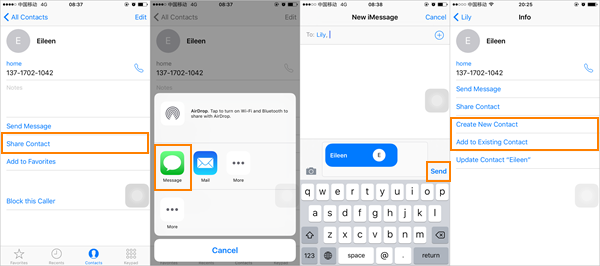 Note: You can only share one contact to your new iPhone 6s at a time. It is really time-consuming if you have a large amount of contacts on your old iPhone.
Method 2: Transfer Contacts with iCloud
1.On your old iPhone, go to "Settings" > "iCloud" and make sure that the option for Contacts syncing is toggled on.
2.Once contact syncing has been enabled, scroll down to Storage & Backup and tap Back Up Now.
3.On your new iPhone, go to Settings > iCloud and make sure Contact syncing has been enabled.
4.After that, open the Contacts app and tap the refresh button. Within a couple of minutes, your old iPhone contacts should start appearing on your new iPhone 6s.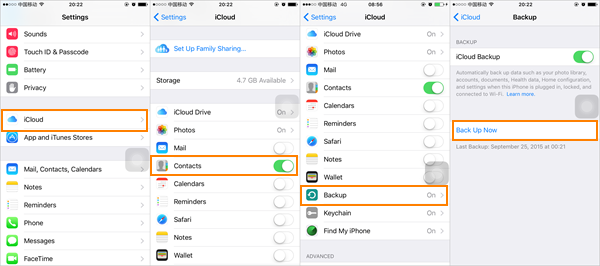 Note: Make sure that you've logged into the same iCloud account on both iPhones and connected to the same Wi-Fi network.
Method 3: Transfer Contacts with iTunes
1.Connect your old iPhone to your computer and open the latest version of iTunes.
2.Click on the iPhone icon, then click "Info" and check the "Sync Contacts" option. Click "Apply" and wait for the sync to complete.
3.Disconnect your old iPhone from the computer plug your new iPhone. Click on the iPhone icon then "Info", tick the "Sync Contacts" check box.
4.Scroll down to the "Advanced" menu, and check the "Contacts" option. Then click "Apply" to copy contacts from old iPhone to iPhone 6s.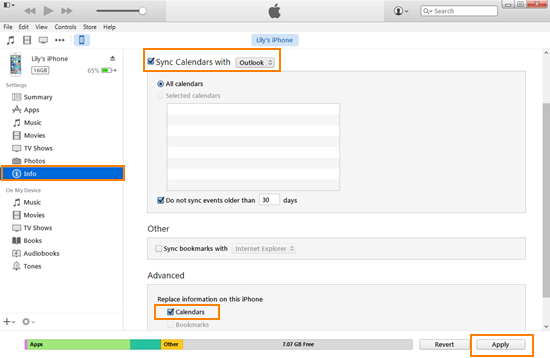 Note: Check the "Contacts" option in the "Advanced" menu will wipe any contacts currently stored on your new iPhone and replace them with contacts on your computer.
Method 4: Using Jihosoft Phone Transfer
Moving contacts from iPhone to iPhone is quite easy with the help of Jihosoft Phone Transfer. All data about the contact, from name, phone number, photo, company, email, url, address, etc, can all be transferred from old iPhone 4/4s/5/5s to new iPhone 6/6 Plus/6s/6s Plus.
1.Download, install and launch the iPhone Contacts Transfer on your computer.
2.Connect both of your iPhone devices to the PC via USB cables. (Make sure the new iPhone 6s connected as "Destination".)
3.Choose "Contacts" and click on "Start Copy", the program will transfer contacts from old iPhone to new iPhone 6s without any losing.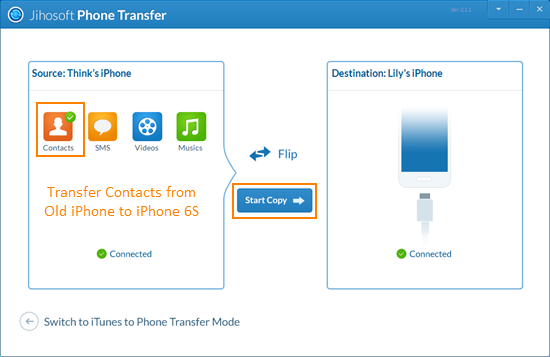 Note: With Jihosoft Phone Transfer, not only contacts but also text messages, photos, videos, music can be transferred from iPhone to iPhone in one click. Also, it supports cross platform and transfer data between iPhone and Android.