How to Recover Deleted Photos from the New HTC One M8
The HTC One M8 is HTC's 2014 flagship smartphone. It is indeed an amazing phone finally has the same competitiveness with Apple's iPhone 5s and Samsung Galaxy S5. The high-end design, gorgeous display, and more features make it one of the best smartphones currently available on the market.
Impressive Design: The HTC One M8 is a beautiful and sleek phone that includes a brushed, metal design that is bold and alive. The curved, ergonomic shape couple with the 0.37 mm construction makes it easy to hold and to use.
Bigger Display: The HTC One M8 features a larger 5-inch 1920 x 1820 display that has to be seen in person to really appreciate.
Powerful Processor: The HTC One M8 chooses to use a powerful 2.3GHz quad-core Qualcomm Snapdragon 801 processor and 2GB of RAW that easily handles everything.
Duo Camera: The HTC One M8 includes a rear Duo camera that uses 4-megapixel UltraPixel BSI sensor and a front facing 5-megapixel shooter with a wide-angle lens.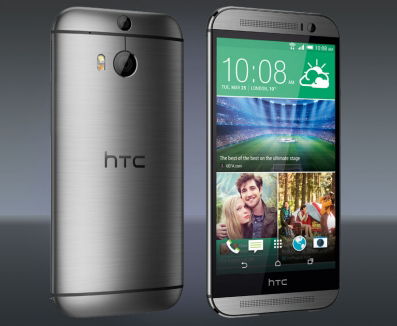 HTC One M8 also added a microSD expansion slot that wasn't available on its predecessor. If there is not enough internal storage to keep your large files, you can add a microSD card with up to 128GB to store all your medial files, including photos, videos, music files, etc. Besides, if you accidentally deleted photos on the HTC One M8 SD card or internal memory card, you can get them back with data recovery software. This article will introduce a great tool for your reference.
When photos were deleted from the HTC One M8, they are not erased permanently, only the pointers to these files removed from the file allocation table. Jihosoft Android Data Recovery software will easily recover deleted photos from HTC One M8. Just connect the phone to computer via USB cable, and then use this powerful HTC One M8 recovery to scan the phone and find out lost photos. Plus, it can also recover videos from HTC One M8, so do music, contacts, text messages and other files.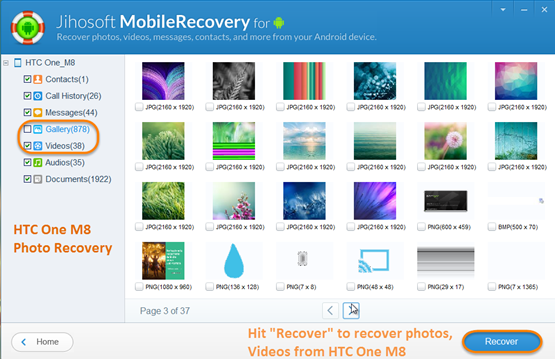 Important note: The deletion has marked the space where the deleted photos saved as blank to store new data. Please stop using the HTC One M8 to take photos or videos before the recovery is done. Saving any new files to the phone will cause data overwriting and decrease the chance of photo recovery for HTC One M8.