Windows Phone Recovery: How to Recover Data from Windows Phone
Windows Phone (WP) is a fine smartphone operating system developed by Microsoft Corporation. Now the Windows Phone operating system powers a wide variety of hand-held personal digital assistants (PDAs), as well as many smartphones manufactured by HTC, Samsung, Nokia, and Huawei. Below is a list of popular Windows Phone 8 devices:
HTC: HTC 8S, HTC 8X, HTC 8XT;
Huawei: Huawei Ascend W1, Huawei Ascend W2;
Nokia: Lumia 520, Lumia 525, Lumia 620, Lumia 625, Lumia 720, Lumia 810, Lumia 820, Lumia 822, Lumia 920, Lumia 925, Lumia 928, Lumia 1020, Lumia 1320, Lumia Icon, Lumia 1520;
Samsung: Samsung ATIV S, Samsung ATIV S Neo, Samsung ATIV Odyssey, Samsung ATIV SE.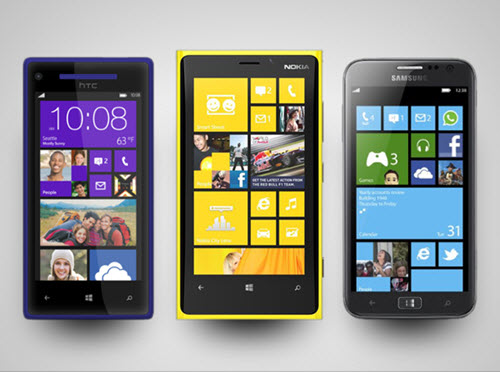 Currently, many people are switching their phone from Android or iPhone to Windows phones. However, as with Android and iPhone mobiles, accidental data loss on Windows phones happens a lot. Occasionally, people may delete files on Windows phone and wish to get them back. If this is your case, stop using your Windows phone and following the below steps to do the recovery.
Recover Data from Windows Phone SD Card
Step 1: Download Windows Phone Recovery and follow the setup wizard to install it on your computer.
Step 2: Take out the SD card from your Windows phone and insert it to your computer via a card reader.
Step 3: Run Windows Phone Data Recovery and select the file recovery mode you want on the main screen.
Step 4: Select the drive of your Windows phone SD card and click " Start Scan" to scan for lost files on it.
Step 5: After scanning, preview and select recoverable photos and videos that you need, then click "Recover"to recover deleted files from Windows phone.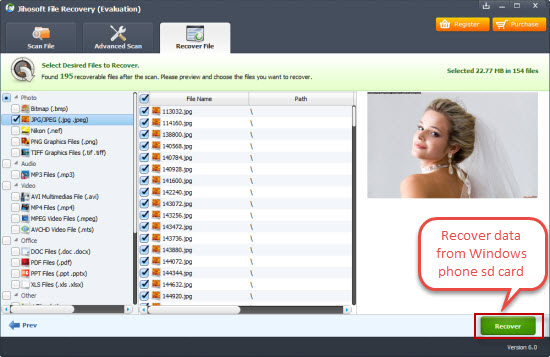 Recover Data from Windows Phone Internal Memory
You should first get a recovery tool that supports Windows phone operating system, meanwhile, let your Windows phone be detected as a USB mass storage device when you plug it into your computer. Please note, USB Mass Storage mode is one of the important feature which is missing in Windows phone. But don't get disappointed, it is still possible to enable USB Mass Storage mode in Windows phones like Nokia Lumia. One way is, you can enable mass storage by modifying Windows Registry values. For another, you can install third-party tools like USB Storage Enabler to enable mass storage for Windows phone.