How to Recover Deleted Files from a Thumb Drive
A thumb drive, also called a "flash drive" or "jump drive", is a portable solid-state data storage device, which has no moving parts. It is re-writeable and preserves information without a power supply. Thumb drives can connect to any computer or device with a USB input. Many users use thumb drive to transfer files to and from computer due to its small size and portability.
However, there are possibilities of losing important data saved on the thumb drive. Accidental deletion, formatting, improper ejection, interruption of file transfer, virus attack, and many other reasons may lead to data loss on a thumb drive. For example, "Please help! My 12 year old son deleted his school work from a Transcend thumb drive. There is no backup. Is there any way to restore data from thumb drive?"
If you are going through thumb drive data loss and looking for effective tool to get back the lost files, you can make use of Jihosoft File Recovery. Usually when you deleted files on a thumb drive, they are not erased permanently. The file system only makes the data invisible and marks the space as blank and available for new data storage. You can rely on this data recovery software to scan the thumb drive and restore the lost data on it.
Key Features of Jihosoft Thumb Drive Recovery
– Recover deleted or lost photos, videos, music, and other documents saved on thumb drive.
– Retrieve lost files from various models and brands of thumb drives like Transcend, SanDisk, Kingston, etc.
– Restore data from thumb drive as well as many other storage media like hard drive, memory card, etc.
Steps to Recover Deleted Files from Thumb Drive
1. Download and install Thumb Drive Data Recovery software on your computer.
2. Connect your thumb drive to PC and run this program.
3. Select "Deep Recovery" from the main screen to undelete thumb drive.
4. Select the thumb drive and click "Start Scan" to search for lost files.
5. After scanning, preview the found files and select to recover the ones you want only.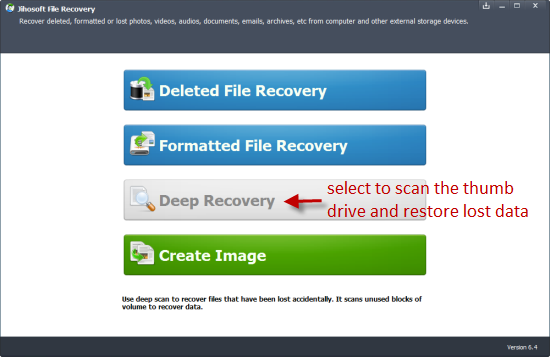 Important Note:
When data in your thumb drive are lost, stop using it and do not store any other files. Thumb drives come with write protection feature. You're strongly advised to lock your thumb drive before data recovery. This will help with data overwriting of your lost files.