NTFS Recovery, How to Recover Data from NTFS Drive
"Please help! I have an NTFS based volume on my hard disk. I accidentally deleted some important files on it. Can any software help to recover data that was saved on the NTFS partition?"
No need to panic. When a file is deleted, the data remains on the disk. Unless new data has overwritten your lost file, data recovery software can recover it. Before we introduce the NTFS File Recovery software, let's learn some basic knowledge about NTFS drive.
What is NTFS?
If you are using Windows, then your hard drive is more than like formatted using the standard file system NTFS. NTFS is defined as "New Technology File System". It is a high-performance and self-healing file system proprietary to Windows 8, 7, Vista, NT, 2008, 2003, 2000, which supports file-level security, data compression and auditing. It also supports large volumes and powerful storage solution such as RAID. The most important features of NTFS are data integrity and the ability to encrypt files and folders to protect your data from hard drive damage, hackers and viruses.
How to Recover Data from NTFS Drive
Even though NTFS is a much more stable file system than its predecessor, data loss on a NTFS drive is still unavoidable. It often occurs due to various reasons like unintentional deletion, mistakenly formatting, portioning errors, system corruption, etc. In such situation, Jihosoft File Recovery will be your great assistance to recover NTFS partition. This NTFS Volume Recovery software uses advanced technologies to scan and find the deleted files, and then get back your important data.
Steps to Undelete Files from NTFS Drive
1. Run Jihosoft NTFS File Recovery and select the recovery mode.
2. Select the NTFS drive from the detected drive list and scan it.
3. Preview the found files and recover those you need to get back.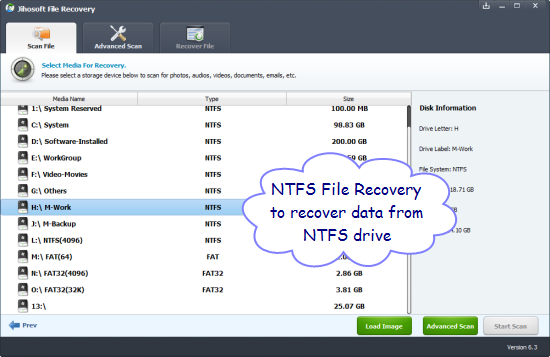 Tips & Suggestions after Data Loss
Tip 1: Do not write anything onto the NTFS drive where the data have been deleted until recovery process is completed.
Tip 2: Do not install Jihosoft NTFS File Recovery on the same NTFS drive. Even software installation could overwrite your lost data.
Tip 3: Do not try to save recovered data onto the same NTFS drive where you deleted them. It's better to save onto another drive or any removable device.