How to Recover Lost Files after System Restore
What is System Restore?
System Restore is a feature in Microsoft Windows that allows users to restore their computer's state, including system files, installed applications, Windows Registry, system settings, and more to an earlier point in time. It is a way to undo system changes to your computer without affecting your personal files, such as, photos, videos, emails, or documents. Computer users can perform system restore to recover computer from system crash, damaged registry, or other problems.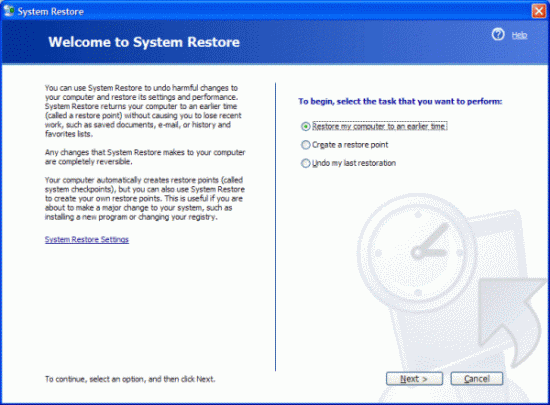 Lost Important Files after System Restore
System restore will not affect files that are store onto the system before creating restore point. However, sometimes restoring computer a specific former state may cause an unexpected loss to important data files, for example:
"I performed a system recovery on my Windows 7 and forgot to make backup copy of data on the hard disk. Now all of my pictures, videos, doc files, and other documents are gone. Is there any way to get them back?"
Solution: Jihosoft File Recovery Software
It's very often computer system crash and we have to restore our computer to factory settings, but unexpectedly lose important files. Don't worry. Just calm down and stop using your computer or writing any new data into it. Then use suitable data recovery software such as Jihosoft File Recovery to recover lost files after system restore.
Steps to Recover Data after System Restore
Step 1: Download and install Jihosoft Data Recovery after System Restore.
Step 2: Launch the program and choose the recovery mode to continue.
Step 3: Select the drive or partition and then click "Scan" to scan lost files.
Step 4: Preview the scanned files and recover data after system restore.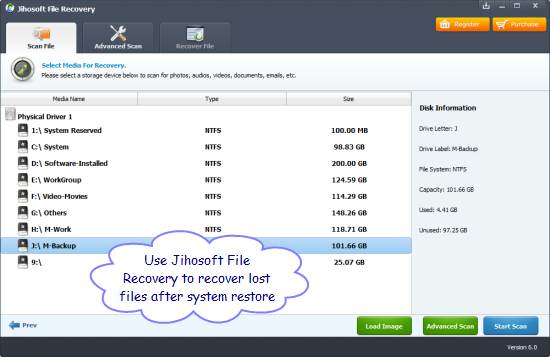 Important Note: Backup Data before System Restore
The best way to prevent data loss is to do backups. If you have backed up all your files before you restore system, you can easily restore files after system recovery from backups. So, it is strongly recommended to backup your files before system restore. You can do that using free ISO image tool like Jihosoft ISO Maker. It will help you backup drives or partitions as image, create ISO file from any files and folders.