How to Recover Lost Data from Seagate Hard Drive
With the excellent quality, high capacity and reliable storage, Seagate hard drive has gain a large popularity among users. Millions of people with Seagate disk in their computer and some of them may meet the problem: How to recover lost data from Seagate Hard Drive? Jeffrey from Montgomery now is facing such awkward situation.
"I bought a Seagate external hard drive one year ago. I came back home this weekend to open some document that I had saved on it, unfortunately, couldn't open it, the drive seem to be faulty. Is there a solution to retrieve back all my life work that was stored?"
Have you met the same situation, Seagate disk crashed and lose important data unexpectedly? Don't panic. The good news is that, there is still a great possibility to recover data from Seagate hard drive. Seagate itself provide users data recovery software and data recovery service with a high cost. Here, we'd like to introduce a cost-effective data recovery tool to help you perform recovery.
Jihosoft File Recovery is powerful data recovery software to solve all data loss problem with Seagate hard drive. This Seagate Data Recovery can retrieve files from Seagate hard drive lost due to accidentally deleting, formatting, corruption, improper operation, virus infection and other unknown reasons. In addition, the program supports many more storage media such as hard drive, USB flash drive, memory card, memory stick, mobile phone, digital camera, etc.
Step-by-step Guide to Recover Data from Seagate Hard Drive
Note: Before performing Seagate data recovery, do not add any files to your Seagate internal/external hard drive. Or the new data may cause data overwriting and make your lost files unrecoverable.
Step One: Download Jihosoft Seagate Data Recovery software and install it to your computer system. Then run the application.
Step Two: Select the Seagate hard drive that holds the data you wish to recover from and click the "Scan" button to search for lost files.
Step Three: The software scans and displays all the recoverable files. You can preview and check the scanned files and click "Recover".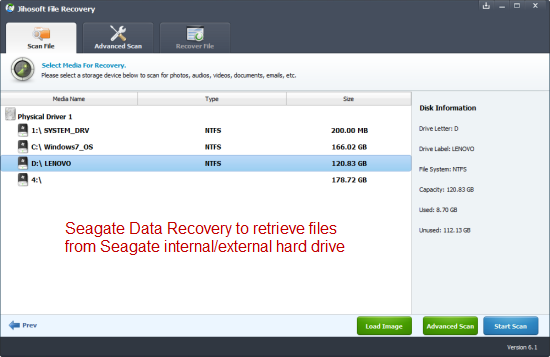 Tip: If you need to perform Seagate data recovery on Mac, using the Jihosoft File Recovery for Mac.
Jihosoft Seagate Hard Drive Recovery software can provide recovery on any size or model Seagate hard drive, including:
ST31000340AS, ST3750330AS, ST3750630AS, ST3640330AS, ST3640530AS, ST3500320AS, ST3500620AS, ST3500820AS, ST31500341AS, ST31000333AS, ST3640323AS, ST3640623AS, ST3320613AS, ST3320813AS, ST3160813AS;
ST31000340NS, ST3750330NS, ST3500320NS, ST3250310NS, STM3320614AS, STM3160813AS;
ST31000340SV, ST3750330SV, ST3500320SV, ST3320410SV.