How to Recover Files Deleted by Virus Attack
"My laptop was attacked last night by a destructive virus. The result was that most of my files, especially all my videos and photos were deleted. When I tried to use System Restore in the hope of getting them back, it did not fully recover all the files. Please do help me!"
Computer users are suffering from virus attacks now and then. And some high-risk viruses can actually cause serious problem to computer system. They may cause computer crash and delete important files such as photos, videos, docs, and other documents from computer hard drive, or make data inaccessible or hidden. Don't be panic at this time, because there are still chances for you to recover files deleted by virus.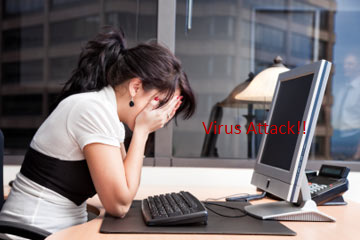 Step One: Scan and Sweep Away the Virus
Before you recover virus deleted files, first clean all possible viruses on your computer drive. There are number of anti-virus software that are available in market, such as, Norton, Avast, Quick Heal, AVG, MaCfee, etc. Using a dependable anti-virus application and running a complete scan of your computer to remove the virus.
Step Two: Recover Deleted Files after Virus Attack
After virus attack, computer drive may become corrupt and data turn into inaccessible. At this time, some users use System Restore in the hope of recovering computer and getting data back. However, System Restore isn't intended for backing up personal files, so it cannot help you recover a personal file that has been deleted. You should regularly backup files and important data using a backup program. If you have backed up all your files, you can easily retrieve lost files from backups.
If there is no backup, you are not at the end. There is still a great way to get deleted files back. Jihosoft File Recovery software makes it possible to recover hidden files from virus. It performs a rigorous scan of the drive and recovers virus deleted files of various types, including photos, videos, audios, docs, xlsx, archives, and more. The recovery can be performed within few simple clicks:
Launch the program and choose a recovery mode.
Select the drive or partition to scan for lost files.
Preview scanned files and click "Recover" to recover virus deleted files.