How to Recover Photos after Formatting Digital Camera
"Hey, I need a help! I mistakenly formatted my SD card in the Canon digital camera and I need these pictures back. They are very important for my work. Please share me a way to recover images from formatted digital camera."
Digital camera brings a new level of enjoyment to picture taking and an increasing number of people use it. However, many photographers may often experience such situation: hit the format button by mistake and formatted digital camera memory card, hence all photos are gone. In this article, we are going to introduce a method to recover deleted pictures after formatting digital camera.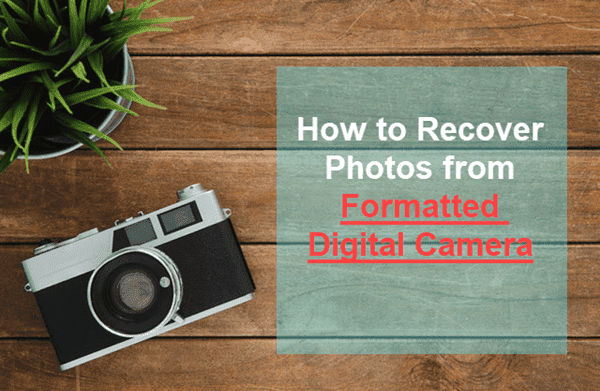 Reasons of Formatting Digital Camera
Whether you're a professional photographer or a beginner who still makes common photographic errors, you may format your Canon or Nikon DSLR due to these reasons:
to fix critical errors on the digital camera or the memory card
regular formatting for the next round of shooting
mistaken operation resulting in unintended formatting
Formatting is a useful means of fixing software errors and cleaning the storage space of your DSLR. However, if there is no valid backup, you may have to recover lost photos from digital camera after formatting.
Is It Possible to Recover Photos from Formatted Digital Camera?
Luckily, the answer is yes. When you format digital camera memory card, the photos are not erased, system will only mark the whole memory card as free and can be used to save new pictures. You can get all photos back after format using data recovery tool. But what you need to bear in mind is that don't take any more pictures, or the new pictures will overwrite the space of formatted photos and make them unrecoverable.
To simplify it, here are two key factors for digital camera photo recovery:
Stop using your camera or the SD card immediately.
Apply photo recovery with a reliable digital camera recovery software as soon as possible.
How to Do Digital Camera Photo Recovery after Formatting?
To apply digital camera format recovery, Jihosoft Photo Recovery can be a great choice. It is able to scan digital camera memory card and recover formatted photos from digital camera. The photo recovery software supports digital camera of all popular brands, including Canon, Nikon, Panasonic, Sony, Olympus, Fujifilm, Samsung, Kodak, Pentax, Casio, and more. It can also recover videos from handycam.
Why Choose Jihosoft Photo Recovery:
Free preview photo, video and audio files before recovery
Multiple filtering options for quick scanning and recovery
Support all kinds of memory cards, such as SanDisk, Lexar, Samsung, Kingston, etc.
Highest successful recovery rate in the industry
Recover photos and videos up to original quality
Easy Steps to Do Digital Camera Format Recovery:
Take out the memory card from digital camera and insert it into your computer with a card reader, then download and install the digital camera recovery software. Now, follow the steps below:
Step 1. Launch Jihosoft Photo Recovery and click Recover Photo.

Step 2. Select the drive that represents digital camera memory card and click Scan Now to search for lost photos.

Step 3. After scanning, all recoverable photos will be listed. Preview and select those you want to recover, and then click Recover.

Tips:
Advance Scan enables more options for every single file format.
On the preview screen, switch to Icon Layout with the toggle at the upper right corner.
On the preview screen, search for desired data by size with the Filter button on the top bar.
Steps to Back up Your Memory Card
It is impossible to avoid all mistakes and accidents no matter how careful you are. That's why a regular backup plan is important. Jihosoft Photo Recovery is featured with the function of creating image files for a selected storage media as valid backups. Whenever you lose a precious picture or video, just load the image and restore the data you need quickly.
Step 1. Connect your storage device to computer.
Step 2. Run Jihosoft Photo Recovery and choose Create Image.
Step 3. Select the partition of the storage device, then click Create Image.
Step 4. Select a location on your hard drive to start the image creation process.

When you need to restore data from the image file, just run this program, choose Recover Photo, then click Load Image. Please save the image file properly and back it up to an external hard drive or cloud storage.
More Tips for Digital Camera Format Recovery:
Besides mistakenly formatting, photographers may often encounter SD card not formatted error and can't access to photos – "The SD card is not formatted. Do you want to format it now?" In such situation, also get Jihosoft Photo Recovery to recover lost photos. Below is a video tutorial that will explain you the recovery in details.
Final Words
In this tutorial, we have learnt how to recover photos from digital camera after formatting. When accidental data loss happens, don't be panic. Stop using the storage device and follow the steps in this article to recover lost photos and videos as soon as possible. There is a great chance that you will get back the lost data. Don't forget to share this trick to your friends if you think it is useful, and share your questions or opinions in the comment section below.