Best 8 Free Music Production Software for Beginners in 2019
With the music industry growing at a rapid pace, more and more talents are recording their voices and creations. They are uploading them in social media, and many of them have already become a sensation and grabbing contracts from some of the best music companies or becoming playback artists of movies. Not only that, they are becoming internet sensations with their albums and earning directly through pay per view options. A new avenue of showcasing the talent and earning up has opened up. One might feel that the expenses of recording music are exorbitant. Yes, the doubts were valid a few years ago, but now, with some of the best free music software, get your talents recorded and applauded by people on listening.
These software's are known as DAW or digital audio workstations. They can be used not only to record your creations but also to make it more productive with special tools like mixing beats, including special sound effects and many more. They have become some of the best tools for beginners to think big with their talents, exposing them to the world. Let us discuss some of the best software that you can use and enjoy thrill recording and uploading your musical skills.
GarageBand is one of the best and popular apps that can be used through mac platforms to juggle with the features and record the vocal or instrumental talent. One can take advantage of 225 tracks with each song they create with this app. One needs to sync the files, stored online in iCloud, and start experimenting with the features of this app to make mind-blowing music. With over 15 years of experience, the software builder is regularly updating the app and adding more and more features to accommodate the latest musical tracks with drums, beats ad many more. One can even create an entire album with the multiple season feature of the software. Start recording your music with a high groove and feel the difference in your creation. The software is free to use.
If your digital devices run on Linux operating system, then Qtractor should be your digital audio workstation. The interface is easy to use and comes with lots of extraordinary features. It is based on the traditional tape recorder system with features like a multi-track paradigm. The software supports MIDI files 0 to 1, and one can take advantage of the unlimited tracks for the music recording project or the session. There are the drag and drop option, point, and click option without any limitations of undo and redo to get the perfect sound effects. The software comes with monitor controls and an excellent built-in music mixer. One can even include the Song Position Pointer and the MIDI clock and use the potential crash effect with the MIDI system so that one can see the audio output meters that monitor the sound. One can even change the log, and the developers are continuously upgrading the app. The beta version is excellent to record music for beginners and upload them in social media.
One of the music software that is quite popular for Windows and Linux and MAC OS user is LMMS. It is making waves in the music industry no sooner than its debut. Music-making has never been such easy before LMMS came into the forefront. One can type the keyboard or note the playback through MIDI. It comes with a 32-bit VST Bridge or 64-bit VST instrument. The baseline editor or the Beat is merely superb to create some mind-blowing music. The software includes a built-in spectrum analyzer and visualization option. The app is free to use for creating magical moments with your musical talents.
Why use LMMS?
Open-source
Lightweight
It's good for sequenced music
Why don't use LMMS?
No audio merging and splicing (audio editing)
Might crash while loading VST plugins
If you are looking for a cross-platform, open-source software to create your music, then the search ends with Audacity. It is one of the oldest software and trusted by many for the features to turn noises to music. You can be a beginner, but the output of your recordings with this software will be none less than a professional. The interface is straightforward to use, and one can record their creations in any file format. Record the live audio or use the already digitalized audio with special effects through Audacity. It is easy to import any sound filed and mix them with other files to create a new sensation. One can also export the new creation to any digital media. The quality of the sound is fantastic, and it supports 16, 24 or 32-bit wit floating points to get the perfect effects. With the spectrogram mode included in the software, one can visualize or juggle between the sound frequencies. This free software works amazingly for creating some fantastic music.
Cakewalk is completely free beat making software. Consequently, there are no limits on the number of tracks. This Windows software also provides VST3 support, enabling you to install hundreds of plugins.
Cakewalk's user-interface might look daunting at first, but the best part about this best free DAW is that you can personalize the entire user-interface. You can drag toolbars to different locations, add themes, change colors, and a lot more. This music production program also allows you to save different layouts according to your needs.
Also, Cakewalk offers a whole bunch of virtual tools to choose from. It also has an expandable audio processing module library, ranging from convolution reverb, resonant filtering, dynamic compression, and a powerful Equalizer.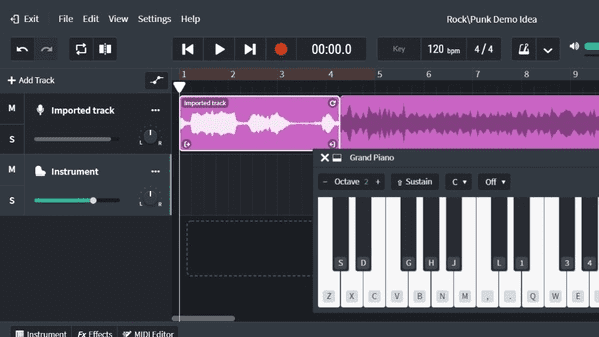 You've got an unlimited number of songs and MIDI tracks. It supports all third-party plugins such as VST, AU, and Linux VST. This provides huge functionality and even enables you to customize any of the plugin's parameters thanks to the LFO Modifier.
Some may not prefer a single-screen interface, but it is also a blessing to some people, because you don't need to switch from one window to another. Traktion T7 also provides amazing sound effects, but there are not many of them. But, as an alternative, you can download hundreds of free VST effects on the Internet.
The best free music production software is also lightweight, although many users have been confronted with performance bugs, particularly when adding new plugins. Now, if you ever find Track T7 restricting your ability, you can upgrade to Track Professional Music to Waveform 10 technology for just $70.
Availability — Linux, Windows, MacOS, etc.
Also Read: In any case, no magic is going to happen, and your PC can only get faster to its capacity. Anyhow, these PC cleaning tools could at least be of some help.
This free music making software has no distinction between the type of audio track. Reaper comes with the right number of plugins and follows nearly all plugin specifications, such as VS3, AU, and ARA.
The biggest problem with the Reaper is the' 90s clunky template user-interface. With all the iconless menus and cluttered components, it takes a long time to get the hang of it. It would undoubtedly be a big problem for beginners.
It's important to remember that Reaper's "extended" trail doesn't lock out any features for the premium version. In fact, Reaper has an abundance of features and a high head with professional DAWs such as Alberton, FL Studio, etc.
SoumdBridge is one of the best free music resources available on the market. Like the other applications listed above, Soundbridge provides an unlimited number of MIDI and audio tracks, third party plugin support, and pro-grade automation and modulation.
Some plugins that come with the music-making software, although there are no plugins for the instrument. It comes with RitMix, however, which is a highly customizable VST drum machine. All in all, SouniBridge has all the features you'd like to have while starting with music creation tools.
Tips: Jihosoft 4K Video Downloader
When you check how to install a playlist from YouTube, you could find that some users are using a video downloader.
In reality, Jihosoft 4K Video Downloader can download a video (or a full playlist if it is not longer than 24 videos) and convert video to a different format–both it and audio–like MP4 and MP3. The video downloader also helps you to upload individual video captions and to download new 3D and 360-degree images from YouTube.
Remember that this free YouTube update is ad-supported. If you want to install longer playlists and playlists with captions, you can consider paying $29 a lifetime license for 1 PC. A premium version not only eliminates advertising, it also offers channel connections and free downloads.
Which is the best software for free music production?
The best digital audio workstation is what gives you the power to make amazing soundtracks. For free beat makers standing for big guys like FL Studio and Logic Pro X, now it's more about how powerful you're using music software.
And above all, if you're a beginner, start making music with the free music production software mentioned above.