7 Tricks to watch restricted YouTube videos(100% Working)
We all know that it can be very frustrating for every user when YouTube doesn't allow to watch you the videos because of community restrictions or any other restrictions. There are thousands of videos presented on YouTube which has been blocked for watching purpose in many countries. Moreover, there are also several adult videos available on YouTube which is blocked for watching due to community-based guidelines. So, to watch these restricted videos on YouTube app, there are many easy ways which we will discuss in today's article. We have selected the best 7 ways for our users, which will help them to watch restricted videos on YouTube. So, here we go:
Method 1: Using Unblock YouTube to watch restricted videos of YouTube
Unblock YouTube is indeed the best option available for the users which will help them to watch the restricted videos on YouTube. The only thing which you need to have in order to watch the restricted YouTube videos is its URL. You can use that URL on the Unblock YouTube website to watch that restricted videos. Just copy and paste the URL and hit on the "Go" icon to watch. Unblock YouTube will connect to any random server of Europe and will load that YouTube video from there. If in case that video is not available on that server too, then it will try another different server to load that video on your PC.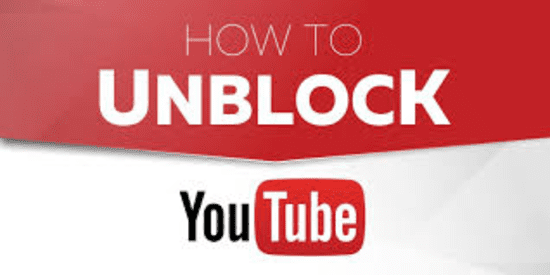 Method 2: ProxFree
ProxFree is actually a much better option than Unblock YouTube to watch restricted YouTube videos due to several reasons in our perspective. The first reason which makes ProxFree a good choice is that this tool gives an additional feature to its users to select the location of the server from where you want to watch that restricted videos on YouTube. Secondly, ProxFree is much more customizable than Unblock YouTube, which surely makes it easier for the users to use it on their devices. IP Address location can also be set manually by the users in ProxFree tool.
Just copy and paste the URL of the video inside ProxFree tool followed by selecting the IP address location and Server location to watch the video on your device. The video will be loaded in almost no time, which you will definitely experience while using ProxFree tool on your PC.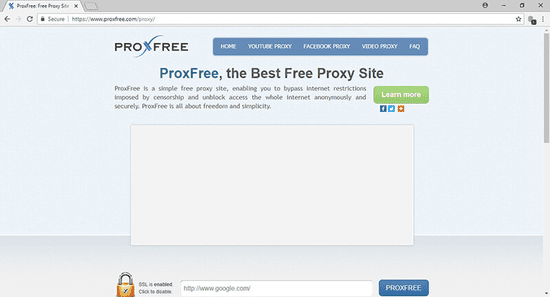 Method 3: By using TubeUnblock tool
TubeUnblock is yet another awe-inspiring tool for the users, which can help them to watch restricted videos of YouTube on their devices. However, the working style of the TubeUnblock tool is a bit different than the other two methods mentioned above. The main goal of TubeUnlock is to mirror the videos on a different server from where the users can watch the restricted videos without using any third-party tools or apps on their devices. You are required to replace the domain name of YouTube with Tubeunblock, which you can see in the picture present below. Tubeunlock doesn't have any country restrictions and anything of that sort. You can easily watch any YouTube video just by replacing the domain name of the website from YouTube with Tubeunblock.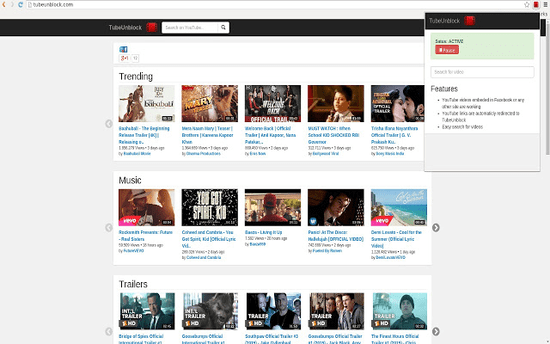 Also Read: There's Chrome browser plugins for everything, and downloading YouTube videos is quite easy.
Method 4: Using a VPN on your device
Using VPN to change the server location of your device is another very compatible option available for the users. You can select any of the servers of any available country to watch the restricted videos of YouTube on your device. There are many different popular VPN's available on the internet, which you can install on your device to watch restricted YouTube videos hassle-free. VPN connections are also very efficient for privacy protection. However, using a VPN for the first time can prove to be a little complex for the users. But if none of the tools are unable to help you out, then VPN is possibly the best option available for you. You can easily browse the list of available servers on your device and can connect to any of them very conveniently.
Method 5. APPS (for Android users)
If you are an Android user and prefer apps to a browser, switching links seems like too much trouble. Fortunately, there are some approved third-party apps that can help you circumvent YouTube restrictions.
Musepic–This is an app that is primarily used to save and repeat a certain part of a video. It comes with a variety of options, including the possibility of avoiding restrictions.
Floating Player–Floating Player is also designed to play video on a loop. It also has other functions and possibilities. For example, when you search for a restricted connection, you should be able to play it without having to sign in.
Method 6.Embed Video
The "embed" feature allows you to use YouTube video as part of a different website. Embedded links don't have limits, so you're free to watch without signing in. There's a trick that lets you access the embed connection of any video and watch it on YouTube: click on the URL.
Replace the watch?V= with' /embed/.'
Press the' Enter' button and you can watch it.

Method 7. Add an nsfw to your link not safe for work
(NSFW) is an acronym that signifies content that is not suitable for everyone and may be considered inappropriate by some. People use it most often when sending links to adult-themed content to their friends. Once you add this acronym to the beginning of your YouTube link, a magical thing happens. The video that was age-restricted a moment ago is now available for viewing.
Open your URL.
Click to edit the folder.
At the beginning of the link, add NSFW before the "www" prefix.
Tap the "Enter" button.
You're going to be able to watch the video now.

Conclusion
So, these were some top 7 methods which can surely help you out to watch the restricted YouTube videos. All these methods are pretty much efficient in accomplishing this task of watching limited YouTube videos. Please comment on any other suitable way which users can use to watch restricted YouTube videos on their device. We will surely mention that method of watching restricted videos in this article if we found it to be eligible.
Tips:Why are you saving Youtube video to disk?
The most obvious reason to make online video offline is that you need to play a clip in something that isn't Net-connected, like a projector. Sure, there's cool Android-based projectors available with built-in browsers, but what if, like most of us, you don't have one of them? Another explanation might be that this is a clip that you don't think you're going to be up on the site for a long time, and you want to archive it on the disk for further viewing at your leisure.
Irrespective of the reason, it is crucial that the method you use to stream those videos to your disk instead of your screen is simple and quick. Of course, one of the most recent simple and quick tools to do this is the Jihosoft 4K Video Downloader.