Download and Reinstall Realtek HD Audio Manager in Windows 10
There is no doubt that Realtek HD Audio manager is one of the most useful kinds of software which is present in almost every PC by default. This audio driver software is pretty much useful for the users to balance the sound quality and other sound related parameters like Equalizers etc. However, quite often you might not be able to find it in the Windows search bar. So, in this article we will tell you all about the Realtek HD Audio manager, and how do you update and reinstall the Realtek drivers.
Where is Realtek HD audio manager?
Before getting in to the detailed description of the updates of Realtek HD audio drivers, firstly have a look on the basic things like where to find Realtek HD audio manager on your PC. By default, the installation directory for Realtek is "C:\Program Files\Realtek\Audio\HDA." There are a huge number of files present on this location. However, the main file which will let you to open the Realtek HD Audio manager is "RtkNGUI64". When you click on this file, then the Realtek HD audio manager will get open immediately. Now, you can easily set up all the sound settings of your PC hassle free using this Realtek HD audio manager. There are a lot of different sound settings option available in it which will help you to get a better and enhanced sound quality.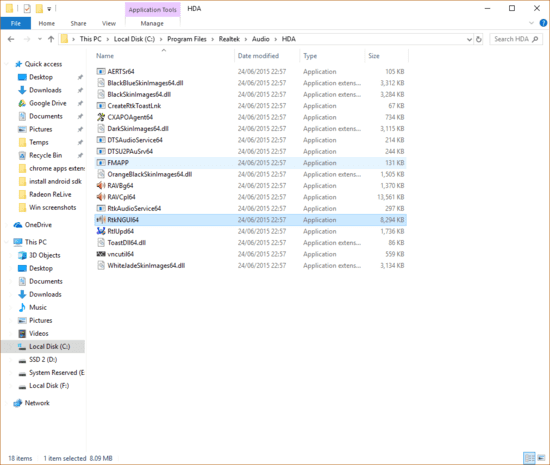 And if you want to change the settings of Realtek HD audio manager regularly, then you can enable the "Display icon in notification area" ,which will directly let you to open it from the notification panel available on the bottom right corner of the home screen of your PC.
To know about the version of the drivers of Realtek HD audio manager present on your PC, you can click on the "About" icon to get this information. After knowing it, you can install the drivers manually.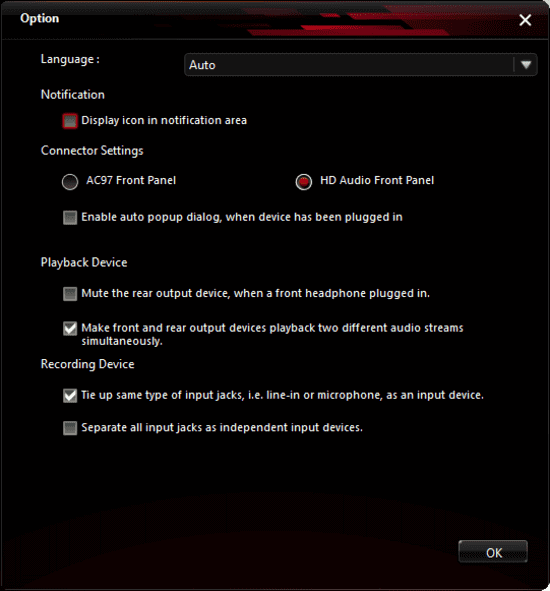 How to update Realtek HD audio drivers
To update the Realtek HD audio drivers on your Pc, first of all, click on the start button and type "Device Manager". Click on the device manager icon when it appears followed by clicking on the arrow next to Audio inputs and outputs to get the list of the audio devices. When you click on it, you will see an option named as "Speakers (Realtek High Definition Audio". Now, just right-click on it followed by clicking on the "Update driver" icon.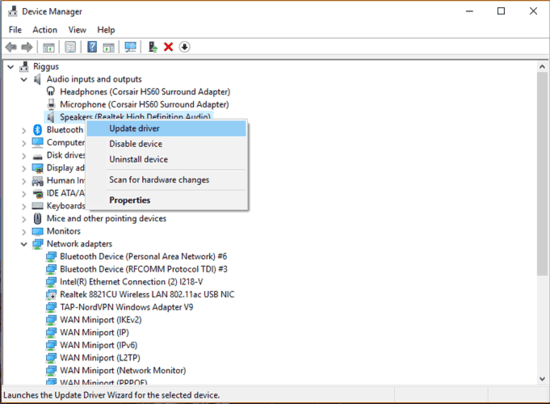 Normally, Windows gets this Realtek HD audio manager up to date. However, if it is not getting updated on your PC automatically, then you can update these drivers manually by following these steps.
And in case if you wish to uninstall the drivers from your PC, then click on the "Uninstall driver" option from the device manager and reboot your PC to see the changes. Users may also install any version of Realtek HD audio manager on their PC after uninstalling the previous version of it.
Also Read: There is no opportunity for you to ask the following question: what app will you use to open our website to download YouTube WAV? You can use any app on hand to Convert YouTube to WAV to begin a YouTube download journey.
How to install Realtek HD Audio driver manually
Now, if you want to install the Realtek HD Audio drivers manually after uninstalling them, then you must visit here to get the link or URL of the latest updated Realtek HD audio manager software. In this thread, a lot of users describe the pros and cons of every single version of Realtek HD audio manager drivers. You can thoroughly read out the pros and cons of various different versions and can select any one from them which suits your PC sound system.
After selecting the version of Realtek HD audio manager drivers which you want to install on your PC, just download it from the Microsoft catalog. The audio drivers come in a CAB file. However, you need to install a proper extraction tool like 7-Zip on your Pc to extract the CAB file into its own folder.
Once the extraction of files process is over, navigate to the device manager and make right-click on the Realtek High definition audio driver and click on the "Update Drivers". After that, select the "Browse my Computer for driver software" icon followed by clicking on the "Let me pick from a list of available drivers".
Now, browse the extracted CAB folder and select the first ".inf" file from the list to continue the installation of updates. Click on "OK" icon and proceed with it to finish the installation wizard.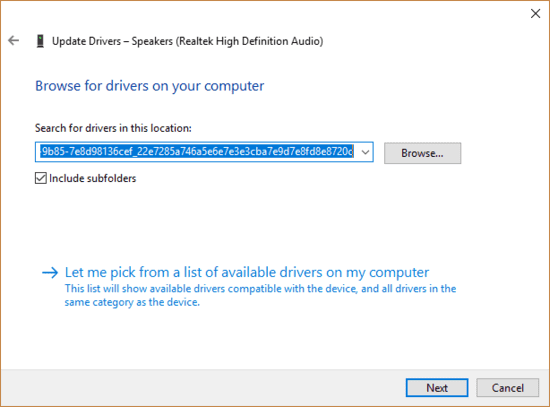 Tips: Jihosoft 4K Video Downloader is a 100% free tool that you can use to download your favorite YouTube videos. Full-featured apps can easily download any YouTube video in any resolution and any audio or video format, including 4K, 3D, 360-degree and, of course, HD or MP3.
Anything on YouTube is a legitimate 4K video downloader game. You can pick channels, playlists and even subtitles for later viewing on your mobile, tablet or laptop.
Conclusion:
So, this article was all about the important Realtek HD audio manager drivers which help the users to maintain the sound balance on their PC. We have discussed all about the updates process, installation process and where to find these drivers in this article. We hope you like reading this article and please don't forget to share your comments below in the comments section.