How to Get Spotify Premium Codes for Free?
After you are done reading this post, you will get top 10 sites for free Spotify premium codes and you will also understand how to get Spotify premium for free by iMusic. Here below you can find the tips to download Spotify music for free!
Part 1. Spotify Free VS Spotify Unlimited VS Spotify Premium
We believe that before we could you give you the correct information; it is wise to understand what Spotify does and their different features and subscription types. As per data, Spotify has always offered its subscribers three different subscription types: Free, Unlimited, and Premium.
What does a free subscription give you?
Free subscription gets you access to more than 20 million tracks. You can hear these anytime and also create your own playlists. You can also browse playlists created by other subscribers and use the Discover feature which recommends tracks that you might like. This is one amazing feature as their algorithm will create a list based on the tracks that you listen to.
The major turn off of being a free subscriber is that you will be interrupted by a lot of ads and in some countries; you are only allowed to use the service for 14 days. After this period, you will need to login in your home country to continue using the service.
When you pay $4.99 per month, you can avail an unlimited subscription of Spotify. With this unlimited subscription, you get complete access to everything you had as a Free user without being troubled by any ads at all. Apart from this, there is an added benefit of higher quality tracks and the ability to use the service abroad without limits.
When you pay $9.99 per month you will get you a Premium subscription. As a premium subscriber you get complete access to exclusive content, early releases, and high quality tracks. You can also listen to your playlists offline and without any problem of continuous ads! You get complete access to the Spotify Connect feature that allows you to stream your music to any Spotify subscribed device available in your wifi network.
Spotify Free
Pros: This is completely free. You get access to millions of songs. You can create customer playlists. You can also connect with your friends via social media.
Cons: This is just a streaming service only. There will be Ads. It is also limited to Spotify's service area.
Spotify Unlimited
Pros: This is Ad-free. You will experience higher sound quality. You can travel anywhere and access your Spotify content. You will get complete access to millions of songs. You can create customer playlists and also connect with your friends via social media.
Cons: This is a streaming service only. The charges are $4.99 per month.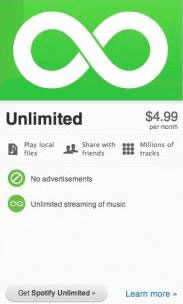 Spotify Premium
Pros: This is Ad-free. You will get the highest sound quality. You can get access to offline mode. You can also access millions of songs. You can create customer playlists and connect with your friends via social media.
Cons: The charges are $9.99 per month.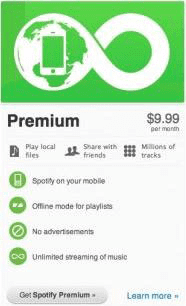 Part 2. Top 10 Sites That Offer Free Spotify Premium Codes
We totally believe that Spotify is really good for a first time free user. It gives an amazing experience to the user and they can listen to all their favorite songs. But imagine in the middle of the song you are exposed to ads that are annoyingly loud, and hurting your eardrums just as you've fallen asleep from a particularly relaxing song. That's not a feeling anyone would want. But just imagine what life would feel like if you could listen to your playlist even without an internet connection? If that's what you think then why not subscribe to Spotify Premium? Yes, we agree that not everyone is willing to shell out $10 a month for such benefits. But don't worry as there are many sites that claim to provide free Spotify premium codes. What we feel is the authenticity of these sites is less and that not all of them are real. Some of these sites might infect you with malware. Below there are few of such sites that claim to provide free Spotify premium codes.
Also Read: If you still want to download music from YouTube, but the steps are a bit more complex, check out this tutorial.
Here are the top results for a Google search using the keywords "Spotify premium codes":
1.spotifycoupon.blogspot.com
What we like about this site is that it guarantees a working Spotify premium code within 24 hours. In order to get the code you must download and install a code generator with options to generate a code for a 1 month, 3 month, 6 month and 12 month premium subscription. There are code generators that are programs used to create a unique code like license codes, serial numbers which can be used to activate certain software. There are many keygens where the illegitimate ones are usually used to generate license keys or serial numbers for activating pirated softwares. The code generator is used to generate an illegal premium subscription code.
Please Note: There are many illegal installers and code generators that are usually infected with different kinds of viruses, trojans, and keyloggers. Hence we request you to install all of this at your own risk.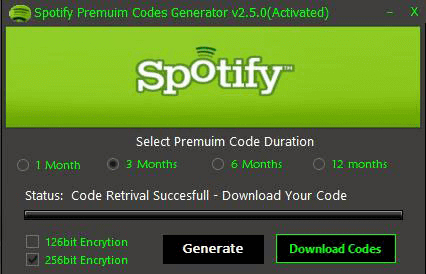 2.onlinespotifycode.com
We feel that onlinespotifycode is an amazing site where you can get codes for free! All you need to do is fill fields with your email address, name, and country. Next you will have to click on "Generate Code" button which automatically sends you an email with the verification link on your registered email ID. Once you click it, you are redirected to a page asking you to share on Facebook and only after sharing you are redirected to a download page that asks you to complete an Entertainment Factory survey to unlock your download. You will have to submit the survey with your mobile number in exchange to get the code.

3.spotifyfreeaccount.com
Our next entry is spotifyfreeaccount. They claim to have discovered a loophole in the subscription process, where you can generate Spotify premium codes for free. Once you have clicked on the download link, you are then redirected to a page that asks you for your personal details and email ID. On signing up, you are sent an email from the page but no code will be given. Just for your information, normal antivirus software will flag that redirected page as a malicious site.

4.codesforfree.net/spotify-premium-code-generator
Our next entry is a service that not only offers a code generator for a Spotify premium subscription, but has other programs displayed as well. Yes, this is true and you will love it. They also advertise amazing code generators like a Microsoft Points Generator for Xbox users, Riot Points Generator for League of Legends players etc. They also provide hacks and cheats for popular games like Candy Crush Saga, Clash of Clans, and Flappy Bird.
In order for you to acquire a Spotify Premium code, you must download and install a code generator to generate a code for 1 month, 3 month, 6 month, and 12 month premium subscription. But we must warn you to run it by your antivirus before you try this.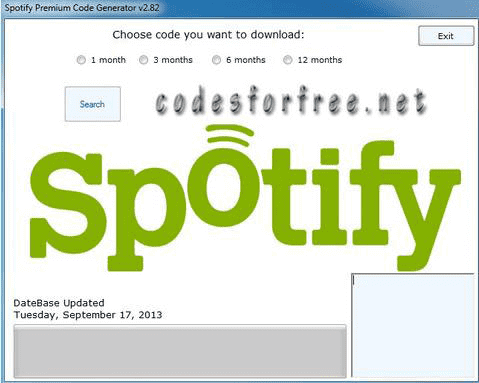 5.getpremium.org
Get Premium has made loud claims that they have discovered some kind of an algorithm/formula that allow the user to create unique premium codes yourself without using any kind of a code generator. This also gives you access to the algorithm once you have completed few offers from their sponsors pages. After all this, when you click on the download link, you will be redirected to a list of Entertainment Factory surveys.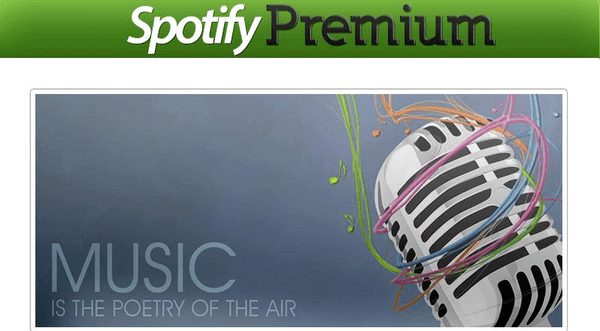 6.spotifypremiumfree2014.blogspot.com
Spotifypremiumfree2014 has also claimed that they can offer a working Spotify Premium code generator that is free for a limited time to any customer. All that is required is that you download and install a code generator. This will generate few working codes for a free Spotify premium subscription which you can use.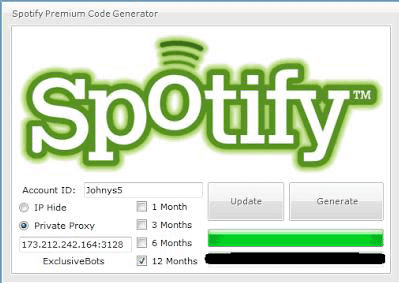 7.premium-spotify.com
Premium-spotify is a unique site that requests you to install and download a code generator. This site is well designed and seems to be like the real deal. The best part is this site offer software updates, 24/7 product support and has new versions for Mac and Windows.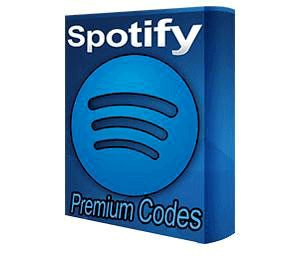 8.spotifycoupons.blogspot.com/2014/01/Spotify-Premium-Code
Spotifycoupons is one site that also provides you codes on Spotify subscriptions. This site redirects you to an Entertainment Factory survey in order to get codes. We feel that this does not look like a legitimate site and might affect your desktop more than what the free code is worth. We think that this can be avoided.
9.spotifypremium.info
Our next entry is another site that goes by the name of spotifypremium.info that claims its codes are free and are from legitimate sellers. The codes being offered are free of harmful data and in order to get the code, you will be redirected to Entertainment Factory surveys. Complete the survey and get the codes is what they offer.
10.keyzbox.com
Keyzbox claims that they have a code generator that must be downloaded and installed before being used. If you are okay with downloading unknown software on your computer then you can try it. There is no news of success or malware on this site.
To end this, we must let you know that it's not easy to get a free Spotify premium code without doing anything. Once you do what they ask, fill surveys and sign up, no code might appear or will be sent to your email. Some sites are notorious to send you on a wild goose chase for that "code", making you sign up for many services. Few ask you to download and install code generators which may or may not work. Just remember one thing: nothing can always be free on the internet.
Tips: Instead, if you choose to download your music via torrent, the right client software can make the process faster and easier. Whatever your tastes, we've selected the best free downloaders to keep your music library filled effortlessly.