How Long Does a GoPro Battery Last? (8 Tips for a Longer Life)
According to the information provided by the manufacturer, most GoPro models have a battery life of 1:30 to 2:00 hours, which is pretty much accurate. Many users complain about the battery life of GoPro. There can be number of reasons that shorten GoPro Battery Life. We will discuss some of them below in this article.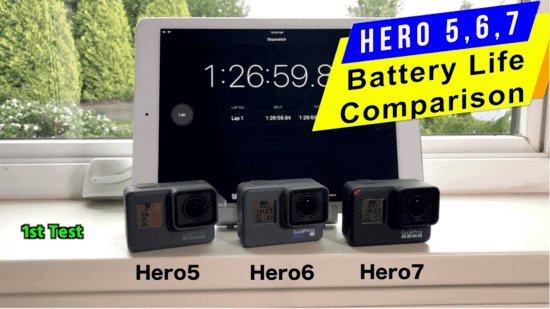 3 Factors that shorten GoPro Battery Life
Cold Tempratures.Cold Tempratures have a negative I pact on the performance of the battery, so when you are using GoPro, but you are outside, try to keep it in pocket close to your body. That way it will stay warmer, and your battery life will improve.
Wifi and other functions.Enable features like WiFi, Voice recorder, GPS only when you need them. The WiFi, by far will have the biggest impact on battery life. It just drains a lot of power. Try to keep it off when you are not using that. The GPS is used to overlay location coordinates, so if you don't need that, be sure to turn it off. The Voice Recorder feature will drain the battery even the camera is off.
Battery Age.Age, the battery life of each gadget gets shorter with age, and the same is the case with GoPro.
Accessories for Longer Battery Life
Now, if you are serious about stepping up your GoPro game and use this camera a lot, at some point, you will want to invest in a couple of accessories that will help you extend the battery life.
There a lot of options to choose from, here is a list of 5 best accessories you can opt for longer battery life-
1. Extra Batteries with Charger
Obviously, the first thing that pops into everybody's mind is to have a spare battery or even several. There are hands full of brands to pick from apart from the GoPro original ones. However, starting with the Hero 5 model, GoPro has disabled the support for third party batteries. This pretty much means that you will have no other choice than to buy GoPro genuine batteries. The price of an excellent third party battery is not that much lower anyway. If you are using Hero 4, then you can still go out and buy batteries from different ones.
You already have two batteries that come with the camera, so if you buy one or two extra ones, you will be fine with that.
2. Battery Backpac
Battery Backpac can be used on a Hero 4 only. The Hero 5 and Hero 6 don't have the 30- pin connector on the back anymore. The Backpack can give you around 4 hours of filming, so it is equivalent to one extra battery or so. Bacpac seamlessly attaches to the back of your GoPro to increase battery life with 15% more battery life. It can be used to stay powered during the work or other activities where charging or swapping in a fresh battery is difficult. An LCD window displays the battery level or charging status. An LED light indicates the camera's recording status.
3. Mobile Power Bank
A power bank comes in handy for pretty much any portable gadget such as your iPhone or iPad. And GoPro makes no exception. The thing with power bank is that when you use them, you can really hit the slopes or scuba dive with your GoPro. So, unless you are shooting a time-lapse with your GoPro or any kind of static scene, you can't really use it when you are filming. Mobile Power Bank works great for charging up your battery on the fly though when you don't have access to a wall outlet.
4. VidPro Grip/Charger
VidPro Grip is a handgrip that has a built-in rechargeable 6000mAh battery supply. It is ideal for action shots, crowd shots, or hard-to-reach angles. Plus it includes a smartphone holder and an adapter for your GoPro. Smoothly makes quick and sudden movements, has a textured rubber handle that provides a firm grip for steady footage. It works like a regular power bank, but it is more practical. Because it also functions as a grip, you can easily move your GoPro camera around and film or take pictures, just like you were using a regular grip.
5. SunJack Portable Solar charger
This portable solar charger can be used for all your longer trips. It's great because it holds quite a lot of power on a full charge which is enough to power your GoPro and smartphone multiple times and still have the potential for friends. Ultra-portable foldable solar allows for charging when you don't have access to a wall outlet. Two USB outputs let you charge two devices simultaneously. 10,000mAh high capacity power bank charges cell phones and tablets several times over.
Battery Life for GoPro Hero7, Hero 6, Hero5, and Hero 4
According to GoPro, here is the approximate battery life for every GoPro Hero model released since 2014 –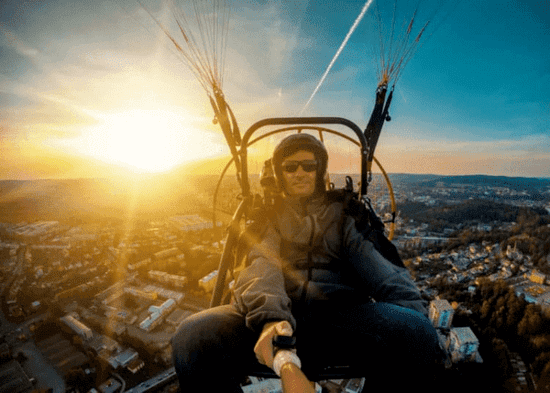 How Long Does a GoPro Hero7 Battery Last?
How to Save Battery Life for GoPro Hero 7 Black and other GoPro Models
The Hero7 battery is a rechargeable lithium-ion battery and is rated at 1220mAh, 4.40V. It's only a relatively small step forward from its predecessor.
GoPro Hero 7 Black –
It's only a relatively small step forward from its predecessor, but the Hero 7 Black's excellent video quality, stabilization, usability and range of mounts make it the best all-round action you can buy. In GoPro Hero 7 black, the battery is removable and lasts up to 45-90 minutes.
GoPro Hero 7 Silver and White –
In case of GoPro Hero 7 Silver and white, the battery is inbuilt, which means it can't be removed. A simple workaround for White and Silver users is to keep the camera under charge while filming. GoPro Hero7 Silver battery lasts up to 106 – 146 minutes. GoPro Hero 7 White battery lasts up to 107-146 minutes.
GoPro Hero 7 Silver offers a perfect, middle-of-the-road option for aspiring videographers and photographers, letting you dabble in higher-end capabilities and editing options without blowing your budget.
GoPro Hero 7 White is the most wallet-friendly choice for those who simply want to be able to capture great photos and videos to share with loved ones.
How Long Does a GoPro Hero 6 Battery lasts?
The Hero 6 is the company's latest and greatest, retaining all the core properties and rugged construction that make these action cameras so popular. In terms of absolute specifications, features, and performance, the Hero 6 Black is the device to beat as far as any action camera maker is concerned. It has a Waterproof design. Some of the features include GPS, 12MP, still photos, burst photos, time-lapse, video recording in 720p, 1080p, 1440p, 2.7k, and 4k resolutions. The camera supplied to the users with the Karma Grip. The video quality is the best we've seen yet from an action camera, and it even manages decent night quality.
GoPro Hero 6 battery lasts up to 1:40 hrs shooting in standard 1080p. Whereas if we set the camera to 240fps, we only get 1 hour of shooting. It will be a smart idea to buy a bunch of extra batteries if you plan to shoot in slow motion.
Three microphones placed around the device record good quality audio- this was the main problem with using housings in earlier GoPro models. The company claims the overall doubling of performance. The device has voice control, so you can start-stop recording or capture photos without fumbling with buttons or pulling out your phone.
How Long Does a GoPro Fusion Battery lasts?
GoPro Fusion is one of the best 360 degree cameras out there, delivering quality 5.2k/30fps footage in a very friendly package that does much of what other GoPro do so well. It is still an experimental product in an unestablished vertical. The resolution that the company provides leads to some great looking shots; you also can hit 60 frames if you downgrade to 3K, though you'll likely want to stick with the 5.2k setting to give yourself more flexibility in the post with the GoPro software. The camera is waterproof up to 16 feet, but performance isn't high for the Fusion underwater as the camera's stitching becomes especially wonky due to light diffractions. Considering the resolution, the battery of GoPro Fusion lasts up to 1:15 hour. Moreover, the battery is also removable. The time varies, depending on the video mode you have chosen, but not that much.
The software is where the Fusion has the most potential. Overcapture feature, which allows users to shape the 360 videos into more traditional views, is still very much a work in progress.
How long does a GoPro Hero 5 Battery lasts?
The GoPro Hero, 5 action cameras, are available in two models; The Hero 5 black and the Hero 5 session.
The new GoPro Hero 5 black brings several new features including voice commands, electronic image stabilization, a redesigned menu system, and updated frame rates. The size and layout of the Hero 5 Black camera feel very familiar for those who've previously used a GoPro, and the ergonomics retain the style we're used to.
The GoPro hero 5 sessions may look the same as its predecessor, but it now boasts 4k image quality, voice control, video stabilization, and a USB-C connection, as well as updated and increased frame rates and resolutions. The form factor of the Hero 5 session is identical in every respect to the older model. The screen on the Hero 5 session is so small that the menu remains slightly annoying to use.
GoPro Hero 5 Black battery lasts up to 2 hours, and the battery is removable, and in case of Hero 5 session battery lasts upto 1:35 hour.
Read More: No matter in what reason that cause the file deletion from your GoPro camera, there is a chance for you to recover deleted GoPro files if you perform the GoPro file recovery right and in time. Here in the following, I'm going to tell you how to recover deleted files from GoPro. Please check it out. How to Recover Deleted Files from GoPro on Mac/Windows PC.
How long does GoPro Hero 4 battery lasts?
Both Black and Silver Hero 4 cameras have a 2.4 aperture that should make it a decent performer in low light. In terms of resolutions and frame rates, the Black edition is capable of up to 4K resolution at 30fps. While the Silver edition tops out at 2.7K and 30fps. The black edition beats the silver for 1080p performance as well, with 120fps for high frame rate shooting. The silver edition requires you to drop down to 720p to achieve the same frame rate. Hero 4 comes with a range of professional settings, dubbed Protune, which enable professional videographers to use GoPro cameras more easily in multi-camera workflows. Depending on the resolution, you have a choice of Ultra Wide, Medium, or Narrow fields of view. The useful feature with Hero 4 is highlight tagging. This lets you press the side button on the GoPro or select an option in the app mark key moments in your footage. GoPro Hero 4 Black battery lasts up to 2:15 hour and Hero 4 Silver lasts up to 1:50 hour.
How to Make Your GoPro Battery Last Longer
If you turn your camera on only when you want to shoot, or if you use one control button, you can get the best part of a day out of your battery. That's exactly what I do (on the average day of shooting). If that sounds like what you're planning to do, here are some tips.
8 Tips To Make Your GoPro Battery Last Longer
Do not use extra settings (WiFi, GPS, voice control).
Keep your batteries warm in cold weather. Consider putting them in your jacket's inside zip pocket.
Turn the screen off.
Turn the extra lights off.
Don't use a remote app or a smartphone app.
Keep Protune off (I keep Protune on –because I prefer a better image quality than a slight increase in battery life.)
Use a wall charger (faster and better than the USB cable on your PC).
Download the latest firmware, please
Basically, to sum everything up, there are a number of factors that will determine how long your GoPro battery will last. The WiFi is probably the biggest power-draining feature. But also look out for stuff such as the brightness of the display, voice control especially on the Hero6 and avoid keeping GoPro on cold. Once, you have taken care of all that, think about how many hours you will be filming before you can recharge. You will need an extra battery for every 2 hours of footage.
Most of the people will be fine with 3-4 batteries. That will last for one full day of adventure filming. Besides the extra batteries, you can consider many other accessories to strengthen your GoPro model.
Tips: Jihosoft 4k Video Downloader is an intuitive tool that allows you to quickly and easily download and convert online videos.