Steps to Run and Use JioTV on PC/Mac
What is Jio TV for PC?
There are so many apps that act as a TV and give services exactly like standard service providers. Jio TV is one of them. As per our knowledge, Jio TV is one very popular Android app that is majorly used to watch movies and TV shows all over the world. Jio TV is also known for its exceptional speed that they offer so you can stream what you want. Jio TV has been developed clearly for Android devices. Are you wondering since Jio TV is developed for Android, will the Jio TV app work for your computer? If this is the question that's bothering you, then get in line like many other millions of individuals who have the same question. If you read this article, through our content, we shall explain how to use Jio TV for PC.
We all know that television has always been one of the most widely used entertainment devices in society since decades now. You will also know that conventional televisions have always come with many restrictions. For example, the channels you can view might differ depending on your location and whereabouts. However, the truth is that consumers don't want to miss any of the excitement broadcasted on TV. For example, soccer fans will want to watch every soccer match on TV. But due to their location, some of these matches cannot be broadcasted in some countries.
Not just sporting events, but the same scenario takes place when you are looking for documentaries, movies, operas, talk shows, music events, concerts, etc. This is exactly when technology comes to play. If you can download JioTV app for PC, You can watch the infinite amount of content without any worry. With Jio TV, you can watch high-quality digital content of television. Jio TV also offers HD videos throughout. If you have an amazingly fast internet connection, a computer and Jio TV app, your opportunities for watching entertainment is endless. The best thing about Jio TV for your computer is that it doesn't cost you anything. Literally! Well, if you don't believe us and wonder how to experience the best entertainment at no cost with Jio TV, do read below!
In addition to accessing worldwide TV content, there is another major benefit associated with Jio TV. With Jio TV you can watch missed TV programs that were already broadcasted in the day. If you happened to miss a program a few days ago and you really want to watch it, then Jio TV helps you here. With their app, you can watch programs with a 7-day catch-up time. That means with Jio TV you can watch a program which was broadcasted seven days ago without any hassle.
JioTV is also an innovative, revolutionary, and a handy tool for every person. The concept of watching TV using your desktop at home has become possible because of Jio TV. There are also a couple of basic requirements that must be fulfilled to make this happen. For example, you must have a good computer with decent enough graphics performance, and internet connection should be stable and fast enough to download high-quality videos. If you meet all those requirements, you can enjoy TV from your PC without any restrictions. The best thing is that JioTV is free. This JioTV app is completely legitimate, and hence you don't require any high-level technical skills that need to be installed on your PC.
The process of running JioTV
There is an amazing process through which you can run Jio TV. You must remember that while using Jio TV, it requires you to create an account first. Or else you will not be able to access all the advanced features associated with Jio TV.
If you happen to be a new user, creating an account is very easy in Jio TV. You don't need to spend a long time because Jio TV has made the registration process simple for practically every user on this planet. Creating a Jio TV account is a very convenient process, and you only need to have basic computer literacy.
All you need to do is visit the Google Play Store and find the app "My Jio". Then, download the Jio TV app and follow the onscreen instructions to get the app installed.
Also Read: Best Free Firewall:Protect your PC with a powerful free firewall that tracks your link and blocks threats in real time.
Downloading and installing JioTV for PC
When you are looking to download and install Jio TV on your PC you are taking your entertainment viewing experience to a whole new level. The process is amazingly simple. Jio TV has been purely developed for Android devices, as you may already know. Many users don't know if they can use this app on their PC, as well. You must understand that once you download a good emulator, you can start enjoying Jio TV on your PC.
You must know one main highlight – There are multiple options when it comes to Android emulators. But which one is reliable? That's the question. You must be very careful to download a safe and powerful emulator that works with good stability. Blue Stacks happens to be one excellent emulator, and apart from them, there are several other emulators to try. Please do your research, read the feedbacks of other users before downloading any emulator on your PC. With efforts, it is not that hard to find a reliable and effective emulator for free.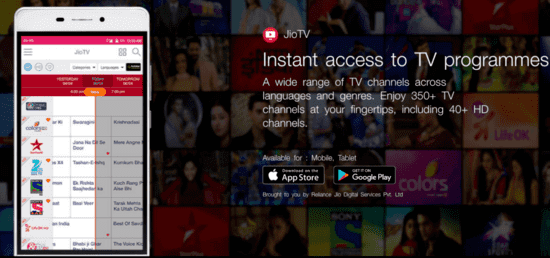 If you happen to try Blue Stacks as we recommended, you must know about some of its specifications.
Firstly the Blue Stacks Emulator is made to be compatible with Jio TV for Windows versions from XP to 10.
Secondly, it is recommended using Windows 7 for PC and OS X 10.5 Leopard for Mac when trying for Jio TV.
Method 1: Installing Jio TV for PC with Blue Stacks emulator
In this first method, we have mentioned a few steps that must be followed if you want to use JioTV on your PC through the Blue Stacks emulator.
In the beginning, download Blue Stacks by visiting their official website, and after that, you must install it following the on-screen instructions given.
Next, you will wait for the installation to complete. Post those launch it on your PC.
After that, you must sign in to your Google Account and open the Google Play Store.
On the Play Store, you can then search for the app Jio Play.

Next you will download and install the Jio Play app.
After the installation is completed, you can open the Jio Play App.

Finally, you will provide your personal Jio account credentials.
After all these steps, your live TV is up and running on your desktop. You can now run your favorite entertainment app on your PC or laptop. All you must do is navigate to the channel you prefer and watch your favorite content throughout the day and enjoy it.
Method 2: Installing Jio TV for PC with Nox App Player
There are superb emulators where you can run Android apps on your PC. Just like Blue Stacks, Nox App Player is an amazing alternative to play the Jio TV app for PC. Follow these steps to use Jio TV on PC using the Nox App Player.
Firstly, download the Nox App Player from their official website. Then, install the app on your computer.
Secondly post-installation, launch the Nox App Player on your computer.
Allow Root Permissions for Nox Player. Do this by clicking on Settings, General tab, and then tap "ON" from Root Options. Click on the option called Save Changes.
Drag Jio TV APK on the Nox App Player interface.
Open the Jio TV app post all these steps and use it.
Provide your Jio TV account number credentials to start using the app.
Maximize the screen to experience better image quality.
Features associated with Jio TV app for PC
Here are some features of Jio TV.
Jio TV is known for its collection of channels it offers. Users can watch TV from anywhere, anytime.
You can also check 350 amazing channels and 55 HD channels. There are channels in more than 15 languages and a host of genres to view from. These features can be accessed by visiting the advanced interface of the app.
For sports fans, there are plenty of streaming channels to enjoy the content.
Jio TV lets you enjoy a bookmark option also. You can mark all your favorite channels so you can refer them anytime. The settings of this bookmark are customizable.
With Jio TV for PC, you don't have to worry about the quality of the TV. Because the video quality is optimized, they constantly offer updates to this software, and hence you experience good functionality. Also, if necessary, you can change the picture quality to low, medium, or high.
What if there are technical issues?
While using Jio TV, if you experience technical issues, then you can do the following to overcome it. However, we must also tell you that Jio TV is generally stable and too very speedy and hence it gives fewer worries.
With Jio TV, you can get the history of your PC cleaned.
You can perform an update for the Jio TV app.
You can uninstall and reinstall the Jio TV app and test it again.
So, folks, this is how to enjoy Jio TV for PC. We really hope you'd find all of this information useful.
Tips: YouTube is a treasure trove of videos. In reality, we're sure you've come across dozens of videos that you'd want to save for later viewing.
Forget the overly limited offline option on YouTube. What you want is a free, versatile YouTube downloader that's quick and comes with lots of customization.
Jihosoft 4K Video Downloader fits the bill perfectly when it comes to what YouTube users want – a free video downloader that doesn't have any hang-ups.