How to Find the IP Address of Your Windows & Mac Computer
Sometimes you're required to provide your IP address in order to set up a program related to network or remote access. However, what exactly is the IP address? How do you know the IP address? Many people may have heard about it but really have no clue to check the IP address in their computers, let alone to say telling the different of private and public IP address. In this article, we are going to talk about how to find the IP address of your computer easily.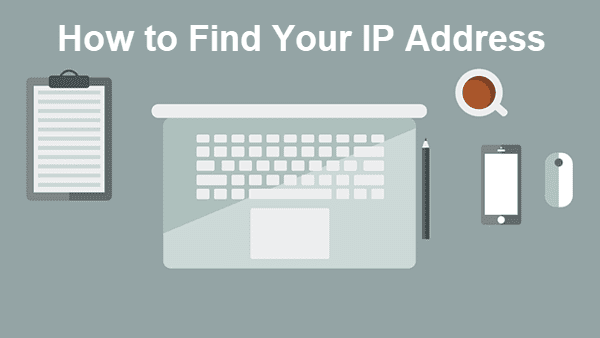 Facts about IP Address
IP address, or Internet Protocol address, is a numerical label assigned to the device connected to a computer network. It many serves two functions: host or network interface identification and location addressing.
Here are some useful facts about IP address:
IP Addresses (IPv4) are four sets of digits, up to three digits per set.
There are private IP address and public IP address.
Most public IP addresses are assigned by the internet service provider and dynamic which means they may change from time to time.
Method 1. How to Find Public IP Address Online
The most convenient way to find out your public IP address is to check it online. If you urgently need to know the IP address of your computer which is connected to the internet, this method will suit you best.
Step 1. Open Google or Bing on your browser.
Step 2. Type IP address in the search box and hit Enter.
Step 3. Look for the line: Your public IP address is xxx.xxx.xxx.xxx

Method 2. Find Private IP Address in Windows 10 with CMD
A private IP address is usually reserved for internal use. For example, most routers have the IP address of 192.168.1.1 and assign similar address to several devices connected to it. Sometimes you need to know the private IP address of your computer or those assigned to another devices. In this case, we can find private IP address in Windows 10 with CMD. The steps below may vary on Windows 8 and 7.
Step 1. Press Win + R shortcut and type CMD, then hit Enter to open Command Prompt.
Step 2. In Command Prompt, type ipconfig and hit Enter. You will see a list of your network connection details.

Step 3. Look for IPv4 Address and find your IP address.
You may find there are several entries labeled with "IPv4 Address" which means that you have multiple active connections, like Wireless Network Connection, Ethernet adapter, or Local Area Connection.
Method 3. How to Find Local IP Address in Mac
Similarly, we can find the private or local IP address in Mac.
Step 1. Click Apple menu on the top bar, then select System Preferences.
Step 2. In System Preferences, click Network.

Step 3. Select the connected network, then click Advanced… at the bottom.
Step 4. On the new screen, click TCP/IP tab, then you'll see the IP address of your Mac computer and the router.
On some macOS devices, you will see the IP address and the router address when you select the active network and no need to click the Advanced button.
Method 4. How to Find Public IP Address in Router Settings
Most routers are accessed through a web interface where you or a specialist can set up and modify settings. You can open the web interface by a known address printed on your router, then check the public external IP address which is assigned by your internet service provider.
In order to open the Router setting page, you need to enter an address on a browser which is usually one of these three: 192.168.1.1\192.168.0.1\192.168.2.1
You can know more about 192.168.1.1 here. Once logged in the configuration page of your router, go to Router Status, Internet or WAN tabs to find your IP address.
Method 5. How to Find Windows Private IP in Network Connection
In case you feel not comfortable with the above methods, we can also find Windows private IP address in Network Connection settings by following the steps below.
Step 1. Press Win + R shortcut, type ncpa.cpl and hit Enter.
Step 2. Right-click on the connected network, select Status.
Step 3. On Status window, click Details button to find your IP address.
Tips: If you deleted important photos or videos by mistake, make sure to use Jihosoft Photo Recovery to get them back soon as possible.
Conclusion
In this tutorial, we have learnt 5 methods to find IP address in Windows and Mac. Now you should be able to fill your IP address in a form or box when necessary. However, please note that you should never share your IP address publicly, because people could get the information about you from the address for malicious purpose. Sometimes you may even need to change your IP address. Feel free to let us know if you have any questions or opinions in the comment. Don't forget to share this guide to your friends if you find it helpful.