How to Hide WhatsApp Status from Selected Contacts 2019
WhatsApp has become the need of everyone's life. It has more than 1.3 billion active users from which you can get the idea about its popularity. It can be found in everyone's smartphone at present time. It is a very beneficial application in both the manner to manage the contacts and to share every type of content among friends. It is used for both fun making and money making. WhatsApp Business is also very popular among users for uplifting the products and business graph. People are taking advantage of Whatsapp marketing owing to its growth of users exponentially. WhatsApp is a free and quick messaging application which also allows the user to send photos, videos, audio, contacts, links and other files. Using WhatsApp, you can also share photos or thoughts as a status which will appear on your contact's phone as WhatsApp status for 24 hours.
WhatsApp status is mostly sent for sharing memories, happiness or to spread information and awareness. It gets automatically deleted from the WhatsApp. You can also manually delete it. If you do not change the settings it will appear as the WhatsApp status in each of your contacts phone. The best feature of WhatsApp is its privacy settings. Only your contacts can see your WhatsApp status. However, you may not want all your contacts to see your status. Through this article, you will get to know how to hide WhatsApp status from the selected contacts. Using this feature of WhatsApp you can enjoy sharing all your everyday activities with your family and friends by removing some of your contacts to whom you don't want to display your WhatsApp status. You can send texts, links, images, GIFs and videos as your WhatsApp status. So, enjoy sharing your stuff without worrying about the contacts to whom the status is hidden.
Steps to hide WhatsApp status from selected contacts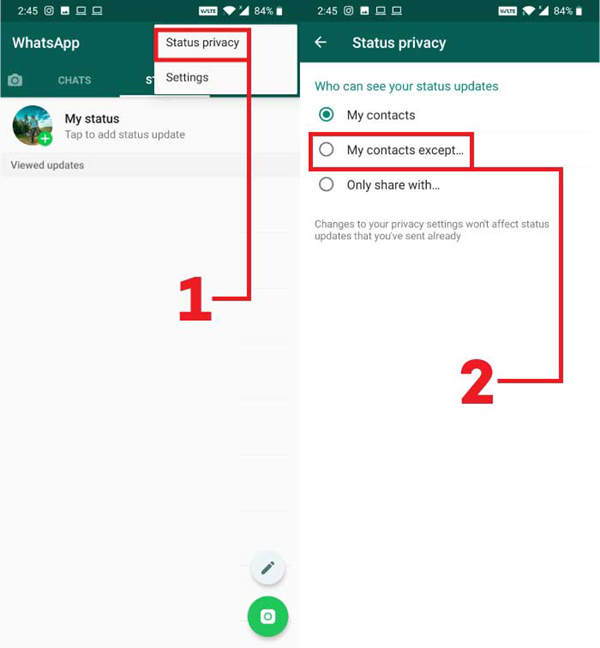 It is important to know that when you will make your account on WhatsApp you will find the status settings to "Everyone" by default. Under this, your WhatsApp stories will be shown to all of your WhatsApp contacts. You need to change if you want to hide your status from some selected people or you want to show the status only to select contacts. WhatsApp provides both the options to choose under its 'Status Privacy' option. Here, you will find the steps to change your status privacy settings and configure it as per your preference. Follow the mentioned steps to do so.
Open your WhatsApp application. From the main page, you can slide left to get the status page. Else you can tap on "Status" present just right to "Chats". You can see the WhatsApp status of all your contacts being displayed on this tab.
On the top right corner, you will find three vertical dots. Tap on that. A menu will appear on the screen from which select "Status Privacy".
Now three options will appear on the screen using which you can customise your WhatsApp audience settings. They are My contacts, My contacts except and the Only share with.
If you want to display your status to all your contacts then select "My Contacts". Or if you want to hide your status from some selected contacts then select "My contacts except…". This will help you to blacklist selected people from your WhatsApp status audience list.
Now, all the contacts will appear on your screen arranged alphabetically. Now select the contacts from whom you want to hide your status. The selected contacts will appear on top with a red tick mark. At the right bottom corner, you will find a green checkmark sign. Tap on that sign once you are done with the selection of all the contacts you want to hide from. Changes will be saved as you will tap on that checkmark.
In this way, your status will be shown to all your contacts other than the people you have selected. You can go through the same procedure and select "Only share with.." option to show your WhatsApp status only to some selected contacts. This WhatsApp privacy setting is very useful to maintain the privacy among informal friends and the corporate world contacts. Also, you any have some privacy issues owing to which you only want to show your status to some selected people. You can change the WhatsApp status settings anytime following the same steps. You only need to untick the contacts and tap on that green checkmark to confirm the changes. It is very easy to maintain the settings of WhatsApp.
So, if you want to limit the audience to your WhatsApp status, follow this article steps. Don't forget to confirm the changes made by tapping the green checkmark on the settings page. If you have any queries related to this, please share in the comments section.
Extra Tips: Backup your WhatsApp chats to Google Drive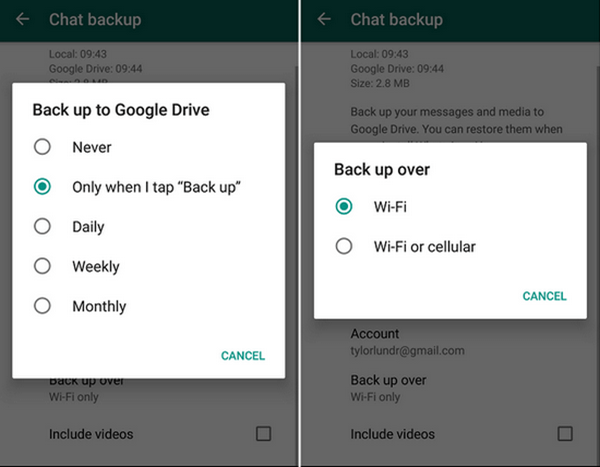 Now that everything's backed up, you'll be able to restore your chats every time you reinstall WhatsApp, no matter the device. Note that whenever you back up to Google Drive, WhatsApp also backs up to your phone's internal memory as well, which means it'll take up some space.
You also can use a third-party software Jihosoft Android Data Recovery to help with this.