iTunes Asking for iPhone Password I Have Never Set
iTunes backup plays an important role among iPhone users and an increasing number of people would like to use iTunes to restore backup. However, problem occurred that many iPhone users complain about being asked for iTunes backup password they have never set when restoring from a backup. If you have the same problem, read through the whole post for more details.
Common Case of This Issue:
"Yesterday, when I try to restore from iTunes backup, I was asked to enter a password I have never set. I have no idea why the backup has become an encrypted file. I swear I have never ever set any password for the backup! I just have this backup several days before yesterday. And I have restored from iTunes backup for many times before. Therefore, I am pretty sure what I am talking about since many friends of mine doubting about my forgetting iTunes password! I have searched on internet and found many people who have met the same problem as me."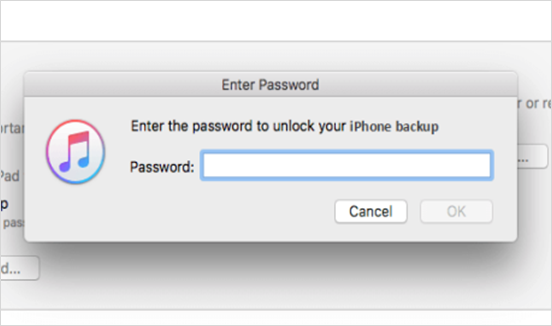 Answer:
It is possible that iTunes will ask for a password you've never set when you restore from a backup. This situation happens for reasons especially when you update your iOS version or have your iPhone fixed out of some hardware problems. After lots of search, evidence shows that Apple is secretly and randomly picking passwords from what you previously used to encrypt your iTunes backups without informing you.
Worth Trying Solutions:
Given lots of search results on iTunes backup password recovery, here are most possible password you can try to decrypt your iTunes backup file.
Try the unlock password for your iPhone first. Normally, the iPhone lock screen password is the key to this issue.
Try "0000" as the password and see if it helps. Sometimes, it is the default password for many cases.
Try your iTunes Store password. This is the most possible password to restore from iTunes backup.
Sometimes, the password can be a very old iTunes password that you set a long time ago. Even if you removed it afterwards, it may be picked randomly as the password due to iTunes bugs. Normally, the original/first one is most likely to be the right password. Just have a try to see if it works.
The password may be your Apple ID password in lowercase letters. Many users solved this issue with Apple ID password according to discussions on Apple forums. Do remember to enter the password in lowercase letters! And if you have ever changed your Apple ID password, try the original password in the first place.
Try login password of your computer. Sometimes, the administrator password on your computer will also be chosen to encrypt your iTunes backup.
Try your Wi-Fi password, which turned out to be useful for certain iPhone users as well.
Try password set for your gmail which you signed in on your iPhone.
Try password from a game you played on App Store.
All the possible passwords mentioned above are gathered from different iPhone users. And these passwords really worked! If you still can't solve this problem, you can use Jihosoft iTunes Backup Unlocker to crack the password.