9 Ways to easily Extract Audio Clips from your Favorite Videos
There are many instances when we are only required to get the audio clip of any particular video which we have watched. Extracted Audio clip can be used in our self-made YouTube videos, can be used for dubbing or any other relevant purpose.
If you're in the same category as those keen users and want to extract audio from video as well, all you need is high-quality audio extractor software that can help you get music from the video.
We're going to share such software that can help you fulfill your desire to extract audio from video. You can extract audio clips in your preferred audio file format like MP4, AVI, FLV, and MPEG, etc.
Method 1: Use Audio Extractor Online
Audio Extractor is basically an online media file converter tool that is pretty much popular among Millions of users to accomplish this task of extracting audio clips from their favorite videos. This tool will let you extract and save the audio file of any particular video on your PC hassle-free. The total time taken for the conversion process is also pretty much low, which shows how useful this tool is. Just import the video from your PC inside this software and select the type of the audio file format which you need to be followed by clicking on the "Convert" icon.
Method 2: Convert/Save using the VLC media player
VLC media player is another incredible option available for the users, which has an in-built capability to extract the audio file from the video file. Navigate to the "Media" icon and select the "Convert/Save" icon from that list. A small pop-up window will get open from where you can select different parameters before the conversion process. You can also select the audio file format from those options and can proceed with the "Convert/Save" process. The converted file will be saved to the destination location which you have set up.
Method 3: Use QuickTime for Mac users
For all the MacOS users, we will recommend QuickTime software to them to extract audio files from the video files. The QuickTime software is an incredible software with a lot of customizable features in it. Just play the video and click on the "File" icon present at the top left corner of the display window. Now, select the "Export as" icon from that list, which is again followed by clicking on the "Audio only" option. After that, select the destination of converted file and file format, which you need to start the conversion process.
Method 4: Use Audacity software
Audacity is another excellent software for the users, which will surely help them to extract audio files from the video media files. Just open this software in your Pc and play the video whose audio file you want to extract. You will get a direct option to extract the audio file from the video file in this software. Users may easily select different options like file format type and location for the converted audio file. Audacity software is having one of the brilliant user-interface which is user-friendly as well as attractive for all.
Key Features:
It helps in recording live audio or computer playback.
A lot of audio files are supported, including WAV, MP3, FLAC, AIFF, and more.
You can have a large number of effects like speed or pitch changing in a recording.
Also, you can cut copy or mix your music/audios/sounds.
Via Audacity, you are allowed to convert your recorded files into digital recordings or CDs.
Method 5: Using apps present on the Google Play Store
If none of the media player software is unable to accomplish your task, then you may take the help of popular apps which are developed for this purpose. Among all the available apps, Extract Audio from Video app is a very decent converter app in our recommendation, which will help the users in this task. Users can easily import the videos in this app and can click on the "Extract" icon to get the extracted audio file from the video file. You can save the output file in any media file format and at any place in your device hassle-free.
You can choose Breathe Music Player too. It is a music player that catalogs all the music stored on your local phone memory. We're not interested in that, as there are a lot better music players out there. Tap the Ringtone Maker option on the menu. Select the file that you want to convert.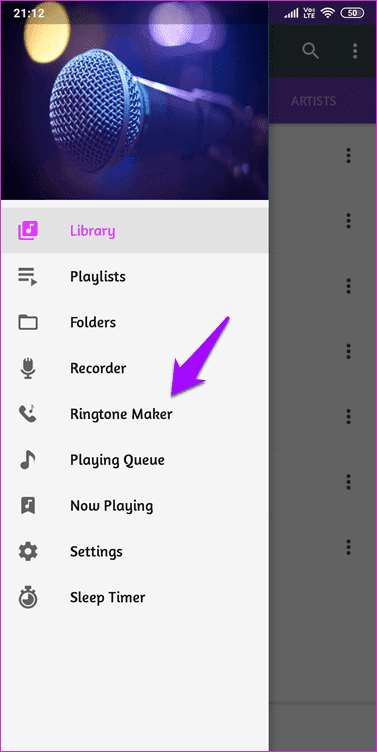 6.Windows Movie Maker
If you are running Windows 7 or Windows 8 and have Windows Movie Maker installed, you already have a free audio extractor on your hands. The second audio extractor that we recommend for Windows7 and Windows8 users is Microsoft's Movie Maker, which can also help you extract audio from video.
This video editing software allows users to create, edit or share videos. With this, you can share your videos on several platforms. It is also free to use and has a simple user interface.
Also Read:There's nothing to worry about because there's a lot of free iPhone 11 video download apps available in the App Store that will allow you to download videos not only from Dailymotion, Vimeo or YouTube, but from any other website,you can save them for watch later.
Don't get your name wrong. The name of the tool is Audio Converter, but it can help you extract audio from video easily. It also has many features and encourages users to perform different tasks. The following points will make this clearer.
Key Features: This tool, along with helping to extract audio from a video file, makes it easy for users to convert audio to the desired format.
You can also use it to convert your audio files to the format you need.
This offers advanced settings where you can change the sound as you want. It also works in the audio transfer app.
8.Bigasoft Total Video Converter
We would like to provide you with Bigasoft Total Video Converter on the seventh number in the audio-video splitter list. It's also a useful tool when you're looking for a good way to get the music or audio you want from your videos.
The features are given below to make you more aware of them.
Total-Video-Converter Key Features: this is an easy-to-use tool to extract audio and perform other functions.
It's completely free, and you can use it to convert your favorite movies or videos to multiple formats.
Bigasoft also helps to cut or trim a video if you only want to watch the desired scenes.
The video conversion process takes less time to perform.
9.Apowersoft Free Online Video Converter
Apowersoft Free Online Video Converter is the last one in the list.
It's an audio recorder, as well as performing many other functions.
You can either download your desktop version or convert videos online. Having so many useful features, it also makes it one of the best audio editing tools. It's time to take a look at the apps.
Free-Online-Video-Converter Key Features: You can upload videos and output them to the desired formats.
It also has the power to edit videos by adjusting their video size, adding effects, trimming, and more.
It is also a free website operation without any additional fees.This supports customers whenever you need it.
Tips: Jihosoft Free 4K Video Downloader is a video download software that can convert to MP3 files without ads. Like the other solutions discussed here, you can buy an entire YouTube playlist and save it to other formats such as MP4, MKV, FLV, and more. It also allows users to extract annotations and subtitles. SRT format that is useful for downloading music videos.
Interestingly, one unique feature of the software is that 3D format is supported. Also, users have the option of selecting or removing all of the videos from the playlist. Nevertheless, the free trial only offers a limited number of downloads for the YouTube playlist.
Conclusion
So, this article was all about the detailed description of several different ways in which a user can extract an audio file from a particular video file in no time. We have discussed the top 9 tools in this article, and we really hope that you will get some fruitful results when you use these methods for your personal use. We request you to share all your thoughts and views related to this article in the comments section below.