What Is Intel RST Services and How to Fix Intel RST Not Working
In the generation of advanced computers, memory means a lot for the users who regularly check SSD health. The main reason for purchasing the most expensive hard disks is to improve or to boost up the overall system performance from the average mark. That's why as a big processor manufacturer company, Intel has launched a service which is named as Intel RST. RST stands for Rapid Storage Technology. You can make an idea in your mind about this service just by its name. Rapid storage technology is specially developed to boost your PC performance and memory management. This service will work for all computers which are having SATA disks installed in them. The feature will also lower down the power consumption of the PC which prevents the overheating issue. That's why RST service offered by Intel is used by every user who is having SATA disk.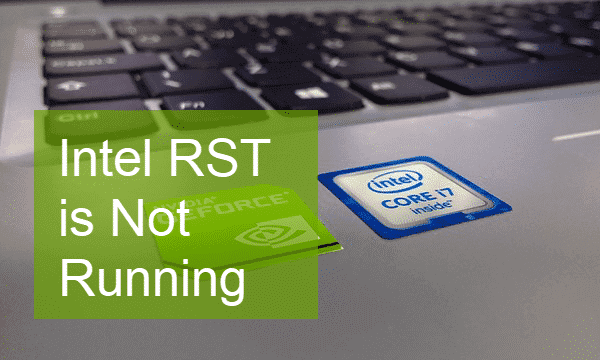 Is Intel RST Service active in your PC or not? We ask this question because many Intel users have reported the issue of RST service not working on their PC. You can also check the notification panel of your Windows 10 PC which is present on the right side of the display screen. Whenever this function disables itself, you will receive a notification. If you are among those users who are facing this issue, then you are at exactly the right place. We will introduce 3 major fixes in this article which you can use to solve the "Intel® RST is not running" issue.
Fix 1. Check the List of Running Services in Task Manager
Every time you think that an application or service is not working properly or creating some troubles for your PC, then you can check the Task Manager where all the running applications and services are listed. It is also an important indicator of Windows 10 high CPU or disk usage. We will use Task manager to check this issue of Intel RST not working. It has been seen in many cases that Rapid Storage Technology (RST) is not working due to several issues and to run RST back again, we need to resolve these issues through the help of Task manager.
Step 1. Right-click on the Taskbar on the bottom of the PC screen and choose Task Manager.
Step 2. In Task Manager window, search for Intel Rapid Storage Technology in the Services tab.
Step 3. Check the status of Intel RST. If it is stopped, then right-click it and choose Start.
After starting the service, see if Intel RST is working or not. You can check the status in Task Manager.
Fix 2. Automatically Run Intel RST Service on Startup
Sometimes, when you boot your PC, then RST is not able to launch automatically due to certain issues. That's why we suggest you reset the default settings so that any issue which is pertaining to resist the launch of RST can be eliminated. For your knowledge, there are two types of startup status, one is automatic which is set as default for RST and another one is Manual. The settings will remain the same as they were. We are just resetting them so that RST can be launched automatically after the booting of PC. In this way, you can also disable some unnecessary startup items to speed up your Windows PC.
Follow these methods to accomplish your task:
Step 1. Open Run dialogue by pressing Windows + R, then type services.msc and hit Enter.
Step 2. In Services window, scroll down to find Intel Rapid Storage Technology from the list.
Step 3. Right-click on the option and open the Properties menu.
Step 4. Inside the Properties menu, click the box next to Startup type, then set it as Automatic and hit the Apply option to save the settings.

Reboot your PC and check whether RST start is working normally. If this method is also unable to fix this issue, then we have one another present on this list. You can switch on that positively.
Fix 3. Update Intel RST Driver
Now, this is the ultimate solution to get rid of this issue. It is possible that the SATA disk present in your PC is unable to run on the outdated drivers of RST. There is a protocol which you need to follow in order to update the RST drivers:
Step 1. Press Windows + R to open Run dialogue, then type devmgmt.msc and hit Enter.
Step 2. In Device Manager window, open Disk drives category, then identify the disk that is compatible with Intel RST.

Step 3. Right-click on the disk and choose Uninstall device. The disk may disappear from the list.
Step 4. Wait a moment for the disk drive to be detected again, then right-click and choose Scan for hardware changes. The drive will be reinstalled automatically.
Step 5. Visit Intel Download Center, search for "Intel Rapid Storage Technology" and enter the one ended with "User Interface and Driver".

Step 6. Download the SetupRST.exe file from the left column.
Step 7. Install the executable file, restart your PC and then see if the problem has been fixed or not.
This method has a much higher probability of resolving this issue of Intel RST not working on PC.
Pro tips: In case you lose important documents, photos or videos, make sure to use Jihosoft Data Recovery Software to get them back as soon as possible.
Final Words
We have categorized the solutions which we think can help you in a better manner. You can try all these methods one by one because any one of them may work for you. If you find some other methods that can also be engaged to resolve this issue, then please share the details of that method with us in the comments section.