How to Download and Install PUBG on PC/Laptop for Free in 2019
Mobile devices, especially smartphones, have replaced the PC and become a major platform for various games. However, sometimes people need to install a mobile game app on a computer, for example, the most popular PUBG. Actually, PUBG is also available on Steam and Xbox, but users have to pay extra money in order to play the game on PC. Is there any way to download PUBG on PC for free?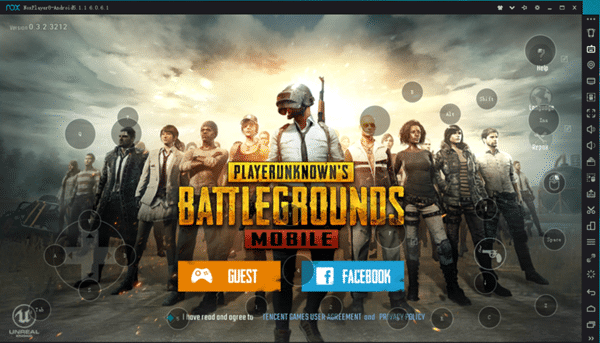 In this article, we will guide you to install PUBG PC or PUBG mobile for PC for free using emulators, with which you can enjoy smooth gaming and even take screenshots on PC for exciting game scenes. Understandingly, it is essential to download an efficient and reliable emulator in order to get a smooth gaming experience, because of the PUBG PC requirements are quite strict.
A Brief about PUBG
PUBG is merely an example to reveal the possibility of playing mobile games on PC, and its high requirement on gaming performance makes it a reliable benchmark for testing mobile game emulators for PC. Nevertheless, it won't take you much time to review this hot game.
PUBG, or Playerunknown's battlegrounds, is a wonderful online battle game to be played initially on Android and iPhone. Users can play it with Facebook friends, single or with unknown players.
As the game starts, the players need to jump from the plane using parachutes and go to the play area where they will find their enemies and kill them using different tools. The developer keeps updating the game and adds new excitement to the game which has popularized the game around the globe. To win the game, guns, ammo, and other supplies are scattered on the field so that players collect them from the buildings. The man or team (squad) left at last wins the game. PUBG download on mobile is completely free but playing it on PC gives the real enjoyment of gaming. That's why people want PUBG PC download for free.
Install PUBG on PC for Free with Emulators
To download PUBG on PC, you need to download and install PUBG mobile on PC to access the game for free. However, playing PUBG using PUBG mobile on a PC is quite tricky along with some missing frames and gaming experience. That means the gaming experience will drop using the PUBG mobile as compared to the official version of PUBG for PC, but the exact degree varies on different emulators.
You can download and play PUBG mobile on PC for free using the emulators given below. These emulators will help you to run PUBG mobile smoothly on your PC for free.
Tencent Gaming Buddy, provided by Tencent Games, is the best emulator to be used to download, install and play PUBG mobile on PC. The developer of this emulator is the same as of the PUBG mobile. This is the reason why Tencent Gaming Buddy is taken as the official emulator to play PUBG mobile on PC.
As the developers are the same, this emulator is properly configured so as to run PUBG mobile perfectly on PC rendering the best performance and optimization than any other emulators. It can be easily downloaded and installed on a PC. After installation, PUBG mobile will automatically get downloaded and installed on your PC. This is because this emulator is specially designed for PUBG mobile. You can enjoy playing PUBG mobile on your PC with full action controls using the emulator.
There are several other features rendered by this emulator enhancing the gaming experience of PUBG mobile on PC. There is no requirement to create an account or to go for VPN tools to play the game. It is capable enough to provide all the necessities to play the game smoothly and without any obstructions. Moreover, your PUBG mobile on PC will be automatically checked and updated by this emulator regularly. Tencent Gaming Buddy, also known as the "PUBG Mobile Tencent Emulator", is the perfect emulator for PUBG mobile.
Second to PUBG Mobile Tencent Emulator, NoxPlayer is a more dedicated emulator for playing mobile games on PC, including PUBG. This emulator allows the users to download and install the game from the Play Store. In case, any error or problem is detected while installation, then you need to clear all the data of the Google Play Store. In this way, get installed PUBG mobile on PC and enjoy playing it using NoxPlayer.
Without the main advantage as Tencent Gaming Buddy, it is possible that you may find some performance issues while playing PUBG on PC, in which case you need to solve it by making some changes in the settings of the emulator. Changes to be made in the emulator settings are given below:
Memory: Minimum 2048 MB or more
CPU: 2 or more
Graphics rendering mode: DX mode or OpenGL
Resolution: 1280*720
After applying these settings, restart your emulator and then start playing PUBG mobile game on PC with good frame stares and other basic improvements.
This emulator is an Android emulator which enables the user to play Android games on PC for free. KO Player is featured with KeyMapping, Screen recording and many more which can be accessed while gaming. However, you may find the installation of PUBG mobile quite tricky using it. Install the PUBG mobile on this emulator using the APK file. Then, provide OBB or the data file to the game.
Bonus tips: It is very handy to record game performance as videos or screenshots and save them as cool memories. In case your precious recordings lost accidentally, don't hesitate to recover lost files from Windows 10/8/7 with Jihosoft File Recovery.
All you need to do is to paste the file copied from your handset in the right directory of the computer. You can obtain this OBB file named as com.tencent.ig on Storage > Android > OBB with the File Manager app in your phone.
You can bring out some changes in the settings of the emulator to enhance the gameplay experience and for higher frame rates.
BlueStacks is the most famous Android emulator from the past many years. With all the enhancements and optimization, BlueStacks 4 is used to play Android games on PC with higher performance and stabilization. Its developer team has also claimed that BlueStacks 4 enables the users to experience the gameplay far better than that on the best Android smartphone. Using BlueStacks 4, you can download and install PUBG on PC easily, in a similar way as you do that on the smartphone.
Moreover, you can bring out improvements in its performance and data efficiency by customizing the settings of the emulator.
MeMu is a newly developed Android game emulator that perfectly suits the PUBG gameplay. It supports both AMD and Nvidia graphics cards making it suitable to be used to play PUBG mobile on PC. MeMu is compatible with Android 5.0 Lollipop so you can directly install the PUBG mobile from the Play Store.
Designed to play casual games, Droid4X is also an excellent emulator to be used for playing PUBG mobile on PC. Not only Windows, but this emulator also works on Mac machines. However, you will not get an improved and updated version of this emulator as its development was stopped in 2016. Still, you can use it to install and enjoy PUBG mobile on PC for free.
Apart from the emulators mentioned above, you can also use Remix OS Player, AMIDuOS, Windroy emulator and other PUBG Android Emulators for PC to install and play PUBG Mobile. They are also very efficient to play the game with outstanding graphics and frame rate without creating any issues.
PUBG PC Requirements and Official Download
As you know, you need to pay to download and install the official version of PUBG for PC. You can download it using Steam on both Windows and MacOS devices. After adding this game to your Steam library, you can install the app on any computer anytime with your Steam account.
There are often discounts offered by Steam during sales which can benefit you while purchasing PUBG for PC. You must check your PC as per the mentioned requirements to be compatible to run the PUBG game on it.
30 GB storage availability
Broadband Internet connectivity
Intel Core i5-4430/AMD FX-6300 processor
8GB RAM
Version 11 of DirectX
NVIDIA GeForce GTX 960 2GB/ AMD Radeon R7 370 2GB
64-bit Windows 7, Windows 8.1, Windows 10 OS
Conclusion
In this article, we have learned how to download PUBG on PC for free with emulators and the requirements to install and play PUBG official version for PC on Steam or Xbox. You can also find the various emulators and its features which can be used to install and run the Android games on PC. If you have any queries related to this article or you want to share any other useful method to play PUBG on PC for free, then please share it in the comments section.