How to Turn off Windows Defender Antivirus in Windows 10
To be fair, Windows Defender is a solid antivirus for personal use, and it won't bother you when a third-party antivirus tool is installed. If you don't have any special preference, Windows Defender is good enough for family use. However, there are times when we need to temporarily turn off Windows Defender, such as to download a certain document through Microsoft Edge, or speed up USB transfer. Besides, if you have made your mind to fully move to a third-party antivirus, you may also need to permanently disable the in-built antivirus in Windows 10.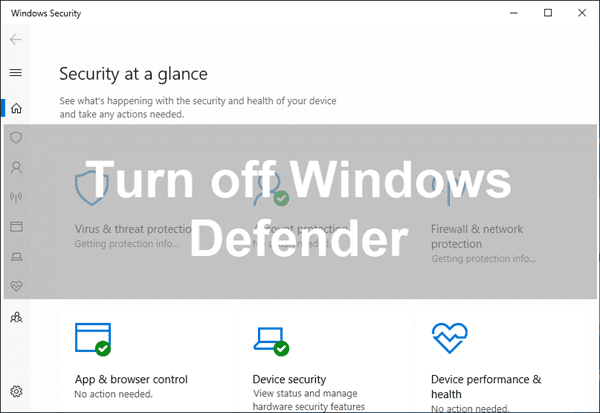 A lot of Windows users prefer third-party tools to the preinstalled apps with similar functions. For example, you may have never opened the in-built video editor in Windows but skilled at more powerful third-party video editors. Windows Photo Viewer might be one of the rare exceptions since the Photos app in Windows 10 is really difficult to use and many people want to restore Windows Photo Viewer. Facing the conflict between stock and third-party apps, it is natural that users will choose the better ones. In this article, we are going to discuss how to turn off Windows Defender in Windows 10.
Part 1. How to Turn off Windows Defender Temporarily
By following this method, you will turn off Windows Defender temporarily. Until the next rebooting, the Windows antivirus will stay silent and won't block suspicious activities on your computer.
Step 1. Click the Start menu and open Settings by clicking the gear icon.
Step 2. On Settings, go to Update & Security > Windows Security.

Step 3. Click Virus & threat protection to open Windows Defender.
Step 4. Scroll down to click Virus & threat protection settings.
Step 4. Switch off Windows Defender Real-time protection.

You can also turn off cloud-delivered protection and automatic sample submission on the same page. Windows Defender will automatically run again on the next restart, but you're suggested to manually turn it on as soon as you finish the task.
Part 2. How to Disable Windows Defender Permanently
If you don't want Windows Defender to run any more, there is no way to uninstall it, but we can disable it permanently, or until you want to turn it on again manually. We will need to operate on Registry Editor, which is an important utility built in Windows OS. Please follow every step carefully to get the desired result.
Step 1. Press Windows + R shortcut, then type regedit and hit Enter.
Step 2. Navigate to HKEY_LOCAL_MACHINE\SOFTWARE\Policies\Microsoft\Windows Defender.
Step 3. Right-click on Windows Defender, and choose New > DWORD (32-bit) Value.

Step 4. Name/rename the new file as DisableDefender.
Step 5. Double click it and set the Value data as 1, then click OK to apply.

Step 6. Restart your PC and see if it works.
Note: When you want to turn on Windows Defender again, just navigate to the same location on the Registry Editor and set the Value data on Step 5 as 0, then apply the change and restart your computer.
It is not suggested to run your computer completely unprotected, in which way you could lose precious files due to virus attack or cybercrime. In case you really need to recover files deleted by virus, don't hesitate to have a try with Jihosoft File Recovery, the best data recovery software ever.
If you're hesitating for spending money for security, you don't have to. A few top-quality antivirus companies offer free antivirus for personal computers with basic but powerful protection.
Final Words
Whether you want to temporarily turn off antivirus on Windows 10 or disable Windows Defender permanently, we hope the steps above have achieved the purpose. Antivirus tools sometimes could make troubles, but they are necessary for users to surf on the internet safely. Feel free to let us know if you have any questions or suggestions in the comment below.