4 Solutions to Fix Unfortunately App has Stopped Error on Android
If you are an Android user, you have definitely faced an error with a note "Unfortunately, WhatsApp has stopped" if you are using WhatsApp. In a similar way, this note appears for all the applications if there is any error found. This error results in a sudden crash of the application and the app stops working for some time. Then your home screen will appear on the screen in place of that application element saying, "Unfortunately, your app has stopped" giving you three options: Wait, Report and OK. Many users have complained about this error disrupting the working of the application. It occurs suddenly without giving any pre-sign. You will see that your application is working smoothly and in just a moment it has stooped.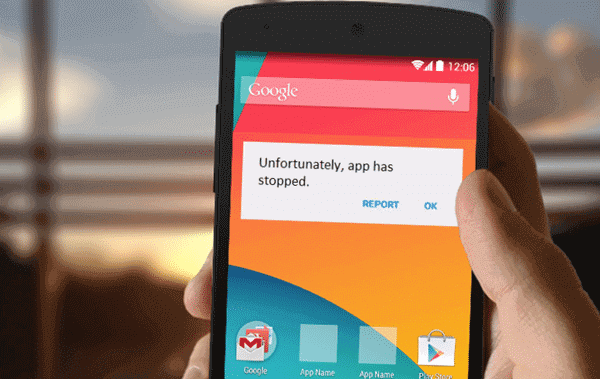 So, for your convenience, here you will see 4 solutions to fix Unfortunately App Has Stopped error on Android phone. These methods are tested to be the efficient ones to solve this global problem and interruption in the working of the applications on an Android smartphone.
Clearing app cache on Android is the most common way to fix the problem of "Unfortunately, your app has stopped". When you keep using your app a lot constantly, it may show some unwanted actions disrupting your continuity. So, to avoid this problem you need to clear the cache. Clearing the cache will clear all the data stored due to the excess usage of the application. Once you clean it, it will work smoothly as before. If you want to keep your device function well and without any breakage, you need to clear the app cache regularly to avoid the storage of unwanted data.
Here you can find the steps to clear the cache on your Android phone.
Go to the "Settings" on your Android phone and scroll down to the option named "Apps". It will be present under the "Device" section of Settings.
Tap on "Apps" and you will see all the applications present on your device listed there. Find the app which has started showing the error "Unfortunately, the app has stopped". You will get it by sliding the 'Running' app to get 'All' app on your screen.
Tap on that particular app and then select the "Storage" option. There you will find two options: Clear Data and Clear Cache. Tap on "Clear Cache".
It is good to clear the cache as if more data gets stored then the application starts malfunctioning. Clearing the cache can prevent the app from getting corrupt or show error. This is the best way to make your applications work smoothly and function without any discontinuity. Even if you don't face this Android Apps Not Responding issue, you can regularly clear your cache to make your apps run freely without any error.
#2 Uninstall and Reinstall the Application
Inappropriate app installation can also be the reason behind the strange response of the application. So, it is suggested to download the application from Google Play Store rather than download it from the link provided by any third-party. So, if your app is showing such unusual behavior then you need to freshly install the application from the Google Play Store.
Follow the instructions to fix the error by installing them all again. First of all, you need to uninstall the app which is showing such behavior.
On Android, navigate to the "Settings" and then find and tap on the "Apps" or "Application Manager".
Now, tap on the application which is showing errors and you want to uninstall.
Under the App info, you will find an option to uninstall the app. Then tap on it to uninstall that app from your Android. You can also uninstall your application from the Home Screen or Play Store directly. However, this can only be done in certain devices.

Now, you can re-install the app from the Google Play Store. Search the app and tap on "Install" to get it back on your phone. You can also look for your uninstalled apps in "My apps and games" from the Play Store menu. This is also a very simple and tested method to fix the problem of "Unfortunately, your app has stopped" error.
3. Fix Apps Not Responding on Android by Software Tool
This problem generally occurs due to data glitch. So to avoid this problem, you need to repair it with tools. There are applications which can definitely help you to repair the data glitch and fix this issue of storage of applications. Make use of the repair software is the one-click solution to this problem. Moreover, such a tool does not require any technical knowledge to use it. Any newbie can use it without any hassle.
One of such applications is dr.fone-Repair which is very efficient for fixing the "Unfortunately, app has stopped" error. This software is capable to repair all the data on all the Android and Windows devices. It should be noted that this tool may cause loss of your important data, so it is important to back up your Android before getting started with this repair tool. And then follow the given steps to fix the app not responding issue by using this repair software.
After download this repair software on your PC, install and open it.
On to the main menu of the software, select the "Repair" option.
Connect your Android device to your PC using a cable. After that, choose "Android Repair" and then "Start" from the menu.

To avoid or minimize the risk of data loss or any other damage to the phone, you need to boot your phone into Download mode by following the on-screen instructions.

After the booting process is over, the firmware of the device will get verified by the software and then it will start repairing the Android phone.
Please remember to keep your Android phone connected to the PC until the repair process gets finished. It may take a longer time if your internet connectivity is weak. After the repairing process is finished, your device will get free from the "Unfortunately, your app has stopped" error.
# 4 Fix App Stopped Working Problem by Factory Reset
When you have tried all the methods above but nothing worked then you can factory reset your Android to fix the error. Before going for this method, you must backup all the important data of your device to avoid data loss. You can also store all the important and necessary data in an external storage system like a memory card or pen drive. When you will go for a factory reset on your device, this action can erase all your data like media, images, contents and all other data along with device settings from the device. So, you need to have an alternative to restore all your data. Or you can recover deleted data on Android after factory reset with an Android Data Recovery software that could help you retrieve lost photos, videos, contacts, messages and other documents from Android without backup file. You can know more about how to back up the data and how to recover Android data on our website.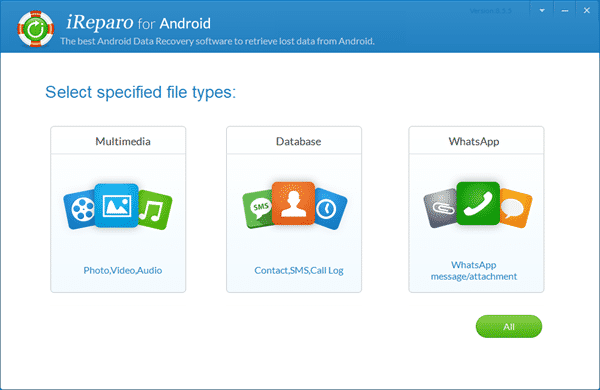 Now, you can follow these steps to perform the factory reset on your device.
Open your Android device and go to Settings.
Search "Backup and Reset" option and tap on it.
Then, choose "Factory data reset" and then hit the "Reset Device".
A tab named "Factory data reset" will open on your mobile screen. Tap on "Erase Everything". In this way, all your device settings will get formatted.
Once this process finishes, your phone will restart and you need to set up your device for fresh. This method can be a bit tricky as you need to keep all the backup of the media and content of your device. But, it will definitely solve your issue of getting this error message "Unfortunately, the internet has stopped" or "Unfortunately, your app has stopped". This can be done when none of the above-mentioned ways has worked for fixing the app not working error on your Android device.
Conclusion:
The error we have talked about in this article is getting very common these days which has annoyed the majority of the Android phone users. In this article, you have seen all the possible and efficient ways to fix apps not responding while using your apps. You need not worry if you are facing the same situation. Though this error can happen due to many reasons, you can solve this error issue using the methods given above. If you have any queries, please post it in your comment below.