How to Take a Screenshot on Android Devices
Taking a Screenshot on Android is easy, but the process isn't the same for each android device. No matter what device you have, you will find a way to take a screenshot on your android in the following ways.
Part 1. Take Screenshot on Android 4.0 or Later
Phones and tablets running Android 4.0 or later offers a built-in way to take a good sreenshot. There are two options to take a screenshot for your android devices like Samsung Galaxy S6/S5/S4/S3/Note 4/Note 3, HTC One, Sony Xperia Z/Z1/Z2, Nexus 4/5, Huawe Honor 6/Ascend Mate 7, LG, Motorola etc.
Press Key Combinations: Simply press and hold your device's "Power" and "Volume Down" button simultaneously for 1-2 seconds(For Samsung Galaxy S3/S4/S5 users, you need to combine the "Home" button with "Volume Down" button). When the screen flashes white, your device will take a screenshot. You can find the android screenshot in your Gallery.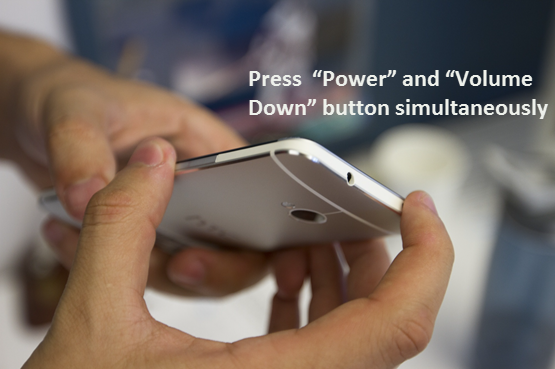 Check "Take a screenshot" Option: For some android devices, the "Take a Screenshot" option is available on the "Power off" menu. Just go to the screen you need to be captured, press and hold the "Power" button until the options screen appears, then select "Take a Screenshot". That's it, the screen behind this menu has been captured.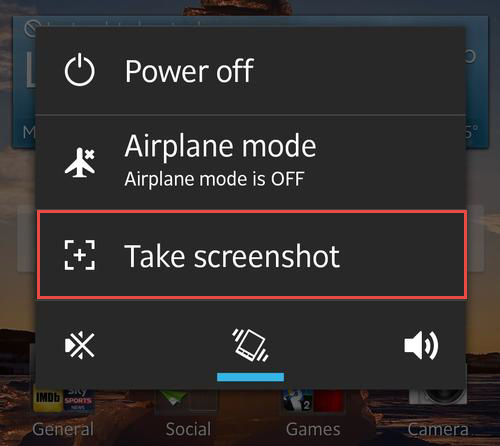 Part 2. Capture a Screenshot on Android 2.3 or Earlier
If you are running Android 2.3 or below, it is not that easy to take a screenshot on it, as the screenshot options is not available on older android versions. In this case, you have to download screenshot apps to do the job.
AirDroid (Free): This is an awesome freeware supports taking a screen shot on rooted android devices. With it, you are allowed to capture screenshot wirelessly via web browser. Besides, it can do far more than that. If you have trouble to root your device, go to this page: How to Root Android.
No Root Screenshot It ($4.99): This app enables screenshot on your android and it can get around the hassle of rooting process. It will instruct you to install a free desktop app on your Windows/Mac. You can easily take the screenshot for your android on computer.
Take a screenshot via ADB: If you neither want to root your android nor to pay for a no-root screenshot app, you can get a screenshot from the command line. But you need to know how to use ADB.
Related Articles