3 Methods to Crop Pictures into Circle Shape and Other Shapes
A picture can be edited in numerous ways and also styled in various looks and presented in various styles, such as turning picture into cartoon style. In the photo editing process, cropping is a quite common and essential practice. There are several situations where you need to crop your photos into creative shapes. For instance, we like to cut out the unwanted people in photo instead of deleting them. And we like to stylize our photos by cropping them into various shapes like circles, hearts, stars, clouds and others.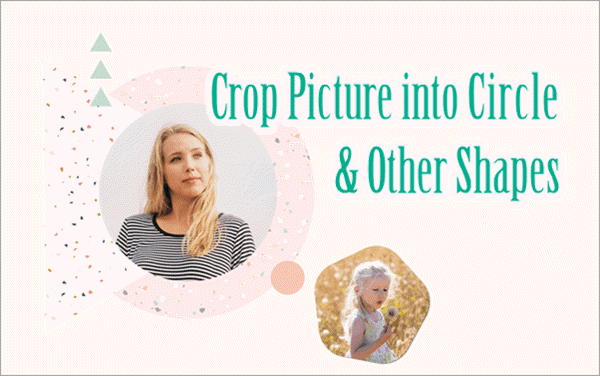 Most of our photos are in square shape. Yes, squares are fine but circles are much more interesting. People are more interested in cured shapes than in straight shapes, and almost everything looks much better when it is in a circle shape. So if you want to make your Instagram posts more attractive, maybe it is great for you to crop pictures into circle shape.
So to bring this thing to the limelight and teach you how to do it like a pro, we will be discussing 3 methods on how to crop images in circle shape as well as other shapes by using mobile apps, online tools and MS Word respectively.
Method 1. Photo Shape Editor Apps
Most of the mobile photo editing apps also have the crop-to-shape ability. Some of them only allow users to crop square or rectangular shape, and some are specially made to crop pictures into different shapes. Below are 5 of the best free crop picture into circle apps that can help you make images into various shapes, including circle shape.
As the name suggests this crop picture into circle app is typically made for cropping round photos. This is one of the best Android free photo crop apps for cutting out pictures in a circular form. Also, you can use this app to crop out your images to various shapes like circle, heart, rhombus, triangle, cross, and much more. The app lets you design your crop and trim it accordingly. Overall this is a very simple and convenient photo editing app that does its job very well.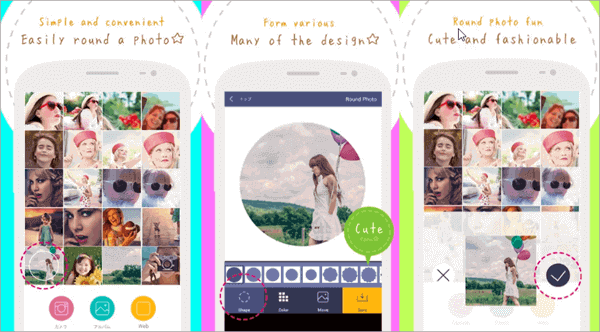 For reference, we will take Round Photo app here as an example to show how to crop image in circle shape. By these simple steps you can directly crop pictures into circle, oval or any other shapes.
Step 1. Open the app and import the picture which you want to edit.
Step 2. Select the circle shape here for our usage.
Step 3. Crop your picture in a circle using this app, generally crop out the face if you want to do so or crop out any part of your original picture in a circular way.
Step 4. Confirm your crop selection and you can further customize it for a better look.
This is another similar type of circle crop app that helps you to cut photos in a circle or in an oval with transparent background. Apart from the circle shape, the app supports various shapes like oval, squircle, iPhone icon shape, and others.
The squircle shape is an interesting one honestly, which is a circle like square format quite similar to Samsung Galaxy or iPhone Icon Shape. Like other apps, this app is easy to make circle image and also does no damage to the photo quality after cropping. Circle cutter app is very useful to make circles like profile image and even presentation pictogram.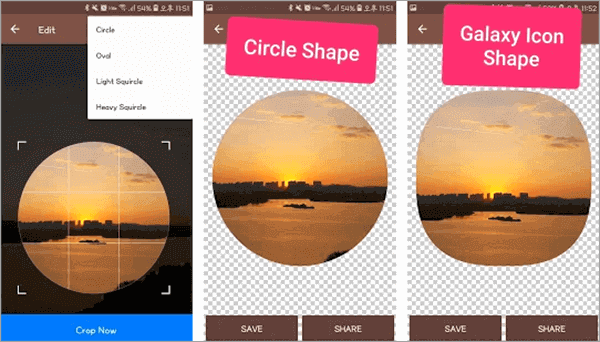 This is another useful crop picture into circle app that does its job like what other mentioned apps do. Round Photo Editor quickly turns any of your photo to circle shape instantly.
Apart from that, you can crop your pictures into different shapes like oval, heart, rhombus, triangle, cross, etc. The app is very simple and is very convenient for photo editing just like other photo editing apps for Android.
Round Photo Editor also lets you cut out your photos in different geometrical shapes so that you can brag of new crazy photos every day with different shapes and readily share them on Instagram, Facebook, Twitter and other social media platforms. So, it's not necessary for every photo to be square for Instagram and other social platforms all the time.
This is one of the best crop photo apps on our list and is very versatile which means, this app is able to generate or rather crop the image in various shapes, more than you can image honestly. You can crop your photos into circle and other custom shapes with it! There are a total of 120 awesome shapes and symbols which can use on your picture too. Also, with Image Shape Pro, you can share your edited picture directly to Instagram, Facebook, Twitter and other social networks.
You can even create amazing Insta Shape photos and even use patterns to customize your image as well. Effortlessly create eye-catching pictures and share custom shaped images with Image Shape Pro.
The app bears a very simple user interface with no ads and no surprises: just a few simple steps to get into the flow of wonderful images! You can give custom colors to the frame that you are giving to the image. Only a few simple steps and you can get beautiful and funky images!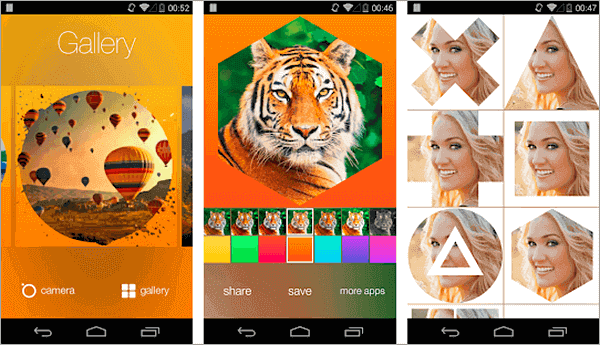 This app is more than just a simple crop picture into a circle app. Creative Shape Photo Editor gives an artistic look to all your images using different shapes. You can add your own custom typography, beautiful layout masks, beautiful stickers and creative overlays on your pictures.
Tip: If you want to remove sticker, watermark and logo from photos without using Photoshop, then you can try this easy-to-use Photo Eraser tool to get rid of the unwanted stuff from your photos, and make your photos perfect.
Just simply take a photo shape frame like a circle and you can completely change the composition of your image. Use different color overlays, filters, and other elements to make your images more attractive. The app even comes packed with the real-time photo as well, to save your time in post processing!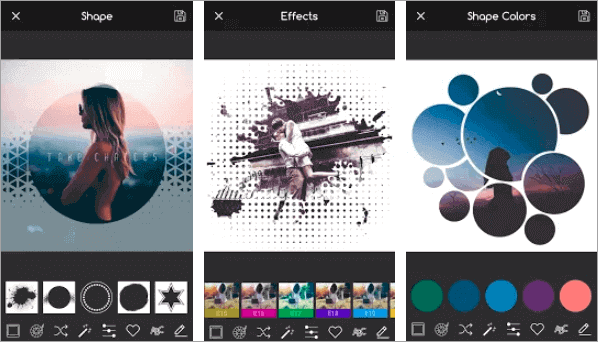 Method 2. Crop Picture into Circle Online
Many of the online photo shade editors have preset cropping tools designed to help users make attractive images. Hence, you can make use of them to create round pictures and images in other shapes.
#1 IMGonline
IMGonline is a crop to shape website which offers more than 100 shapes ranging from simple ones such as circle, triangle, and heart to complicated ones such as animals, transport, household goods, etc. Most importantly, it keeps image background transparent after cropping.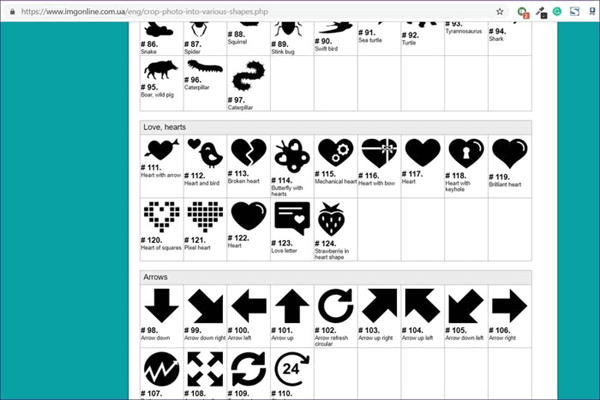 Because the website offers quite a few options for cropping images, it may be necessary for you to read the webpage for a while to understand how to use it for the first time. First, you need to select and upload an image, and then you need to specify the shape type and various settings for your shape. Finally, choose either JPEG or PNG format for the output image. Sadly, it doesn't allow you to adjust the position of the photo in the shape.
However, although IMGonline offers several photo editing features like resizing images, applying effects, etc, you are not able to edit your cropped picture directly. You have to download the image after cropping and then upload it again to do more edits on it.
#2 Tuxpi
Tuxpi is another useful website that can be used for cropping photos into various shapes. It offers 19 different shapes such as circles, polygons, stars, hearts, and more. And it is quite easy to crop to shape with this tool. After opening the website, you just simply click on the "Start Photo Editing" button to upload your image. After that, you can crop your picture in the shape editor screen. After cropping, you have the option to further edit your photo by adding text, rotating, resizing, applying effects and adjusting the brightness, etc.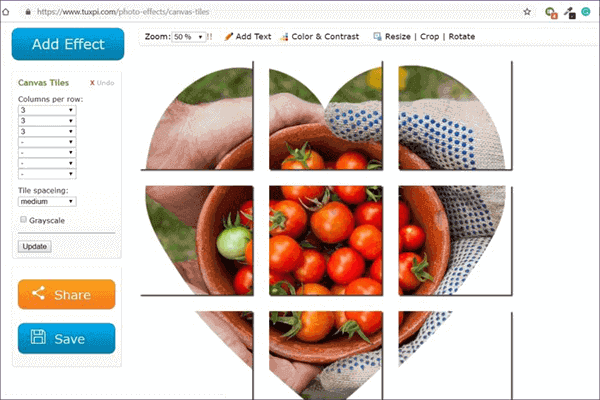 Unlike IMGonline, Tuxpi enables you to manually position your image in the shape. And you are also able to modify the background and shadow color. But the major drawback is that it won't save the photo with a transparent background. However, you can use a background eraser tool to make a photo background transparent for free.
Method 3. Crop Picture into Circle Shape in Word
The last method discusses a cool trick to easily crop pictures into circle shape by using Microsoft Word. The concept of this trick comes from the fact that Word allows users to insert images within a shape. Here is how to do that.
Step 1. In MS Word, head to Insert tab > Shapes > choose Oval.
Step 2. Hold the Shift key while drawing the circle shape on the MS Word canvas so as to create a perfect circle.

Step 3. Under the Format of Drawing Tools, choose Shape Fill > Picture. And then choose the picture that you want to crop to circle shape. Then your photo will be inserted within the shape flawlessly.
Step 4. If you don't want to have the shape border, just right-click on the shape and select Format AutoShape from the menu. Then under Line section, head to Color and choose No Color. Finally, click OK to finish.

Step 5. Select the circle shape, and right-click on it once again. Then click Save as picture, and you are done!
Conclusion
Now you have learned how to crop image in circle shape and other different shapes with the three methods mentioned above. Each of the methods has its own benefits: some can do their own task of turning photos to circle, some can do more than that and some be a bit more unique. On the whole, all of them are the best ways to give a perfect round shape to a picture. Hope you were able to crop picture into circle shape or other shapes you desired, and make your pictures look cool.