How to Increase or Reduce Image Size with Image Resizer
Many times we need to resize an image before using it. For example, social media posts images in a specific size and this size is different for different social media channels like Facebook, Instagram, Twitter, etc. Therefore, when we do not get the images in the required size we always turn to an online photo resizer or image enlarger.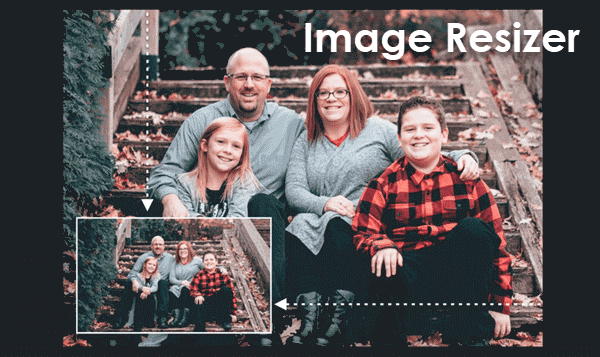 However, all the online resize applications do not provide high-quality images after we convert them into a specific size. As a result, it becomes difficult for us to rely on online photo resizers and we search for better image resizer for our desktop or mobile phones. Today, we are going to see some of the top resizers for Android, iPhone and Windows that we can use to obtain high-quality images in the desired image resolutions.
Let us see how to increase or reduce image size with these tools in detail now:
Part 1. Image Resizer Free Download for Android
If you are looking for an app to resize photos on Android then Photo Compress 2.0 might be the perfect app for you. It not only resizes the images but also allows you to crop or compress the images so that you can reduce image file size. Moreover, you can compress or resize multiple images at a time.
This application does not disturb you with ads and you can also share the processed images in real-time. The best part of this application is that it does not deteriorate the quality of the images even after compressing or resizing them. You can use the free version of this app but if you want to resize unlimited photos then you can switch to the pro version which is also very economical.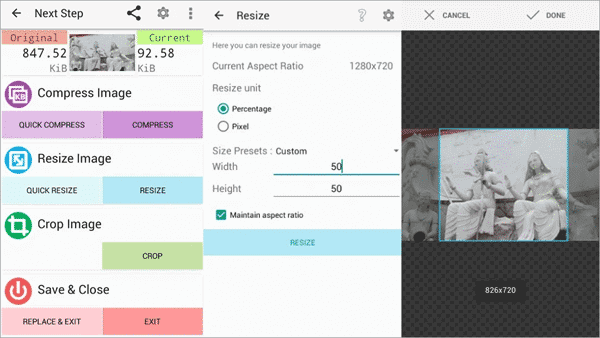 This application is built for those who are looking for a reliable and fast image resizer compatible with Android phones. It can be used to increase image size or decrease it as per your requirement. Moreover, this bulk image resizer app also can resize multiple images at a time. This app can be used by anyone due to its simple and user-interactive interface.
Once you resize the images they get automatically saved on your device. Moreover, this application provides the option of sharing the resized images directly through social networking sites or SMS as well. It is free of cost but you might find some inbuilt buying options in this app.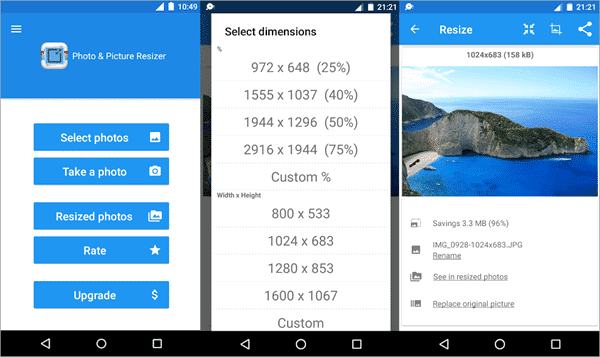 This is another free photo resizing app that you can use on your Android phone. If you want to resize image without losing quality then this can be the ideal app for mobile phone users. You can resize the images according to the required size and also add some effects to them using the several features that are built-in in this app.
You can also crop, adjust the brightness, contrast, add color and rotate the image with this photo editor. More than 600 inbuilt effects in this app make it one of the best editing apps for Android phone users. Also, it has a user-friendly interface that enables even the amateur editors to experiment with their editing skills. However, this app can only resize one image at a time and this can be a little upsetting for those who are looking for a bulk image resizer.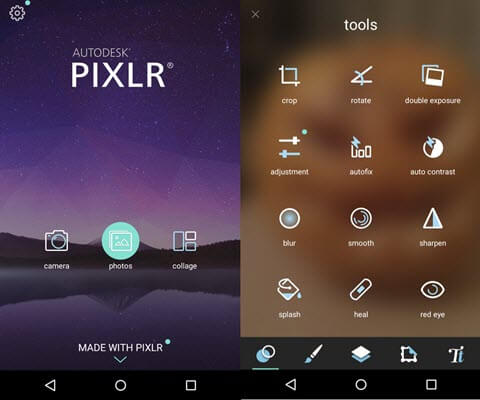 Part 2. How to Resize Photos on iPhone
If you are looking to resize images on your iPhone or iPad then you need not use any additional application, because your iOS device has inbuilt image resizer to resize photos. Follow these steps to learn how to increase or reduce photo size on iPhone:
Step 1: Open the image size app from the home screen of your iOS device.
Step 2: At the topmost right corner of the image you will find an image icon. Tap on that icon.
Step 3: Now, select the image that you wish to resize. Choose the image by tapping on 'Choose' which is located in the bottom right corner of your display.
Step 4: After that, you can select the 'Image resize' feature that will be located at the top. Now, you can resize the image as per inch, centimeter, pixel or millimeter and you need to enter the values of the desired size.
Step 5: After resizing the image you can download it by tapping on the button located in the bottom right corner. The downloaded image will get saved in your camera images.

Part 3. Photo Resizer Software Windows 10
If you are using the latest Windows 10 OS version on your computer, then you can use these photo resizer software to resize your images on Windows.
#1 Paint
Paint was a built-in tool of Windows computer, but it is replaced by Paint 3D now. However, you can still be able to download Paint from the Windows Store. Paint supports most common file types like JPG, PNG, BMP, TIFF, and GIF, and it provides users with a straightforward way to resize images. If you just have to resize only one photo at a time, and don't feel like installing any third-party software on your computer, then Paint is your ideal resizing solution.
Step 1: In Paint, open the image you want to resize.
Step 2: On the Home tab of the Paint toolbar, click the "Resize" button. You have the option to resize image by percentage or by pixels. You are also able to tick the "Maintain aspect ratio" option to maintain the original photo's dimensions.
Step 3: Choose the percentage or the dimensions, and then hit the "OK" button to resize your images on Windows.

This application is completely free and is compatible with Windows 10. It is loaded with many features and one of them is the image resize option. Therefore, if you are looking for image resizer for Windows then you can certainly try this application.
This application allows you to resize multiple images at once without losing any quality. Moreover, it also enables you to take screenshots, crop images, sharpen color, saturation, brightness, etc. It also has many inbuilt basic editing tools that make it a complete photo editing tool.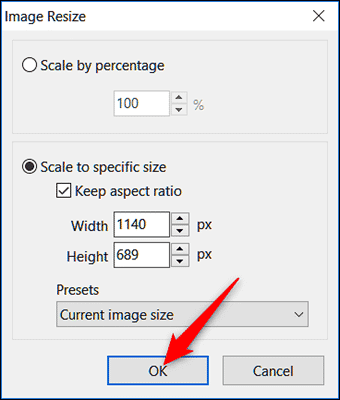 This is another free image optimizer that can be used to reduce image file size and resize images on Windows 10 computer. Using this program you can either resize one image or multiple images at a time. This application is lightweight and easy to use as well. It enables you to use a dual view interface to compare the original image with the optimized one in real time and immediately see the resulting file size. Moreover, you can keep the quality of the resized image intact even after decreasing its size drastically.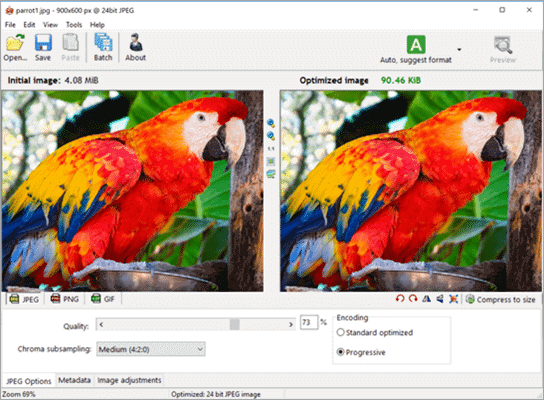 Available on Windows, this Photo Eraser tool allows you to remove unwanted objects and people from photos with impressive results. Along with removing unwanted censored parts and other stuff, it lets you resize the edited image. This is useful if you want to make a perfect photo and share it on your social media.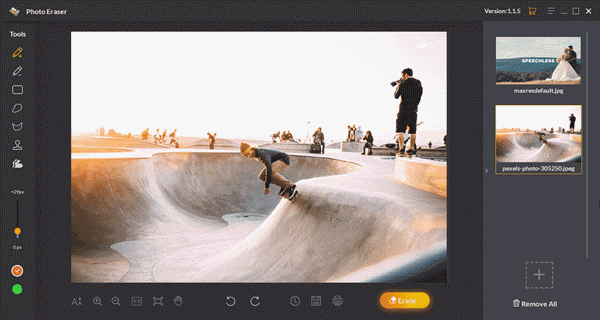 Conclusion:
These are some of the photo resizing options that will enable you to resize images in kb and cm without losing quality. Let us know if you like these applications by giving your opinion and feedback in the comments section.