Photo Video Maker: How to Make a Video with Pictures and Music
After a memorable trip or event, you must wish to share your photos to your friends and family, and it is always a great way to make your photos look more interesting by converting them into a photo slideshow. Making videos can be fun especially when it has a perfect blend of pictures and music. Many-a-times we create funny, cute or emotional videos to post as our status on apps like WhatsApp or share them with our friends using social media channels. Sometimes,making a perfect video with photos, music, and text can be a daunting task especially for beginners.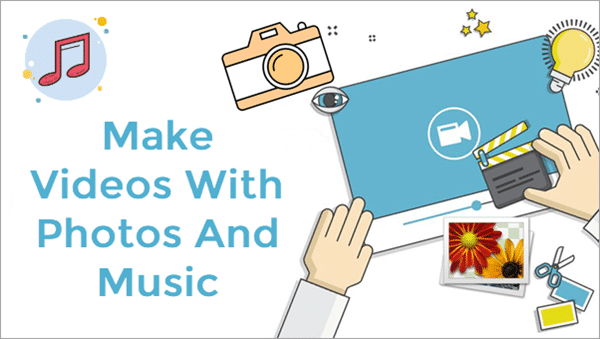 However, there is no need to worry now as here are the best photo video maker tools that will assist you while editing such videos. These slideshow makers have in-built functions and features that enable you to create a stunning video with photos and music. These are your answer to someone who asks you how to make a video with photos and music.
#1 Pholody – Free Online Video Maker With Music and Pictures
Pholody is one of the most popular online photo slideshow maker with music. It makes creation and publishing of slideshows very easy. With Pholody, users can easily either upload photo and music or apply online pictures and music with their URL, then it will automatically create a photo slideshow with songs and the templates you choose. After that, users are able to download the slideshow file as an mp4 file in 1080p resolution.
This photo video maker online visualizes music by automatically aligning transitions with beats of background music. And if you use background music, the slideshow length is always equal to the music length. Therefore, you need to use other tools to trim the music before getting started with Pholody.
Finally, please remember not to use IE 8 or older version, otherwise you will get the message of "your browser does not support canvas".
#2 Kizoa – Online Slideshow Maker
Kizoa is a free photo slideshow maker with music and collage maker. It actually helps you create your photo video with a step-by-step guide and pop-up reminders if you ever get lost when creating videos.
This picture slideshow maker has tons of extra features that allow you to add music, texts, effects, transitions, animations, etc. If you have no idea which transition to choose, then you just simply upload your photos and let this maker select the transitions randomly for you and play the transitions between your photos to make a slideshow in a few clicks.
After finish the slideshow, you can also save it to your computer, embed it into a blog, send it via email, or even post it directly to Youtube, Facebook and Twitter.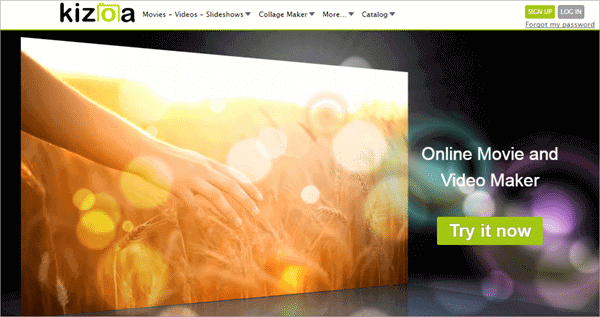 #3 VivaVideo – Video Maker App
VivaVideo is the best photo video maker app for Android and iPhone, which is an ideal app for users who are not professional in video editing. Moreover, this app has many interesting features that make it handy for pro users as well.
With this app, you can select the time duration, photos, and music of your choice. This app provides you with the option to choose a filter for an entire video or to some of the photos. You may also add text, stickers and cool emoticons to further enhance your video. All its numerous built-in themes make it easy for you to make a cool video to impress your friends and loved ones.
It is a free app but there are some ads and the time limit of a slideshow is 5 minutes. Moreover, all of the created videos will carry a watermark of the company. However, premium users do not face these limitations while using this app.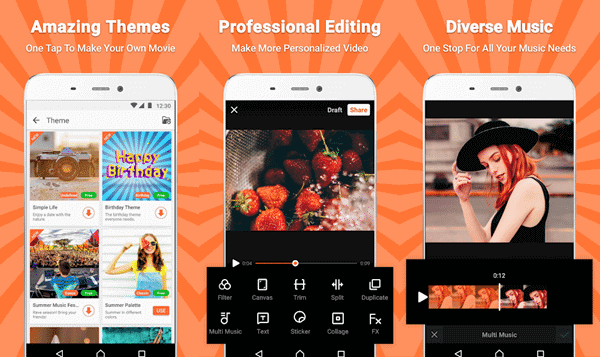 #4 Quik – Free Video Editor for Photos, Clips, Music
As its name suggests, Quik is an amazing video editor app which allows you to make a video with pictures and a song quickly and easily. There are some exceptional in-built themes in this app which proves to be beneficial for the beginners. You can set the duration of the video as per your choice and the cool filters enable you to edit the video like a professional.
The most endearing aspect of this app is that you can use the music from their innovative online gallery or you can directly upload a music file from your device. Also, this best slideshow app with music is completely free and does not even add watermark to the video in the free version.
The only drawback of this app is that you cannot use stickers or add doodles on the images.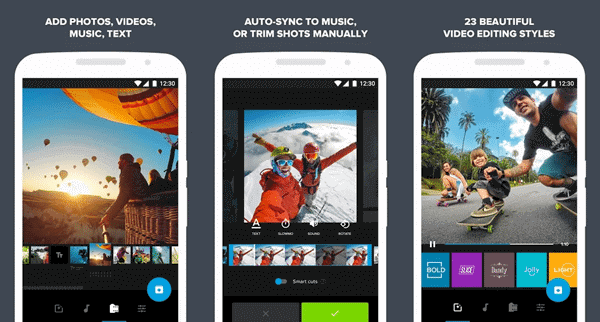 #5 Pixgram – Video Photo Slideshow
Pixgram is certainly the best app to make videos with pictures and music for Android and iOS users. The interface of this app is user-friendly and gives a hassle-free experience to the users. This app is not crowded with features, and you will love this app for its mere simplicity as it assists you perfectly while making slideshows with music. This makes it pretty happening for the newbies out there who want to create a simple yet effective video to impress their friends and relatives.
You can also add a title for your video if you want and the speed of the video can also be adjusted as per your requirements. Some of the individual image features seem to be missing but apart from that, it is surely a perfect photo video maker for you to create video from photos.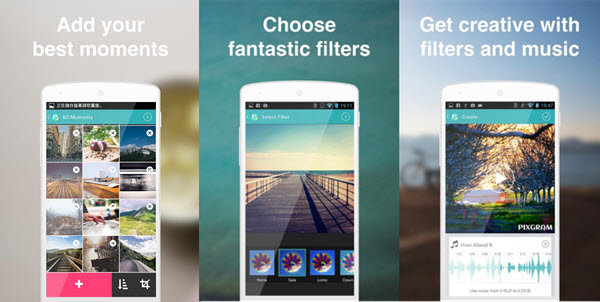 #6 Scoompa Video Editor
Scoompa Slideshow Maker is a unique photo video editor app which is different when it comes to its user-interface and some other features. One of the best features of this Photos Convert To Video App is that it allows you to edit the photos individually before appending them in the video. This is a good feature to have since you would like to add different filters and effects for each photo before convert these photos to video. Moreover, if something that you don't want appear in the photo, you can use this Photo Eraser Editor to remove unwanted parts from photo without affecting the background.
This app comes with many interesting GIF stickers which help you make your video funny and funky. This app is also loaded with audio files that are completely free of cost and you may also add your own music as per your choice. Therefore, if you wish to create an interactive and unique video with photos and music, Scoompa Video Editor might prove to be the perfect choice for you.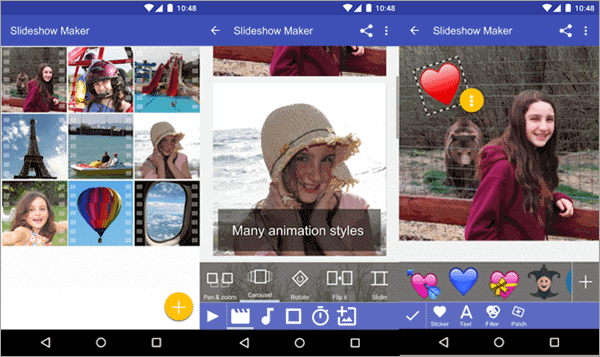 #7 VideoShow Video Editor, Video Maker & Photo Editor
VideoShow is an easy-to-use and practical video slideshow maker for both film makers and beginners. It has several editing features that enable you to make awesome GIF, video, slideshow, vlog, etc. Over 50 free themes provided in this app make video editing easy whereas the subtitles and sound effects improve the overall impact of your video. It also enables you to even add a voiceover in the video and there are numerous stickers and effects to choose from as well.
If you want to doodle on your photos, you can do that as well. You can even use a background to your photos if they do not qualify the size constraints. This photo video maker with song allows you to set the time limit for individual photos which is a rare feature to have. It also allows you to beautify your videos with effects, texts, stickers, GIFs, songs, sound effects, transitions and almost everything you want in a creative way. All these features make it a great app for those people who are confused about how to make a video with photos and music.
It works with most of the Android and iPhone devices and is a completely free app to use. However, you will have to bear with the watermark of the company if you choose the free version of this app. You can also avail the premium version if you do not want to have watermarks on your videos. There is a distinct premium version only for the watermark removal which makes it a special app altogether.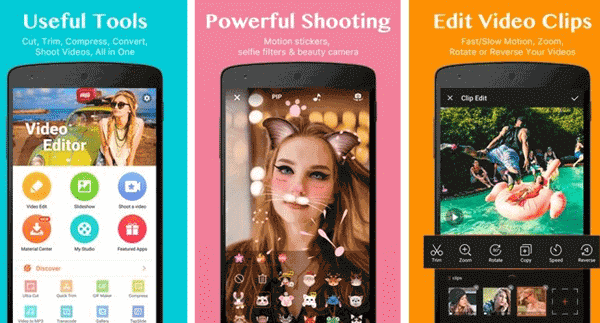 Bottom line
If you are looking for the best photo video maker with music and pictures, then you can certainly choose one of the above makers. We hope that you will find out the ideal slideshow maker for your needs. Also, share your reviews of these or any other photo slideshow editors after using them.