30 Most Helpful Background Eraser Tools to Remove Photo Background
Want to make a photo background transparent, or remove and replace the background of the photo which you have clicked from your phone? If yes, then why not use background eraser software. The background eraser software packages are a special kind of photo editing software which users can be used to edit or remove background from images.
For example, if you want to integrate two different photos to create a new single photo, then the background of one photo must be edited or removed to get a good quality picture. That's why in this task, background eraser tools will help you out for the assistance. In this article, we are going to list the 30 top background eraser software that you can use on your PC, Mac, Android and iPhone. Just pick the best suitable option from the below list for your personal use.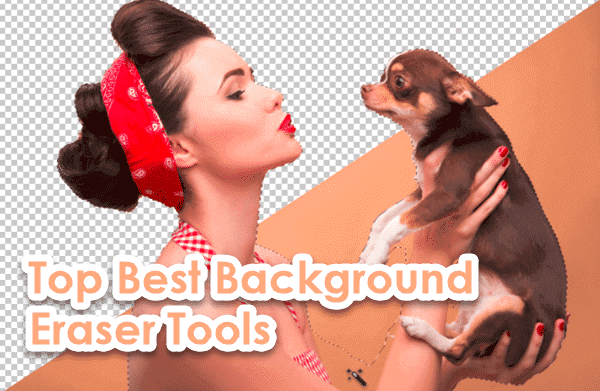 PART 1. 10 Best Background Eraser Software for PC and Mac
In the first part of this article, we will provide a list of top 10 background eraser software for your Windows and Mac computer:
1) Adobe Photoshop
Adobe Photoshop can be considered as the king of the world of editing software tools because almost every single professional photographer uses this awesome editing tool to edit their photographs. And like other editing features provided by Adobe, Photoshop's background eraser feature is also one of the best kinds which users will get from Adobe. Go to the link given here, and you will learn how to remove background in Photoshop with its Background Eraser Tool.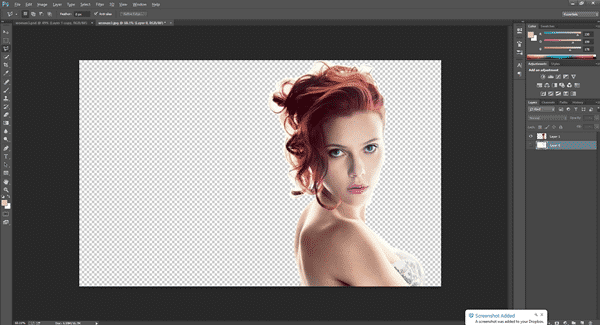 2) GIMP
This free photo editing tool is not so optimized in terms of smooth and well-functioning, but the overall features which it provides to the users are impeccable. Most of the users had given positive ratings to this background eraser software for PC and Mac, and we hope that you will also like this software for sure.
3) InkScape
As a vector-based graphics program with a lot of different after effects, InkScape is another very great choice present in this list. The editing features of InkScape are pretty much similar to the GIMP and it does a much better job in creating paths and enabling you to manipulate nodes and handles. There are very high chances that you will install this editing tool on your PC after browsing the incredible features of this editing tool.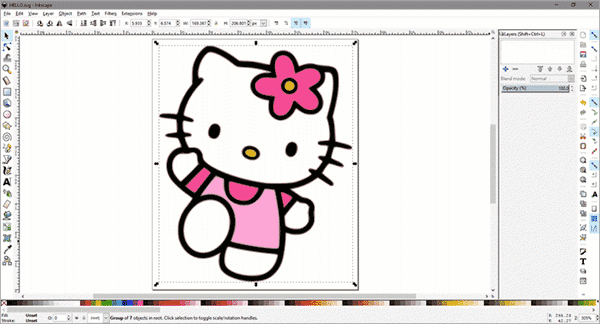 4) Corel Paintshop
This is another very powerful photo editor which is easy to use and understand as well. Corel Paintshop is an ideal photo background eraser for the beginners who are at the learning stage of their photography career. Moreover, Corel Paintshop provides great assistance by providing customer support to its users. So, it is definitely a fantastic option for sure.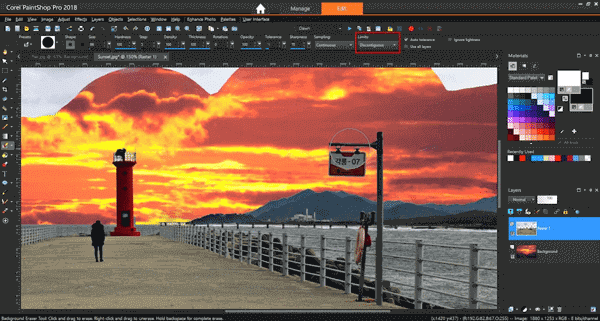 5) Teorex PhotoScissors
Photo Scissors is one of the best background eraser software tools, which will let all the users edit and remove the background of the pictures they have with them. The presence of optimized features will surely make the job of background removal much easier for beginners.
6) Super Photocut (Mac)
Super Photocut is a professional photo editor software which is compatible with macOS and provides magnificent editing features to its Mac users. It focuses mainly on wedding dress and transparent object masking. It is able to instantly remove complex image background from a wedding dress/transparent object photograph without any loss of image quality. Moreover, this editing tool supports all types of image formats which will make your job much easier to be done.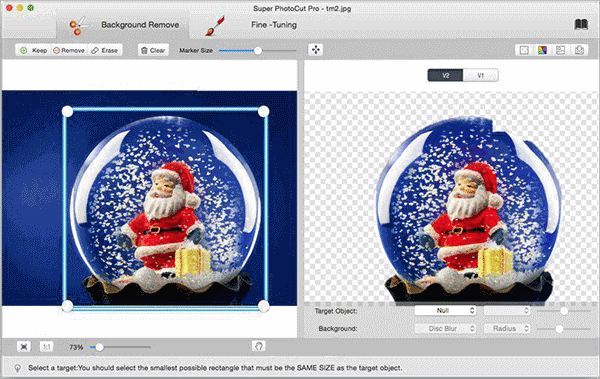 7) PhotoPad
When it comes to erasing the background of the photo in a few clicks, then PhotoPad will present its name at the top of the list. Though you will not get advanced editing tool in this free basic editing tool, it will become a much easier task for you to make PNG images with transparent background with the help of its basic editing tools.
8) PhotoPlus
Apart from managing the background editing, if you want to edit some more things in the pictures you have, then PhotoPlus is a very good choice for you guys. Because this software not only offers background removal tools which you can use to remove unwanted pixels from around the edges of an object, but also provides the standard basic editing tools like crop, draw, resize, red eye removal and color management. This editing tool will focus more on enhancing the beauty of the faces present in the picture which you want to edit.
This photo eraser option is probably the most suitable option for PC users. This computer-based software is very easy to use to edit the background of the picture in just a few clicks. You are just required to drag the photo in the editing window to edit with the tools provided by this editing toolkit, and then the software will do the rest for you automatically. So, it is really a fantastic option to remove unwanted items from photos for sure. This tool can also be used to fix pictures by repairing scratches, smoothing out wrinkles and blemishes, and removing censored parts.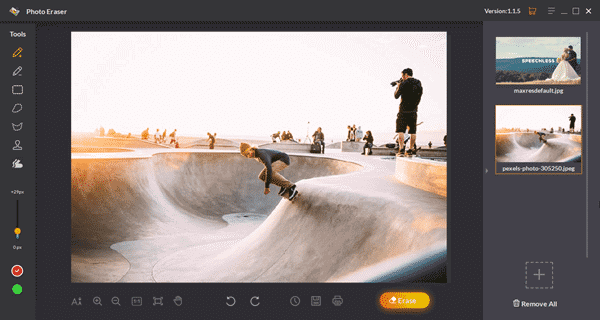 10) Movavi Photo Editor
This is another very great background eraser for PC which lets you extract elements from background in your photos and many other exciting tasks. The ease of use of this tool is its plus point and overall, a very great choice if you purchase the premium version of this editing tool.
PART 2. 10 Top Background Eraser Apps Free Download for Android and iOS
If you want to edit the pictures right inside your smartphone, then you should look on the list below to find the perfect Android/iPhone app to remove the background of photos according to your needs and requirements:
1) Adobe Photoshop express
Editing the background has been made much easier with this brilliant application which is available for Android and iOS devices. The stunning enhanced features present in this app will surely try to win your hearts in its first attempt.
2) Background Eraser – Pic Editor
Like Background Remover, this Background Eraser app is another very brilliant photo editing app for iPhone users who want to get a powerful editing tool to cut pictures and make photo background transparent. Some pop-up ads might try to disturb your editing experience, but overall, Background eraser is a great choice to superimpose pictures and make excellent composite photos.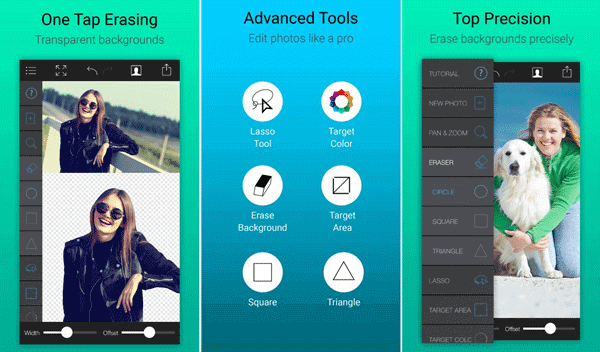 3) Ultimate Background Eraser
The presence of user-friendly interface is something that makes this app a very fantastic choice for the users. You can also use this background eraser app to add emojis and special photo effects to make your photos much attractive with good background exposure. The best part of this app is that it offers a magnifying glass every time you press the screen, which allows you to zoom in a particular area. It's really a great thing when you are editing photos on your phone with a small screen.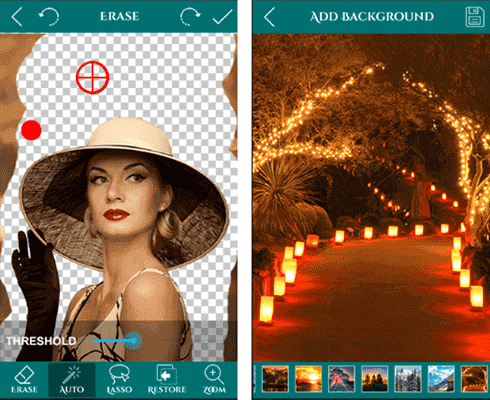 This is not the best option which we are looking in an ideal photo editing tool, but editing the background of the pictures can be made very easy if you use this app. It not only has an UNDO button which allows you to make 10 steps backward, but also offers a RESTORE button which helps you restore the edited photo back to the way it was. However, this app doesn't support superimposing the edited image or changing the background of the image. You can install this app from the Google Play Store for free.
5) Change Photo Background
As the name itself suggests, this background eraser software app is a powerful photo editing app to change photo background. It uses a powerful AI Color Detection Algorithm to help your remove photo background precisely. Though this app lacks the zooming feature, but the overall quality of this app is just impeccable.
6) Magic Eraser Background Editor
This app is available exclusively on the App Store particularly for the iOS users. If you want to edit the background of the pictures in seconds right from your iPhone/iPad, then this is the best suitable app which you can install on your iPhone/iPad.
7) Photo Background Eraser free
This iPhone photo background eraser app is offering so many powerful editing tools absolutely for free. Users can upgrade to the premium version to explore some more creative editing tools.
8) Pic Eraser Free
Yet another very good iOS application which is ideal for editing the background of the pictures we have. You can browse the tutorial mode if you are first time user to learn the functionality of each and every feature.
9) Depth Background Eraser
The main advantage of using this application is that the installation size of this app is very less as compared to other iOS apps. So, basically you are getting a very good and powerful background editing for absolutely nothing.
This app has high ratings in the editing tools section. As the name itself suggest, Background Remover is surely a smart photo background eraser app for Android. With this app, you can remove background color or objects from photos easily.
PART 3. 10 Top Best Background Eraser Tools Online Free
If you really don't want to install any type of background eraser app or software on your mobile or PC, then here is a list of some popular background eraser online tools which will help you edit the pictures right from the web browser of your device. All you need is a working internet connection on your device.
1) Malabi
Visit the website and upload the picture followed by giving the commands is what you are required to do. After the editing process gets completed, you can download the picture in the file format of your choice.
2) Clipping Magic
Clipping Magic is an ideal choice for users who are in a hurry. This online tool will help you remove the background of the picture in really no time.
3) Background Burner
If you want to get an ad free editing experience, then there is no other choice better than Background Burner. As its name suggests, it burns the background of the photo and gives you a transparent image. The best part of this tool is that it will automatically detect the background and remove it after you upload the photo. This free online editing tool will help you to remove the background of the uploaded photo hassle free.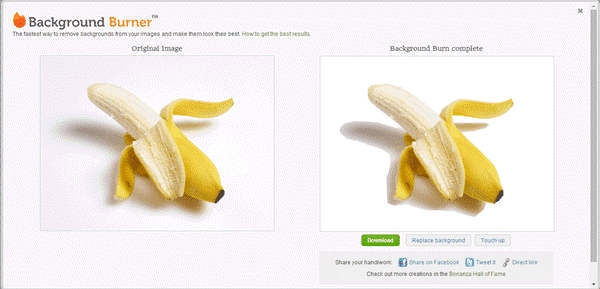 4) AutoClipping
This online tool is really a fantastic choice because it will let you to create your free account which you can use to access all your previously edited files for free.
5) Edit Photos For Free
It only needs four steps for you to remove the background from images by using this tool. You can also consider some of the extra add-ons that this tool offers to enhance your photo editing experience. Apart from the image editors, if you want to get a good video editor tool online, then this background eraser tool online free is really a fantastic option for you guys. But the main problem with this online tool is that there are lots of ads which will try to annoy you.
6) LunaPic
This online alternative to Photoshop is one of the best online photo editing tool for the lovely users present out there who want to erase the background of the picture they have. Besides, it also offers several exciting editing features for its users. Though it is not very easy to use this tool, overall it is good stuff for sure. One thing to mention is that photos with different shades of background are hard to remove by using this online tool.
7) PicMonkey
Another very fantastic option as like other tools which we have mentioned above. The finishing touch given by this online tool will never let anyone know about the fact that this picture is an edited one.
8) Fotor
One of the decent options present in this list, Fotor is removing photo background tool that can complete the task that would take more time on another tool. It will assist you in removing and editing the background of the pictures cleanly and efficiently.
9) Online Image Editor
This online image editor is having one of the best editing tools which will help you to erase the background of the photos is very less time.
10) PhotoScissors Online
It is not only a photo background eraser tool online, but also a perfect photo background changer. Like the Background Burner, PhotoScissors Online also helps you detect and remove the background from the picture automatically. After that, you can also change the photo background to a solid color or a proper photo with this tool.
Conclusion:
We hope that you have liked this list of the 30 best Photo Background Eraser software, apps and online tools which we have presented above. If you have some good suggestions apart from those listed above, then please do let us know in the discussion forum below. We will review your suggestions and will update this list for you.