How to Combine Multiple Photos into One on Android, iPhone and Computer
Photos are not just any "thing" honestly. Instead, they are the precious moments that are framed with our camera. We always tend to click snaps, and selfies on any occasion, for example, party or festival or just daily life. So, we always like to combine multiple images clicked for any special occasion or event and make a collage of it so that we can cherish those wonderful moments afterward.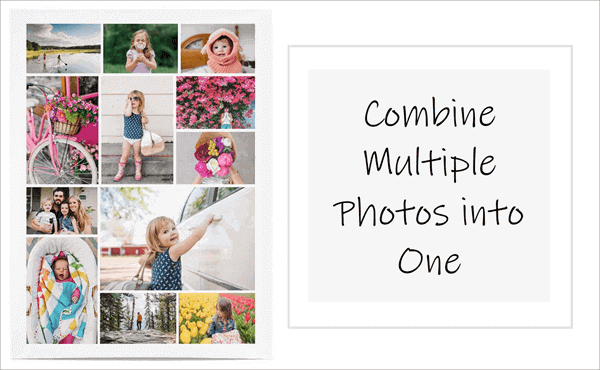 In today's modern world, many tasks can be done via software or online tools or by applications on our smartphones. For instance, we can use apps to turn photos into anime drawings, convert pictures into paintings, and many other things. So naturally, there are also various ways to combine multiple photos into one and turn it into an artistic photo collage.
For this specific job, we have applications, software and online tools respectively for you, so we will be listing the best ways from each segment to help you combine multiple photos into one single collage. And please note that, unlike blending two images together to make double exposure photo, these photo merge apps can only help you simply join photos together.
PART 1. Photo Merge Apps for Android and iPhone
As we all know that there are apps everywhere, so to make collage, we have got a bunch of apps for this goal. To reduce your time, we have already enlisted the best Android and iOS photo merge apps to combine pictures to make one picture:
#1 Collage Maker – Photo Editor (For Android)
This is one of the highest rated collage making application at the Play Store, developed by the InShot Inc. This app allows you to create a collage up to 18 photos at once, and also there are over 100 layouts of frames or grids for you to choose. So you can use it to make a freestyle collage as well.
Not only that, after merging two photos in Android with the pre-built layouts, you can even add texts of different fonts, stickers, doodles and also apply a background image to make the collage look even better. To wrap things up, you are able to edit the image by applying the filters present in the app.
After making the collage, you can easily save it to your gallery at high resolutions as well as share it instantly to your social media. And for sharing on Instagram, you can even square out the photo easily before posting. The app sizes only 12MB and has so many features that make it a very useful collage making application truly.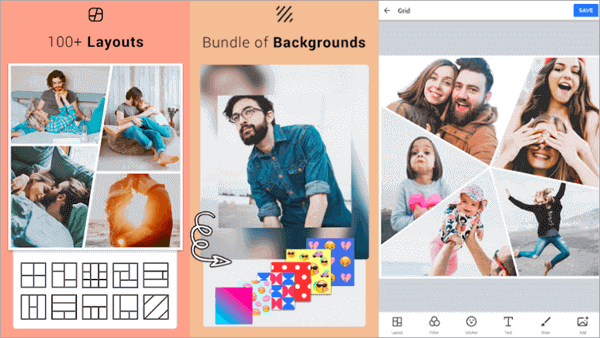 Originally, this app was designed to help Instagram users make simply collages with their photos. And then, it turned out to be an excellent app which provides users with more than 5000 layouts. LiveCollage enables you to merge up to 16 photos at once, and each of them can be edited separately, for example, apply various filters, add text or stickers to your photos.
Once you finish combining and editing, you can share your collages on social networks or send them by email. However, the only disadvantage of this app is that it has numerous ads.
#3 Mixgram – Pic Collage Maker (For iOS)
This is a free collage making application for iOS devices. This powerful and easy-to-use app provides you with over a thousand fully customizable frames and collage templates which will give you the freedom to combine two pictures on iPhone and express your creativity freely.
Mixgram also features some powerful editing tools, including various photo filters, as well as photo effects, which you can instantly apply to your collage to enhance the look of it. You can add text to every edited photo with this amazing collage making app, and there are various unique fonts for you to choose to caption your photos.
It is very easy to share photos on any social media platform with Mixgram, as you can directly share your collage creations with your friends through the app itself.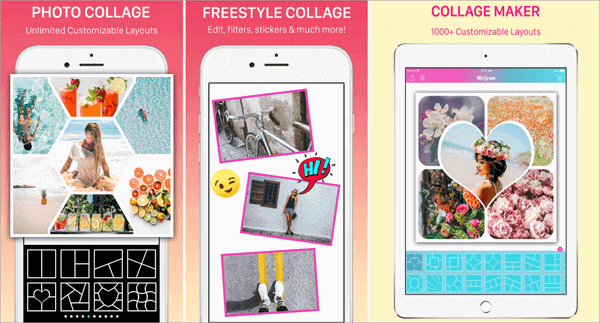 #4 PhotoGrid: Video & Pic Collage Maker (For both Android & iOS)
This is a must-have free video collage and photo editor app. On PhotoGrid, you can swiftly get started on making your collage photo with its straightforward interface. Similar to other photo merge app for Android and iPhone, this app lets you resize your photos and personalize them with filters, stickers, texts and even doodles.
You can merge as many as 15 pictures into one collage, and you are able to apply separate filters to each picture from the collage. Then, the app will offer over 3000 available layouts for you to choose from, according to your preference. And finally, you can add text or frame if necessary. Moreover, the app also provides a great number of stickers for you to use. If you can't find a suitable sticker for your photo, you can even create your special one.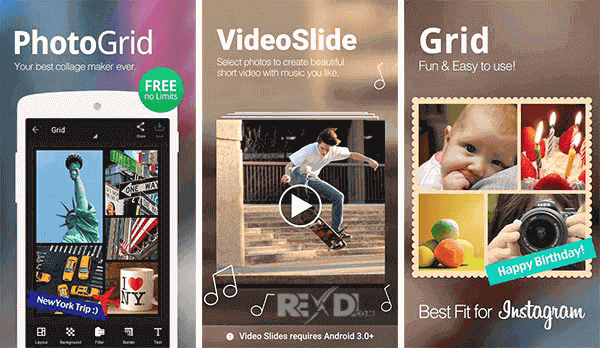 #5 PicGrid (For Android)
As an alternative to PhotoGrid, PicGrid also offers a straightforward interface which arranges all the editing and effects tools in one place. And every time you tap on any of the options, the app will automatically apply it onto the collage for you to preview and redesign it easily. Just like other photo merge apps, PicGrid enables you to save your edited collage on your Android device or share it on any social media.
#6 PicsArt – Collage Maker & Pic Editor (For both Android & iOS)
This is a very popular app that is available for both Android as well as iOS devices. PicsArt is a powerful photo editor that not only lets you edit photos but also enables you to create graphic designs and amazing collages.
There are over 100 of collage layouts and templates to choose from, and also you can combine photos on Android/iPhone in a freestyle arrangement. Not only that, but you can also add texts or various elements including emojis to your collage to make it look attractive.
Just try to use this app to apply various filters to your collage or adjust the brightness, contrast, saturation and everything of the collage and give the finishing to it. Also, share your creations instantly using the app to your social media or friends to boast about your work.
PART 2. Software to Combine Multiple Images into One
Practically we tend to make every software for every kind of use, so for making collage photos, we also have a bunch of software. We have handpicked the best free photo stitching software for your benefit:
The Collagerator software is a free photo collage maker software that has been genuinely made for creating collages. So, making collages with your pictures using Collagerator is very easy, since you just have to choose the images and put them into the predefined template.
There are a lot of predefined templates on the basis of the number of images you want to combine together, or you can just make a simple collage with lots of pictures and manually place them side by side in a grid or just by arranging in a big canvas.
You can further customize the collage as per your need even after creating the collage using the powerful inbuilt tools in the software itself. You can also save your created collage in various formats you want. Collagerator also gives you various printing options like postcard size, greeting card and much more. The user interface of this software is very simple and you can download it from the official website as well.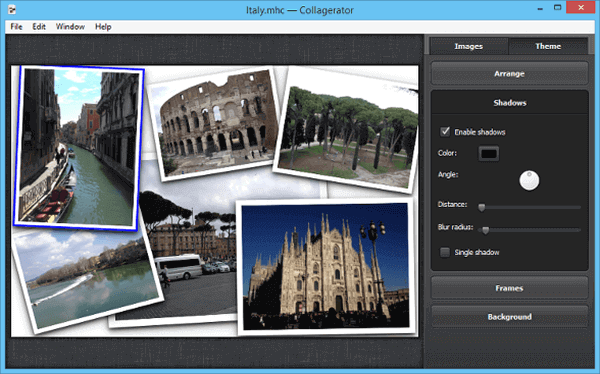 As the name suggests, this is a dedicated collage making software that is free to use and comes with a pretty simple user interface. The software even offers fifteen different templates for collages to choose from, though the number might be less as compared to other picture collage maker software packages which offer a lot of customization options.
This photo stitcher even allows you to resize as well as crop the images, and also increase or decrease the width, margins, and shadow effects to make the finished image perfect.
It can even enable you to share your collage on social media easily. However, the free version has limited functionality and leaves its own watermark on the collage.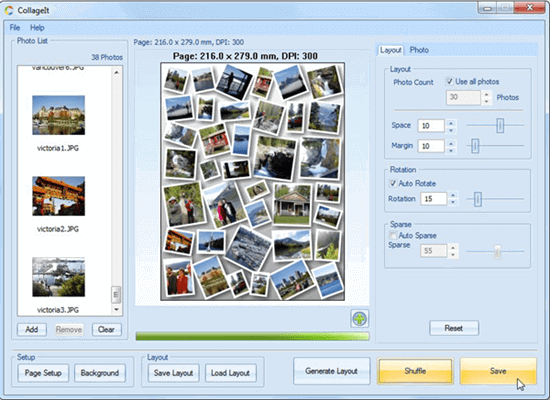 Bonus Software: Photo Eraser to Remove Unwanted Elements from Photos
Jihosoft Photo Eraser is an easy-to-use photo eraser tool which helps you erase unwanted elements like shadow, tourists, watermark, words and other stuff from photos, and even restore damaged old photos. If the photos you need to make the collages with are spoiled by any unwanted object, then you can firstly use this image eraser tool to clean your photos and make them the perfect ones.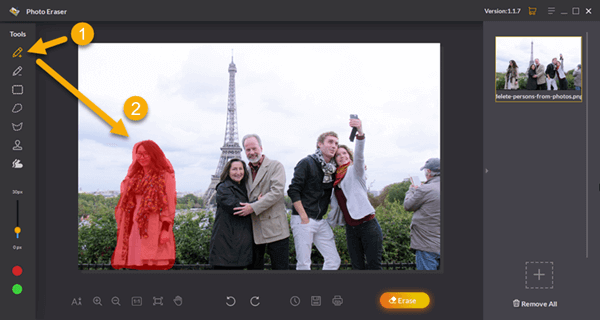 PART 3. Free Online Photo Collage Maker Tools
Besides software, there are a lot of online collage making websites as well which can also help you make a beautiful collage. If you do not want to lose storage space by downloading any software, then these tools might be a boon for you. Just read the paragraphs below to know how to merge two photos online:
PhotoCollage is one of the most used online collage making tools, and its simplicity and intuitive user interface help you stitch photos together without any hassle. You can insert as many images as you want to and make a free collage or a grid collage.
By default, there's a landscape space given where you can insert all your images and you can arrange them freely to make a collage. Or you can use the templates given in the site itself and make the necessary collage. If you feel too lazy to make a collage then the auto collage option will help you automatically create a collage. You can add text to images and give a complete feel to it. Saving the image is very easy with this online tool, you can save it in many resolutions and aspect ratios according to your needs and even email it as well.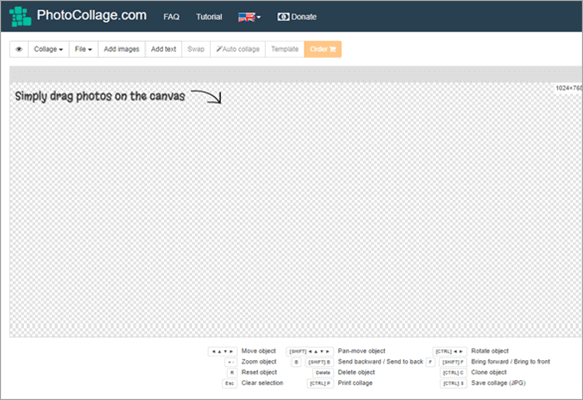 #2 KAPWING – Collage Maker
If you are looking to make a professional looking collage using an online photo collage maker tool, then this might be the best choice. At first, you can either start with a blank canvas or just manually add photos and then choose a template or grid to accommodate all the images to the collage.
Having arranged or framed all your images, you can enhance the photo by adding some text or shape or just by adding a background image to the collage. Another great thing about the tool is that you can make collage videos as well with your photos and even add audios to it so as to make it look professional.
After making the collage you can even resize it, and add some layers to it. You can create a video collage and then edit its timeline as well with this simple online tool. After doing everything, you can save the final picture or video to your device easily and use it for future reference.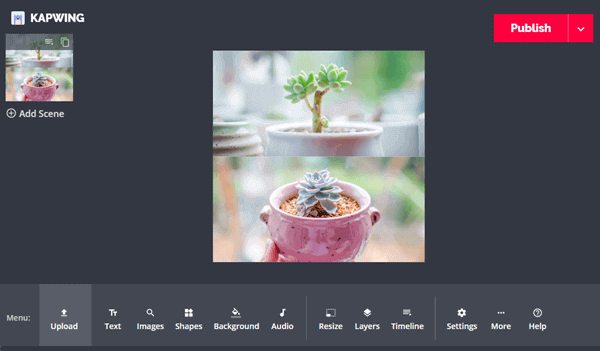 This is a popular collage making website that lets you create amazing photo collage online without any hassle. The site offers three types of collages, including Classic, Artistic and Funky. In Classic style, some layouts or grids will be given according to the number images you have uploaded and accordingly you have to fit the pictures in those grids and make a collage.
In an artistic collage, as the name says, you will be able to make an enhanced type of stylish collage where you get pre-built collage templates. So you just simply have to insert the photos and then your professional looking collage is ready.
In the Funky mode, you can insert photos to the collage in various shapes and make them look cool. You can even select the aspect ratio and size for each type of collage without any interruption. The Stitching mode is a modified version with horizontal and vertical grids where you can insert as many photos as you want to make a collage.
You can even add some beautiful texts, stickers and set a beautiful background to the collage, to make it even more colorful and beautiful. Having completed everything, you can just save the collage or upload it to the cloud for safe keeping.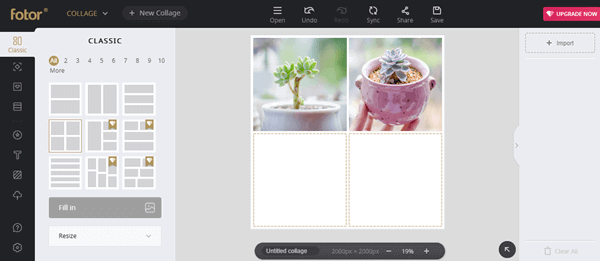 Conclusion:
Here are the best software, online tools and applications which let you create amazing collages easily without any hassle. You just simply need to upload photos, choose the layout and your work is done easily. Apply filters, add texts to improve the image and make your collage the best one to boast it on your social media or with your friends and family.
Most of the tools, software and applications are free to use, so you can try any of them or you may try all of them at once to get the idea of which one suits you the most. All of the above-mentioned apps, tools and software are genuine and will help you merge two or more photos into one to create amazing collages even if you are not a professional editor.